Happy Birthday, Ratty
25/03/23 12:57
Happy Birthday, Ratty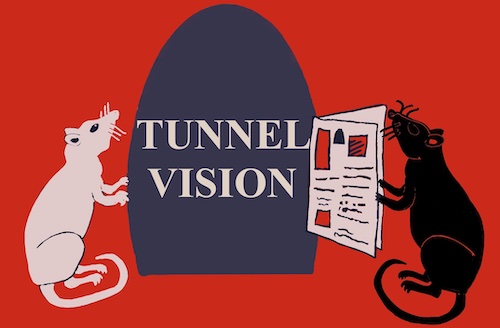 That most infamous and random of city papers -
The Tunnel Vision
- is, somewhat remarkably, celebrating its seventieth birthday this week. You may not have noticed it much in recent years with its erratic publication days (usually twice a week currently), its slim build, and its limited run. I still always try and get a copy when I can, but incredibly even for a journalist in the city like me I can find it difficult to get hold of (it's surely not helped by the publication days no longer being set in stone. It can be hard to know when to look out for it - and consequently easy to miss). It still has some top drawer journalism and commentators submitting interesting and challenging pieces, which makes it attractive to those who like the challenge; and enjoy interesting prose too. Talking of prose, who can forget last year Irving Gentry's '
Ode to An Age That Never Happened
' juxtaposed with Catherine Berger's poem '
Parallel Universes Exist: So Get Me A Ticket Out of This One
'? Both so different and both an absolute joy to read. These eminent choice writers, who seemed to have come out of nowhere, were the talk of the town for weeks, but were just the latest in a long line of poets and authors who've loved to get involved in the paper, even during this most erratic of times.

The paper was born out of the city doldrums of '53 when the twins, Joe & William Riley, and their impressively driven and oh so eloquent sister, Taylor, set up the small but perfectly formed - if unlikely - press in a dark, narrow, and dank tunnel - which had reportedly been used by smugglers and some less than savoury local characters, down near the docks. It quickly became the unofficial "
voice of the workers
" and the put upon peoples of the city. The name of
Tunnel Vision
was much debated early on. Those involved in the initial issues were attracted to the name due to its quirky location, but several contributors were unhappy with the idea of them not being thought to have at least a little peripheral vision. They needn't have worried as the city chose their name for it themselves: they simply referred to it as
The Rat
with their own take on the dock tunnels: problem solved. The constant cacophony of the docks together with the depth and heavy stone structure of the tunnel meant the noise of the press never found its way outside of the tunnel. When the
Rat
railed against the local government of the day in the run up to the elections of '56 the authorities tried hard to find the press - and we can assume find some spurious reason, or just wanton illegality, to close it down - but they failed. Many knew exactly where it was, but as they were fighting the good fight in their corner no one ever told those that would stand against it. William Riley said in a rare interview in the early 60s that giving them up would have been like '
Turkeys voting for Christmas
' after all.

It has always seemed to go through nothing less than interesting times, though ownership battles has never been one: it's still run by the children and grandchildren of the Rileys. It has survived legal challenges aplenty giving the owners and editors nothing but smiles on their faces; never a punch seems to land. The reticence of city politicians to take on board many - if any - of their chosen campaigns is unfortunately a sign that although they may feel they do an important job for the people of the city they have really not managed to substantially change the city at all. It may have right on its side, but we know on a local, national and international level how often right is the one thing that seems often to be the hardest thing to achieve. It always has stories and views written from interesting angles to the prevailing media direction (some would say that much of the media is exactly that: directed.
The Rat
has never been accused of that).

To this day the place where the
Rat
is published is not known. But I doubt any old tunnels are involved these days. Technologies have changed a lot in recent times, so it need not take up much room or use noisy plant at all. Truth be told while they are punching so rarely theses days, unlike the old days, they don't even need to fly below the radar as they have sadly become peripheral to the general political discourse. But who's to say that this will remain the case? There's rumours of a soon to come reboot for the paper, including some interesting political commentators and the return of
Lexus
, the infamous cartoonist. If these changes are true (and it can sort out its publication issues) then maybe the
Rat
will bounce back. Does a rat have nine lives, or will the rat suffer from a dead rat bounce?

I truly hope that
The Rat
will survive its current difficulties and return to its former glories. Peak Rat was something to behold and I for one wish to see its life be rekindled. What a wonderful present that would be. Happy 70
th
Ratty!