Boss People, Good Food - Don't Mention the Coffee
06/03/21 14:17
This week I was in
Fazakerley Hospita
l for two nights/three days, and then in
The Walton Centre
as an
in-patient.
I was looked at by some great doctors and nurses. The nurse who looked at me at A&E was particularly excellent. The Covid
brain skimmer
was eye wateringly scary, but efficient. Even the food and drink was really good: with the exception being the "coffee" - and maybe the portion size ;-).


Fazakerley Hospital - the return to the 9th Floor
The nurse who performed my Lumbar Puncture in the Walton Centre was brilliant, and the initial involvement from the Centre has been really good - and I'm sure that will continue.

Met a really nice woman who worked at Fazakerley and the Royal who has written a book, due out soon, on her experience with breast cancer. Had a nice chat with her. I'll definitely be buying her book when it comes out; '
Bald, Brave & Bloody Beautiful
' by
Danielle McDermott
. And better still she's related to a former Liverpool great too:
Terry McDermott
. Cool.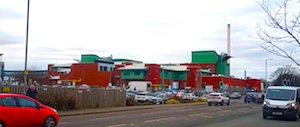 The Walton Centre
The biggest negative issues I had was; 1) sleep, which was incredibly difficult due to myriad issues with other patients and the noise from a variety of machines, and 2) my phone - I brought multiple plugs and a full battery pack with me; but I picked up the wrong cable for the phone. A true schoolboy error on my part. Can't really complain about either of these things; particularly my schoolboy error. The wrong cable mistake will never ever happen again. Hopefully.

Not sure whether I'll be writing more than the few blog things about this new part of my life, but maybe I'll get some new storylines for some fictional stories. Hopefully this blog will continue to be much about music, writing and beer rather than becoming a health log. That's my intention anyway; that said if you want to read about this last, very eventful, week then look no further that the
previous post
.

- PS I'm hoping not to have a reason to write another 'health' only blog for the next week or so. Fingers crossed.