Applying for a Disability Rail Card
19/04/23 07:49
I only found out relatively recently that people with MS are entitled to apply for a disability rail card. The card entitles you (and someone travelling with you) to 1/3rd off rail fares. Of course this year I've already been to Birmingham, Lancaster, Manchester, Preston etc and would have saved a fair (fare) bit if I'd known then. Anyway, I'll no doubt be out and about on the trains again, so it was definitely worth applying now.

You can download and fill in a form to post if you want, but it is quick and simple online. That said be aware that the rail card website itself makes no mention of MS or other similar issues being accepted for the card. And in fact the list of things listed as accepted as proof of disability on the webpage makes it look like it just isn't. Do not be put off by this, just carry on with the application.

First things first. Before applying make sure you have a copy (a photo or pdf etc) of a letter giving your diagnosis. I just got a copy of one of the first letters I received - which was a letter from the hospital to my GP cc'd to me. And you will need a passport style photo (digitally if you're applying online - so just take a photo of a passport photo on your phone if need be).

Once you know you have a letter and a photo then just get on to the website at
railcard.co.uk
. You'll only have a small amount of information to fill in; the usual name, address, email et al. You'll be asked if you want a three year card (£54) or a one year card (£20) and then if you want a plastic card to be posted out, or a digital version on your phone (you can't have both). You'll be asked whether you're applying for the card for yourself or someone you know. Then you'll get to upload your document and photo.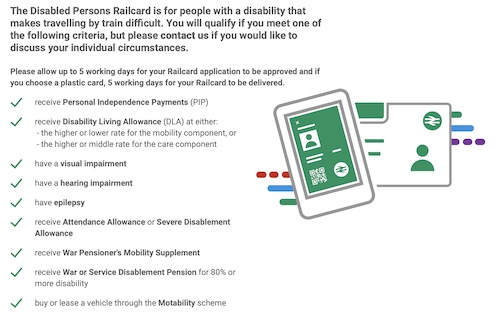 No sign of MS on here, but don't worry

After you've filled in your details you'll be asked to select the reason for the disability and this is where it may be off putting - as you have to click on one of the long list including whether you are receiving PIP payment, receive an attendance allowance, have epilepsy, or a range of other options. As there is no simply relevant to MS click on any of these and get uploading. In my application I just clicked the first on the list PIP payment (which I don't get) and then instead of uploading a proof of PIP I uploaded my diagnosis letter.

After you've uploaded that you'll have to upload the photo and then you're pretty much there. Simple.

It says on the website that the process will take up to 5 days. In fact I applied for mine on a Sunday and received the digital card within 24 hours. Brilliant.

Whilst I wasn't challenged about the application I assume some may be depending on what you have been able to upload or whether there were any other issues with the application process. Just know that with an MS diagnosis YOU ARE entitled to get one. I suspect that it would take a single email or phone call to address any such queries. More information on travelling with MS can be found on the MS society
website
.