A Good Couple of Strolls – Part 2
23/05/22 19:22
A Two Day Wander Around Liverpool & Manchester
- PART TWO -


After Friday's stroll around Liverpool it was time to travel a little eastwards; to Manchester. I caught an early afternoon train to Manchester Victoria. Starting from Victoria it was a no-brainer to start the trip of with a pint in the famous and fabulous
Marble Arch
. I started with a decent session strength ale from the Marble Brewery, '
Persephone
.' I'd have liked to have stayed for another but like Friday I'd intended to have a decent length walk taking in quite a few pubs. So I headed the short walk back along Oldham Road and went to
The Angel
. Had a nice chin wag with a few people in there including a City fan in a Grealish shirt. Once I'd finished my Saltaire '
South Island
' and after much talk about this epic football season (and a mutual like of all things Frank Turner) it was time to move on.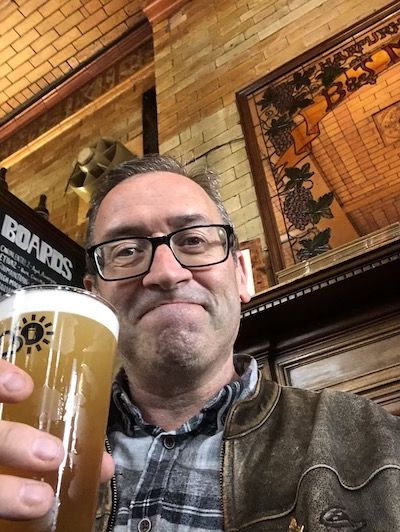 First up, a 'Persephone' in the Marble Arch


Next up was the lovely
Crown & Kettle
. It's on a busy corner and may not exactly be a desirable garden location but the outdoor seating area is a decent size and set back from the roads so that the traffic doesn't impact on you. My pint here, the third, was the lovely '
Sonoma
' from Track. After a chat to a couple there it was time to move on to the next place. And on this occasion I went to the
Castle Hotel
. The choice of beer wasn't as broad as in the previous places but I ended up with a nice '
Raspberry Pale
' from
Titanic
which I hadn't had for a while.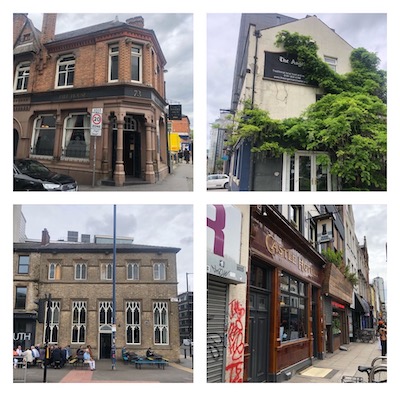 Marble, Angel, Crown & Kettle, Castle


Like all the other pubs the fifth pub was not far away either. It was time to go to the
Port Street Beer House
. There was seating area out the front and in a back yard. I headed to the yard with a pint of Thornbridge 'Wild Swan' - I was taking in some pretty top breweries as well as pub. A light rain began whilst I was sat out there: I was definitely getting the whole Manchester experience.

Next up was going to be the
Beatnikz
just a few hundred metres away. It was a shame to see that the brewery had announced their closure in the last few weeks, but good to see the venue was remaining open. However when I walked down there I spotted the
Northern Monk Refectory
, which hadn't actually been on my radar originally. I headed on in there first although with no pump clips on the four hand pulls I initially thought they had no cask on. Seems strange not to label them from both a customer's point of view and the guys & gals pouring the beer out unlabelled. I don't confess to understanding the logic in that. Anyhoo I bought a pint out of one the unmarked hand pulls – and I assume/quietly confidently that I was poured the right one: a
Little Faith
Hazy Pale. It's a big ole place and I guess it'd be a popular venue.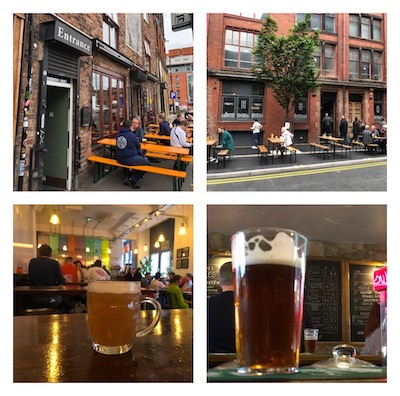 Port Street, Northern Monk, Beatnitz, Piccadilly
The
Beatnitz
then became my penultimate destination. A single colourful room with high stools and big tables. I went for '
Zero-Zero
' from one of my favourite breweries, Arbor. Then it was time to walk onwards towards Piccadilly for my train, but not before heading on into the
Piccadilly Tap
for my final destination. A bit dark and dingy after the lightness of some of the other places, but plenty of lovely ale to choose from – and a seat at the large bar. The last beer was a bit stronger than most of the others at 6% but the '
Hopfordian
' was from another good local brewery; Thirst Class.

It was then time to head on into the train station and discover which of the Liverpool trains were to run and which were to get cancelled. It had been a short train journey into Manchester, it was to prove to be a more difficult return. Thanks Northern. Well, thanks for one half of the journey.

It was definitely a very good pub walk. The longest walk was that from Victoria to the Marble Arch, then it was just a question of a little zigzagging towards Piccadilly. I'd happily do exactly the same crawl next time. Though of course I'd need to check out some other places, wouldn't I?