Taking a few days off work. Been very lucky with the weather for it too. Not got any particular plans for the week. It'll no doubt involve reading and writing. Some guitar strumming (maybe even write a song - we'll see) Maybe some garden stuff. Oh, and some beer goodness. To that end I've had two lovely day trips this weekend letting the train take the strain: on Saturday I went to - the always excellent - Shrewsbury, and on Monday I went to an under visited (for me) Leeds. Sat in the sun a couple of times but mostly took to the shade or the indoors. A suntan will come without me working on it.


Shrewsbury


It's a small and beautiful city with lots of old building charm. And being Shropshire there is plenty of decent local beers about too. Ended up visiting:


Yorkshire House

Loggerheads

Cromwells

Henry Tudor House

Nags Head

House of Grain

Hop & Friar

Admiral Benbow

Coach & Horses

Wheatsheaf

Three Fishes

Tap & Can

Yeah, I had a very good day out, didn't I!?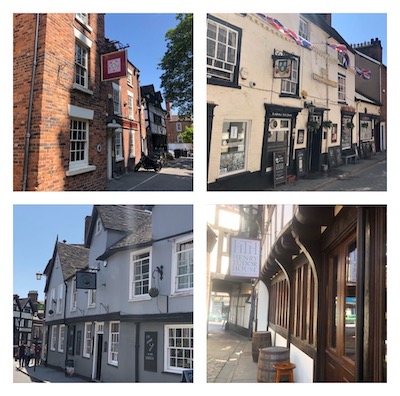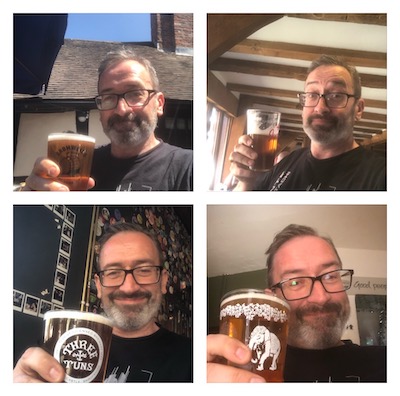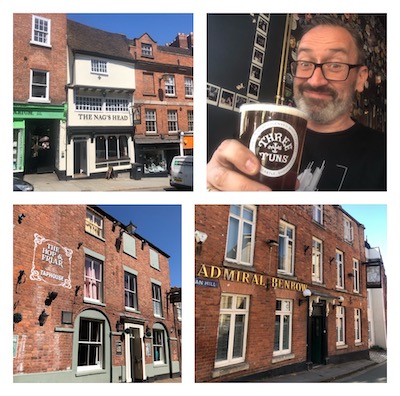 Leeds


On Monday I decided from the many options I was considering to go to Leeds. It's not a place I've been to for beers for many years. It was good to get out there again. And the time on the train (for those without changes) is pretty good from Liverpool. That is, if Bank Holiday cancellations don't hit. And yup, they did. My original train got cancelled. The second too. So I didn't get into Leeds until about 12:30. My return train was the 7pm as the later trains got me back quite late - and there was the fear of later cancellations too. In all then there was just about 6 hours or so to get around some decent (or not) hostelries. It was plenty of time to be fir though. The area I was covering was all very central and close to the train station.

First up was the Head of Steam, which is right next to the station. Started with an Ilkley Pale. I mean a light abv is crucial if you are out for a few hours, innit? Of course this became scuppered with my second pub: the Bankers Cat, just a hundred yards or so up Mill Hill. It's a Thornbridge pub, so Jaipur arrived next then. Predictable,

Just across the road from the Bankers is Tapped. Had a lovely pint of Full Circle 'repeater' there, whilst sat out in the sun. Found out from the barman that the next stout due on ask was to be Neptune Abyss. Nice to hear.

Next up I was sat outside again, but very much in the shade of the alley which hides the Turk's Head/Whitelocks. Sat outside both places (hey it's one and two pubs at the same time). Felt like I was in a Borgen reboot as I sat in-between two tables of Norwegians. Then it was time for another alley hidden pub, the Sam Smiths 'Angel.' Again it was a really short walk to it. Got chatted to a nice local and we went for another pint in the next alley along where the Ship was hiding.

It seems I wouldn't be getting 10,000 steps in. The next place a lot more modern; and less hidden. It was the North Bar, just up the road. Then it was time to head towards the station so I headed for the Brewery Tap just around the corner from the Head of Steam.

Of course it was bound to be painful getting back. It was a Bank Holiday after all. Needless to say illness amongst the rail company staff was very high so more than half the trains were cancelled. Still, I made it home eventually after having had a very good day in Leeds. Won't be as long until I get theee again.

In the end the pubs were:


Head of Steam (Mill Hill)

Banksers Cat

Tapped

Turk's Head/Whitelocks

Angel

Swan

North Bar

Brewery Tap

A little less extensive than the Shrewsbury trip then.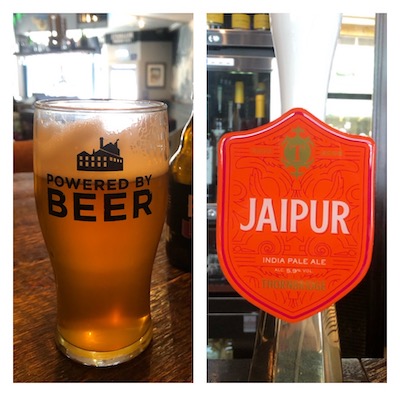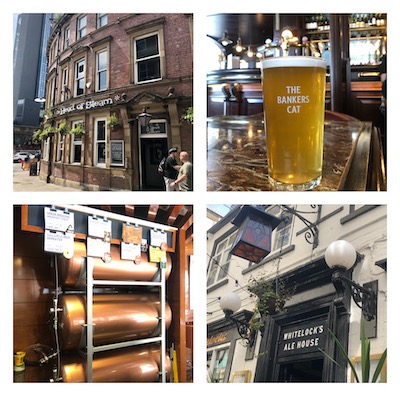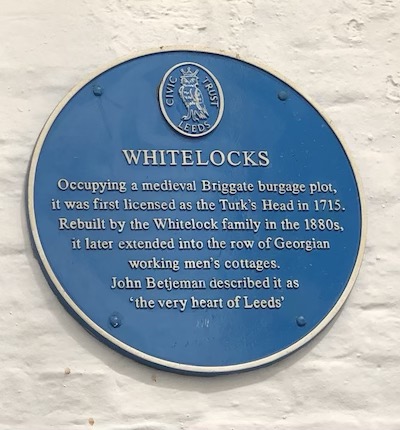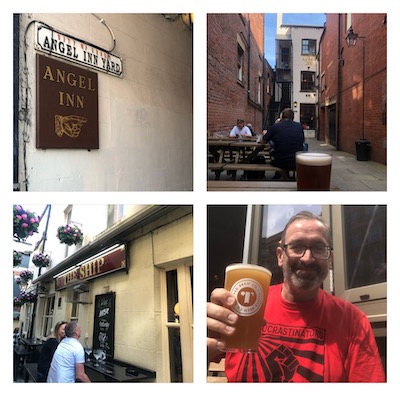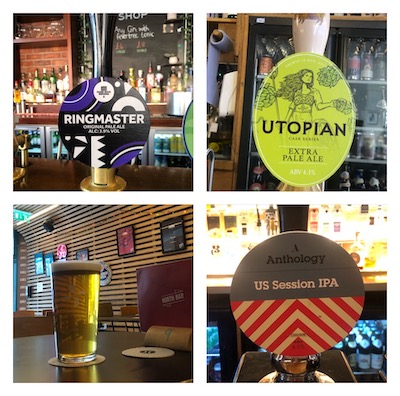 It's been a mad couple of weeks in Liverpool as we hosted the Eurovision Song Contest. It has certainly been a good success for the city and Eurovision. It was good to see on so many levels: even for a none Eurovision fan like me.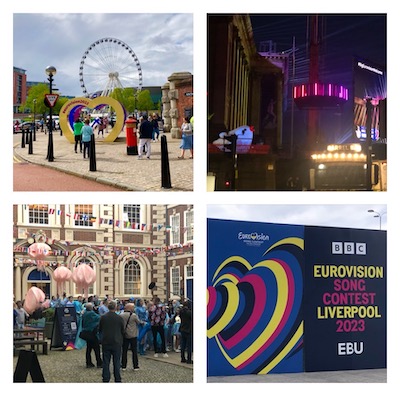 The news coverage has been about how successful it has been and how much money has come into the city with all the visitors - and forecast to come as the success of the festival was screened around the world. It certainly seemed like damn fine advertising for our place. On the news yesterday they went into several places that said they had record number of visitors and takings. Of course these were in the Albert Dock. The places around Pier Head would of course pick up lots of passing traffic from the thousands in town throughout the festival.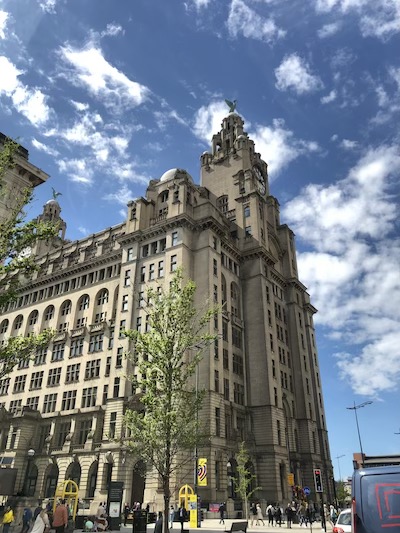 But my experience in the rest of town, both directly and through talking to staff, is that the bulk of town was actually unusually quiet: very quiet. It appears that many people avoided coming into town - which would have been exacerbated by the two day rail strike. It's not because all the customers were at Pier Head I am sure; I don't think the Venn Diagram of ale drinkers and Eurovision fans has a massive crossover.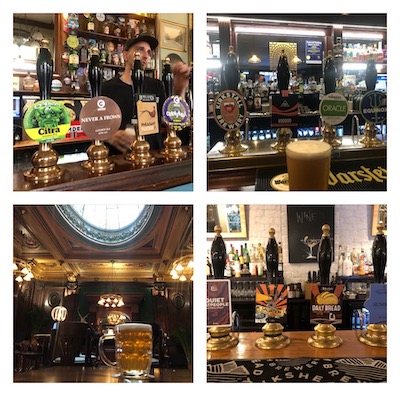 Anyway, whilst on the whole the city may have won from hosting the festival it hasn't all been winners. So your job over the next few weeks is to get out there as the city returns to normal and show your love of our brilliant hostelries. They'd love you for it; and you don't even have to wear sequins and glitter if you don't want.