07/03/22 11:41
A Short Manchester Jaunt


On Sunday I watched Liverpool win the League Cup in Kelly's Dispensary with Ossett '
White Rat
' and Titanic '
Plum Porter
' which was pub 76 for the year. Of course it was an enjoyable, stressful, exciting and ultimately brilliant afternoon in Kelly's. First time I've been in there for a long time and I was pleasantly surprised by the beer that was on. Of course the place was packed and they ran out of the Rat during the second half of the match. The Plum Porter was a more than adequate alternative. And I was happy to raise a glass of it to Kepa's woeful penalty.

Last week I went to Chester to scout (excuse) for pubs to go to this week for my mate's birthday, as he couldn't do it after catching Covid. This weekend was supposed to be the delayed Chester visit, but again has had to be postponed due to his housemate catching Covid from him. We can't do it next week as there are other commitments already in place. It may happen one week before summer. Then again maybe not.

With Chester 2 being delayed I ended up popping over to Manchester for a couple on Friday. I didn't add too many more new pubs this last week. I didn't feel like a big day so only went to five pubs over there. Three were old classic favourites:
The Britons Protection, The Peveril of the Peak,
and the
City Arms
. All were busy, which was good to see. Then I headed over to a couple of new ones to me: The
Gas Lamp
, on Bridge Street, and the
Cafe Beermoth
, on Brown Street. Both were fab.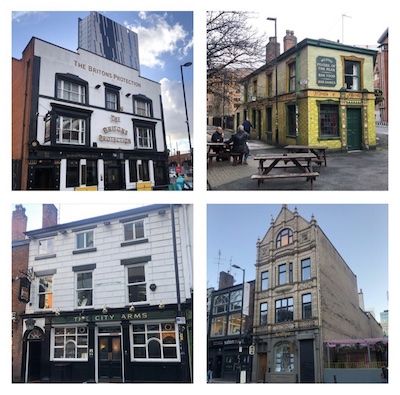 Britons, Peveril, City Arms, Gas Lamp


As I didn't go to that many pubs this time there are plenty left in Manchester to get to at some point in the weeks and months ahead. And I'm looking forward to going back there.
Here's to the next time


Of course in addition I've been to my usual Liverpool hostelries for beers, meet ups, watching the footy and reading & writing, including; Head of Steam, Keystone, Grapes, Doctor Duncans, Fly in the Loaf, Coach House and the Roscoe Head. They've all been on top form and there are generally plenty of people about.

I still haven't decided on an ultimate aim for the burgeoning pub numbers but will have a wee think about it. In any case Cafe Beermoth was pub No.
81
for the year.

Cheers.