A Sheffield Reprise


In July '21 I went to Sheffield on my own for a pub jaunt. Unfortunately it was during the couple of months that the NHS App was pinging anyone who had a phone. And so it was that whilst sat in the Kelham Island Tavern, just my third place of the day, I received the dreaded 'Ping!' That was the end of my crawl.

So here it is, just over 13 months later and I'm back again to visit the beery excellence that Sheffield has to offer.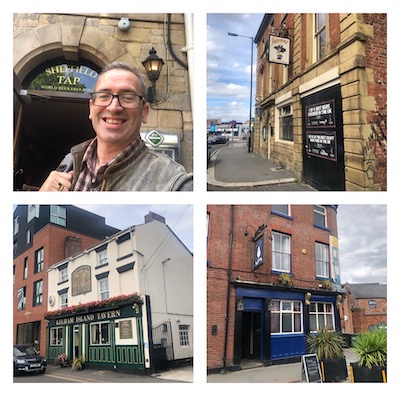 First up was a pint in the Sheffield Tap at the station – of course. Had a lighter session beer rather a Jaipur; an Anarchy 'Citra Star.' Can't start a session on Jaipur unless you're half expecting it to end early. Then my only misstep when I walked over to the Harlequin without checking it was open – it's closed on Tuesday's (and even it was a Monday or Wednesday it would have been open until 3pm. Lesson learnt: that's what smartphones are for and don't assume! Then it was a short walk up to the Shakespeare instead. Have delivered a few beers there over the last year. Another session there: Abbeydale '
Deception
.' it's only a short walk across the main road to Kelham Island for pubs 3 and 4: the Kelham Island Tavern and the Fat Cat.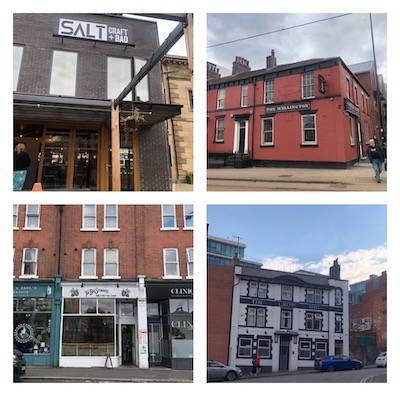 Then I headed to a new place for me, the Salt craft bar. Had a nice collab from Salt and Chapter Brewing: a '
Raistrick
.' Before heading to the familiar Wellington, which was fabulous for the cheese & onion bap as well as the beer. Headed towards the Bar Stewards next, but it wouldn't open for half an hour so I had to revisit the Shakespeare opposite whilst I waited. Had a Pentrich '
Release the Castaway
' and a nice chat with the barman, who directed me to the Crow Inn for my eighth pub. It was my first time there too, but I had high hopes when I heard it was a sister pub to the Rutland Arms (which I was beginning to fear I'd not get to given the distance). I wasn't disappointed. A good chat once more with the barman, whilst drinking a '
Threeway Joust
' from Turning Point brewery. He suggested that given my direction of travel (to the station) and time constraints, that the Head of Steam and the Sam Smith's pub, the Brown Bear, were my best options.

The cluster of pubs around the Kelham Island side of town spoils you, and when you head to the town centre the options are fewer and more spread out.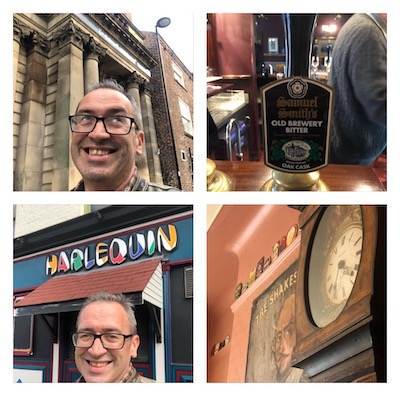 Made it to my train on time and without any to do. Ten pubs done (and one twice) and a good day all round. If you ain't been to Sheffield then get yourself down there. So many good pubs and great local (and not so local) beers. You know it makes sense.

So the pubs, in order, were:


Sheffield Tap

(Harlequin)

Shakespeare
Kelham Island Tavern
Fat Cat
Salt craft bar
Wellington
Shakespeare
again

Bar Stewards
Crow Inn
Head of Steam
Brown Cow
It's nice to find myself having to add a pub to the maps I'd created rather than delete them. Slater Street is not high up on the obvious place crying out for an ale place. The street itself can be a bit fun and it is a stones (or glass) throw away from the notorious Concert Square. So it was with interest to see that there was a pub opening there. It's at the right end - away from Bold Street - sited between the Spanish Caravan and The Merchant (I'll always think of it as Mello Mello).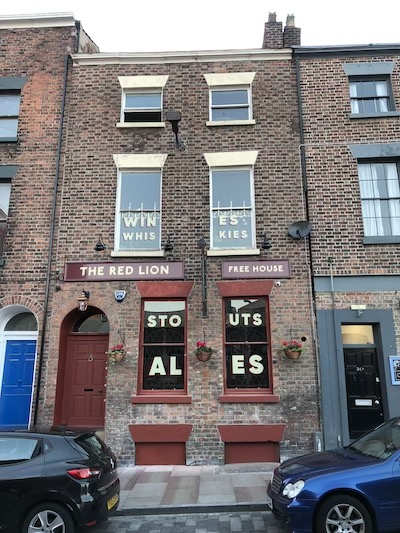 I've been in there a couple of times now and must say I've been impressed by how they've fitted it out. Looks like it's been there for years rather than a week. There's two floors and a decent outside area. It has five hand pulls on; including some local ones rather just generic nationals and obvious choices - have seen pales from
Chapter
and
Carnival
there so far.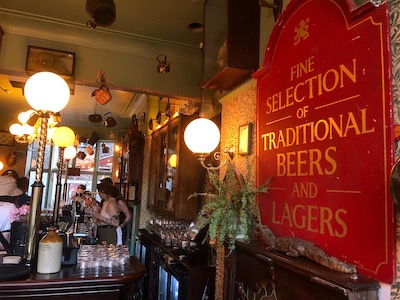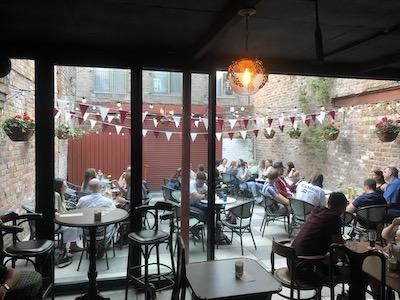 Being situated on Slater Street it is not going to be simply an '
old man's pub
' and there lies its opportunity and risks. Hat's off to them and good luck with the place.Will watch with interest.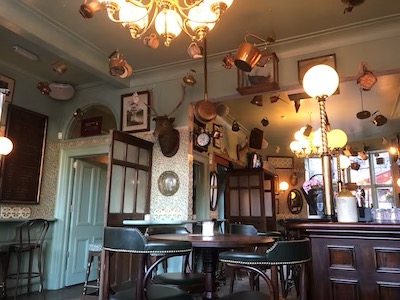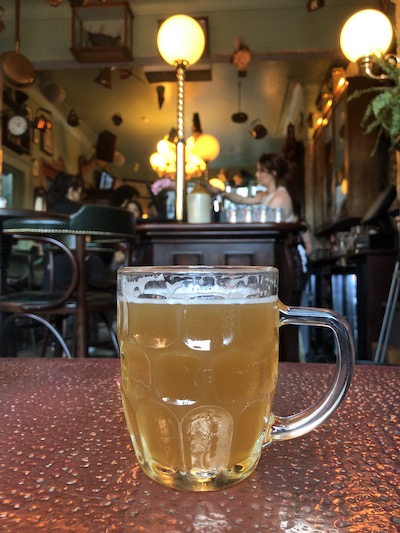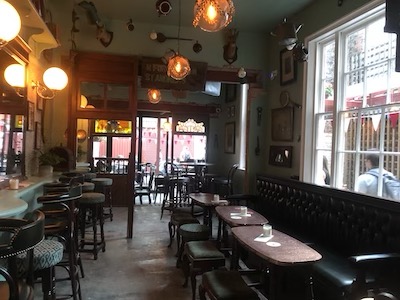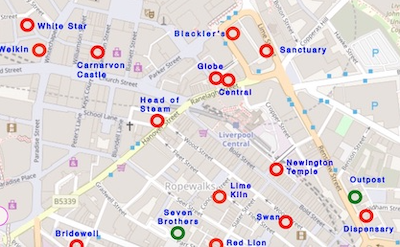 Liverpool ale maps
08/08/22 14:24
It is August. It is AUGUST! What the absolute…

The year is speeding up horrendously. And to that end I've found I haven't done an ale blog for a couple of months. To be fair it's been a funny month or two, not helped by finally succumbing to the dreaded lurgy. I've been very lucky not to have contracted it before I guess. And I know several people who've had it several times. Even though I have now had joined that crappest of clubs I can still consider myself lucky in so much as whilst I tested positive for it for a week I never really fell ill. I only had a very slight fever and a runny nose (and even that only lasted one night). I thankfully did not lose my taste. What an horrendous symptom that is for those impacted by it. I mean imagine that a pint of Carling would taste as good as a Jaipur or a decent stout. What cruel punishment.

Having a couple of weekends not going out due to the lurgy I then fell off my bike and hit my head badly. So much blood was spilt I think I may still be half empty. So that was another weekend not out. This may partly explain my tardiness with the blog. Hell I need an excuse or two don't I?

There's not too much to report anyway. The usual suspects have remained as my regular haunts in Liverpool and I haven't had any away days outside of Merseyside recently: apart from the Great British Beer Festival (GBBF). I went there last week with the happy band from Neptune. I'd only been once before (around ten years ago) when it was at Earls Court. This time it was at Olympia.


Team meeting at Lime Street Station before the trek darn sarf.


It was a fun trip down (oh my, too many things to go into there) but we all got down in one piece and arrived at Olympia just as they opened the doors. It was a lovely afternoon trying a few beers from the range of bars there. It was a long but very enjoyable day – from Liverpool to London and back again in a day. Had some loverly beers from around the country (and Europe too). Note: I was surprised at how much keg there was (not pleasantly, or horrified, just surprised), CAMRA grasping the keg nettle?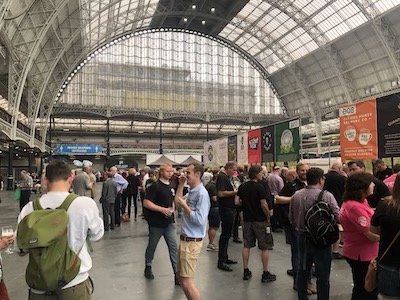 Olympia: it's big here, innit?


I was equally surprised that the program had a list of all the bars and all the beers, but simply had the names of the beer and the ABVs. That was it, It would have been useful - nay, essential - to see (if not a detailed description) at least a style next to the name. There was no way from looking at the programme to tell whether a beer was a pale, a stout or a sour (or whatever) unless the name of the beer had the style of beer within its actual name ('X Brewery Pale' etc), Crazy really. I mean if you wanted to try a few wheat beers or golden ales you'd have no chance of finding them using the programme. Similarly the bar names were a little confusing; the Caernarvon Castle Bar wasn't for Welsh beers and the Caledonian Bar wasn't for Scottish ones. There seemed to be no rhyme or reason about where the beers were. At the end of the day you could easily miss a beer style you'd be interested in thanks to the strange idea of not telling anyone where the stuff was. That said there were of course shed loads of beers there and you weren't going to go thirsty.


There were as many food vendors there as bars too. If you fancied eating yourself around the world instead of drinking it, you'd have loads of options. The place was enormous and a couple of walks around it you'd have your ten thousand steps in and have earned the right to a a kebab and a pint. Probably.


So many food vendors. I've been calling these something else for years! Who knew!?


I saw on Instagram and Twitter so many people I know well (or just a little) that were there, but I seemed to do a good job of avoiding most of them (or they did of me). To be fair Olympia is a couple of aircraft hangars short of an airfield so it's dead easy to miss people (or hide from them). All in all it was a most enjoyable trip down to the smoke and I'd happily do it again; just preferably with a more useful programme – and hopefully managing to meet up with more people before seeing on Insta that I'd just missed them. Think all the team had a really good time. And why not? Not so incidentally Neptune were requested to showcase a lager on cask. So we were down there with not the famous Mosaic or a Abyss, but 'Evenflow' on cask: Who'd have thunk it? It was my first half there – and my last (and only) pint,

Neptune 'Evenflow' - a cask lager from up north, who'd have thunk it?

Promise my next blog won't wait two months. In fact I'm going to Manchester on Friday - so maybe it'll be within the week. We'll see.

Cheers.