23/09/22 13:09
Went To Conwy By Mistake


Haven't written or uploaded a blog for a while as I had problems with my FTP. Got some help from Andy at
One.Com
in the end and got it sorted (for now). Thanks Andy. Andy's are good, ain't they?

Anyway, so to last week. I decided to go to Clitheroe on Wednesday. It's a bit of a hike by multiple trains (three each way) which eats into a fair bit of time (about 2 hours and 20 mins each way, if you are lucky). But as it transpires trains were not the problem; buses were. Multiple buses didn't turn up and then the one I got on got stuck on the East Lancs coming into Liverpool when cars repeatedly wouldn't let the bus out. People, you should let buses out. Nasty people some of those car drivers. I ended up getting to Lime Street about 5 minutes late (having built in loads of extra time, in theory to catch the 09:36 train).

There wasn't an option to work around it to get to Clitheroe at a decent time (next trains would work out 2 hours later, and it's not like you can just add 2 hours to the later train – it would already have been the last) and the trip was therefore off. It was still early though, so I resolved to go somewhere else that would get me there around the time I would have arrived if the buses had been friendly. I ended up deciding it would either be Lytham-St Annes or Conwy. In the end I chose the latter.

The good thing about that was there was time to get in a full English breakfast first at the Shiraz. There is no finer stomach lining. The train trip itself is a pretty quick and reliable affair (dangerous to say just as you get on the train, but okay after the trip of course). There are lots of train options. Ultimately it was Liverpool Central to Chester and then hopping on a Holyhead train. The train I got from Chester didn't stop at Conwy but stopped at Llandudno Junction just a short walk across the bridge towards the castle. It was a brilliant connecting train.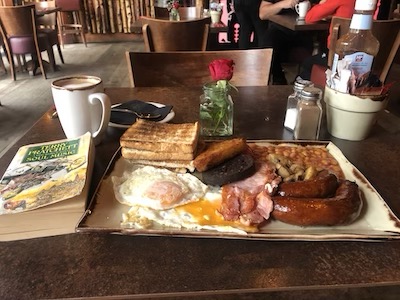 The famous Full English at the Shiraz Palace (I still miss the Williamson Square Shiraz)
The weather was good and the journey was spot on and rapid. The strangest thing was looking out the window and seeing all the streets I used to deliver to when I delivered parcels for Amazon across North Wales. Virtually every estate, indeed street, I knew from delivering or driving down. The view on the right side of the train was largely of the Irish Sea. Like I say; a good trip. They even had trolley service.

I got off at Llandudno Junction (which I'd delivered to) and the path takes you to the main road from the car park and opposite the entrance is a pub (which I've delivered to). There's a short walk to a cup-de-sac which has a supermarket entrance. There's a funeral parlour and some residential properties (which I've delivered to). Hell you get the picture – it's a well trodden path for me.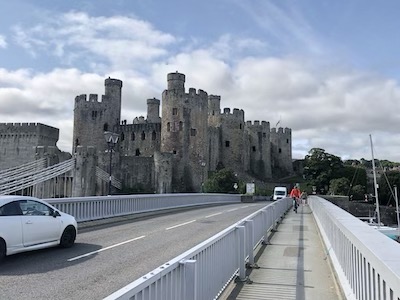 Conwy Castle from the bridge (Llandudno Junction is a short walk over the bridge; handy if your train doesn't stop at Conwy)
I crossed the bridge taking in the views in the dry and light wind. It wasn't Clitheroe, but there was a castle – and it had been a good call to go to Wales for a change (a recent change obviously).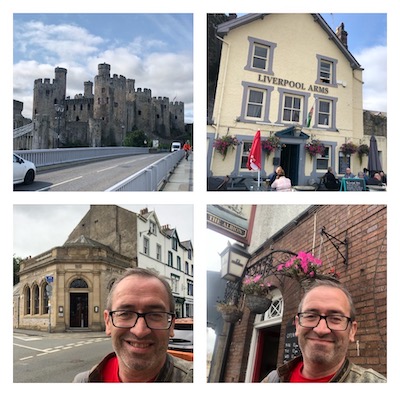 The castle and the first three of six pubs of my day out.
First up had to be the Liverpool Arms partly for the name and partly because is it next to the harbour. Spoke a little to the dray who was making a delivery from Purple Moose Brewery. Seemed a thoroughly nice chap as, like Andys, I'm sure most of them are.

Walked straight up the High Street past the Castle Hotel and other pubs and went to the Bank of Conwy. Lovely spot. Good to see it hasn't changed from earlier visits. Then it was a short walk, albeit by a circuitous route, to The Albion. It was spot on as expected (although one of the beers they had on had a Christmas name): points off for that – it's September.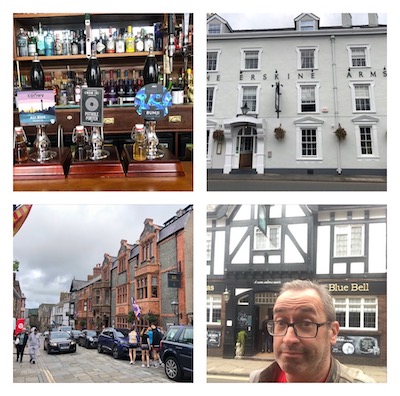 The last three pubs of my not quite Clitheroe day out.
It was another short walk (hell, the whole afternoon was – it's not a massive town centre) next to the Erskine Arms. A quite posh looking pub within a hotel. Had another nice pint there (a Purple Moose) before moving back downhill down the High Street. This time I went into the rather posh looking Castle Hotel. Had a really good chat with a young couple who'd travelled up from Cardiff. The man did some creative writing and the woman was a singer-songwriter – I mean how could you not have a nice chat?!

Lastly venue was the Blue Bell (and yes, I'd delivered Amazon stuff there a lot before) which was a nice almost end to the walk. The George & Dragon next door was closed so I headed back up the High Street, where I put my head in the Old Mail Coach, but it was Doom Bar only so there was a sharp exit and I headed back to the Bank, which after all was next to Conwy station,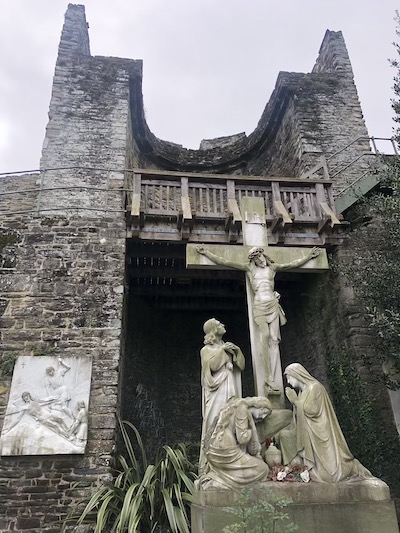 The brilliant statues and embossed (something or other) at St Thomas church. The walls are the defensive town walls.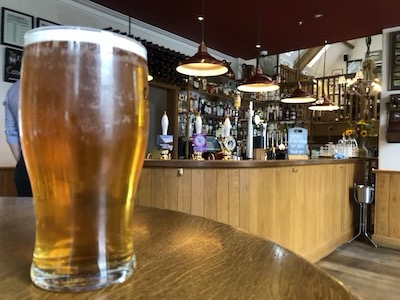 Lovely local pint in the Erskine Arms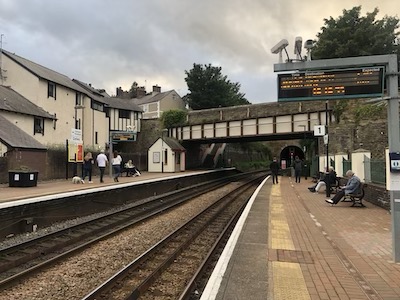 Conwy Station – home time
You can never get away from Liverpool totally. After going to the Liverpool Arms at lunch time I bumped into two of the Liverpool Head of Steam staff at Chester station. It can sometimes seem a very small world. Went to Dr Duncans for one when I got back as I feel a day's beer trip should take in seven pubs and I'd only done six in Conwy (and none in Clitheroe),

All in all a very good day – and Clitheroe is there for another day (indeed so is Lytham). If the buses and trains permit.


So the pubs, in order, were:


Liverpool Arms
Bank of Conwy
The Albion
Erskine Arms
Castle Hotel
Blue Bell

(and the
Bank
once more)