Thought I'd go somewhere I haven't been to on my tod before. Other than a CAMRA coach trip or two (way way back) I'd only been through Stafford on the train when travelling down south really. It's only just over an hour (64 minutes to be precise) from Liverpool Lime Street to Stafford on pretty regular trains (often the Birmingham New Street train). Got a few people to guess where I was heading on Twitter and no-one got it. Said it was somewhere I hadn't been etc which ruled out a surprising number of places I've been to over the last year. It turned out to be a beautiful start to the day when I arrived at around 11:40 and the walk out from the station takes you straight out into the lovely Victoria Park, alongside the River Sow, which made it doubly nice.



It was Stafford, folks.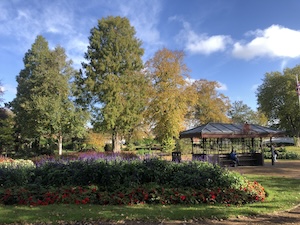 Victoria Park welcomes you right out of the station.
A canalised section of the River Sow through Victoria Park. Gotta love a weeping willow.
I hadn't done much research on the pubs before hand other than to use a Google Maps search (i.e. 'Stafford Real Ale Pubs') to make sure there were at least a few to keep me occupied. At first glance there certainly seemed enough to keep me out of trouble for an hour or six anyway.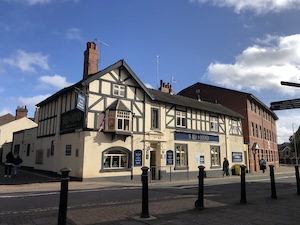 Bird in Hand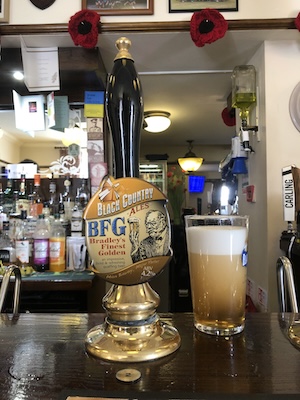 Black Country Ales 'BFG'
First up I went to the Bird in Hand. A spot on old pub which was busy with locals and doing in a good trade in lush looking Sunday lunches. I had a pint of Black Country Ales '
BFG
', whilst trying hard to not be tempted by the gorgeous smells of the beef and Yorkshire puds. Black County Ales were to be in several pubs on the day; Stafford is only 15 miles from Wolverhampton. I watched the end of the India innings in the cricket world cup, where England appeared to be doing quite well.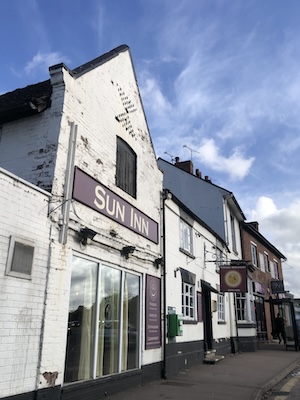 Sun Inn, a Titanic pub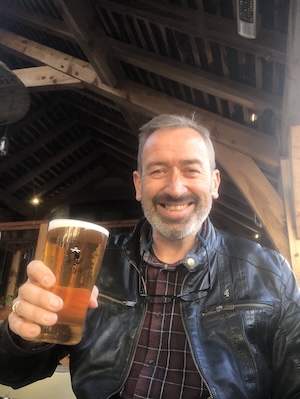 Loverly outdoor areas at the Sun Inn, while the sun was out.


The market town of Stafford isn't exactly overwhelming and a walk around the pubs would not prove too long at all. Next up was the Titanic Brewery owned pub, 'The Sun Inn' at the southern side of the town. There were lots of Titanic options of course, and i went for an '
Iceberg
' there and sat out in the covered area of the garden (which was large). It was a lovely day after all and it would be rude not to take advantage of it.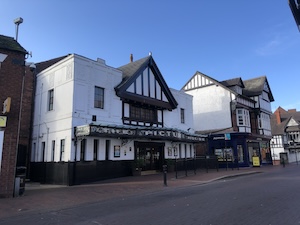 The Picture House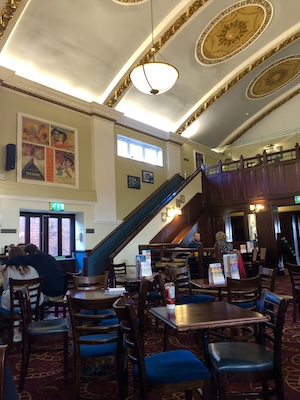 Inside of the Picture House.

After this I headed back more centrally. I almost walked past the Wetherspoons—because of my general aversion to them not because I almost missed it—but I thought it looked an interesting building (another old cinema). I went in the Picture House check it out and I did get myself a St Austell '
Average Joe
'. I supped it quickly and got out. It was a nice building and I liked all the old film posters on the walls, but it never feels right being in one (a Wetherspoons, not a cinema). It wasn't very busy in there, and the food didn't look half as appealing as those dinners in the Bird.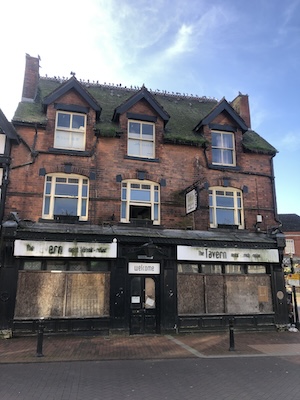 Pubs. Use it or lose it.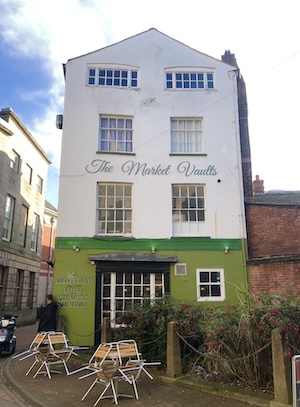 The Market Vaults
It was almost Halloween, can you tell?


Next up was the Market Vaults in the centre of the town (by the market, the clue is in the name dontcha know). A nice traditional pub. Quiet with a just a few regulars in and only the one beer (a Jennings '
Cumberland
') and a hand written pump clip. Listened to the cricket for a while and found England were capitulating in embarrassing fashion. This truly has been a World Cup to forget.


Shrewsbury Arms


It was only a short walk to the Shrewsbury Arms, which looked a pub not to be missed. Everton were on the telly, but despite that I really enjoyed this pub. Got talking to a large (three generations) family in there about beer and football. Was very good. Meanwhile England lost in the cricket and Everton won v West Ham (whilst Liverpool were winning 2-0 v Forest).


Ye Olde Rose & Crown, Ye Closed on Sundays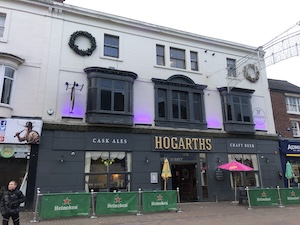 Hogarths


I aimed to head on up to the Greyhound and Railway for my last two pubs so was going to take in Rose & Crown, a Joules pub. The flaw in the very loose plan was that it was Sunday and the pub is closed on Sundays. A shocking state of affairs. A shame as I like a Joules. It also meant my mid walk pub choice between the Shrewsbury and the Greyhound was a trifle limited. I ended up in Hogarth's. A nice enough pint of Theakston's '
XB
' while I watched a very bad Man Utd capitulation to Man City as if they were the English cricket team. Not a great pub (very much a chain vibe along the line of Primark meets Wetherspoon with a dollop of Woolworths (without the pick & mix). Still, like I say the one beer they had on was fine and seeing Man Utd suffer is never a bad thing.


The Greyhound. The clocks changed last night. Was going dark early.


Headed north, just beyond the ring road and past the surprisingly central Stafford jail to the Greyhound. The weather was going downhill quickly after the blue sky start rain was definitely coming. A nice pub, where I had a pint of Oakham '
JHB'
and saw the end of the Man derby (btw Liverpool had gone on to win 3-0 in the end). From there I was to head to the Lamb, where I found no ale on and walked straight out then I had to negotiate some road works to get over to the Railway Inn. This was to be my last stop, but I ended up chatting to some locals and the landlord--and playing some Warren Zevon on the jukebox—whilst having the more than adequate
Butty Bach
.

I timed it well to take the short walk to the station (hey, it was the Railway Inn, it wasn't going to be far) and get the on time train back to Liverpool. Glad it was short in the rain too.

Having made it to eight pubs, some of which were better than others, it had proved a very good day. And at only an hour (+4 minutes) from Liverpool I'd definitely recommend it. The pubs were:


Bird In Hand
The Sun Inn
Picture House
(Wetherspoons)

Market Vaults
Shrewsbury Arms
Hogarths
Greyhound
Railway Inn


I'll probably put up a map at some point.

And the five I'd most recommend are the Bird In Hand, Sun Inn, Shrewsbury, the Railway, and the Greyhound. If I was going on a Saturday I'd add the Rose & Crown Joules pub and jib the Hogarth's (unless it was needed to watch the footy or something).

Been a while since I've updated the maps on here. So much so that when I went to do some changes this week it turned out the software I used to mark up the had changed. Not just an update but a whole new branding with
Vectornator
becoming
Linearity: Curve
. What? Anyway, after some checks to make sure it hadn't become a cost to me in the meantime I found I could carry on with the new Curve.

It was nice to update with the addition of a pub,
The Queen of Hope Street
, and the inclusion of a pub getting cask in for the first time, the
Greene King
,
Lime Street Central.
Had to also remove a couple of (keg) bars from one of the maps too. So perhaps that's 2-0 to cask. That said I don't really keep an eye on the keg bars much so there's probably (definitely) a few additions of them that I've not noted. Hell, they're supposed to be the ale pubs anyway.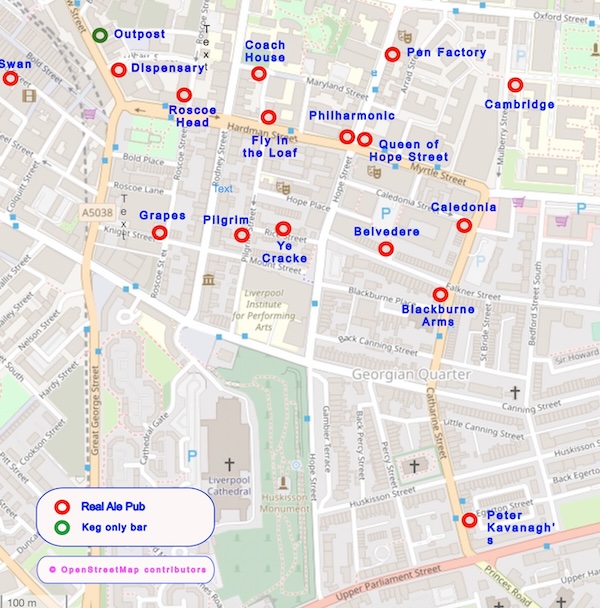 Will add some more maps in the future including
The Southport Run
and some local ones (eg Waterloo). Maybe even before the software changes again.
The other week, after going to York at the beginning of the week for a couple of days, I ended with another trip to Yorkshire, but closer to home—Huddersfield. I'd been there almost exactly a year before. It's a nice speedy trip on the train and it was going to be less of an intense affair than York had been (there's be no need for an overnight stay either).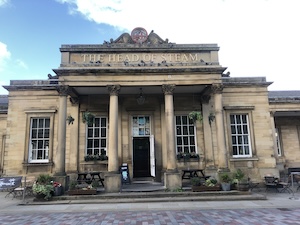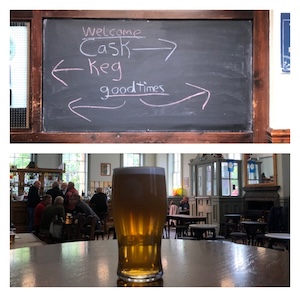 I went to ten pubs a day in York, but here I only went to six in the end. This was partly because I would have more than one pint in a couple of pubs, and partly because I was engrossed in my reading (I'd just started Agatha Christie, by Lucy Worsley). There are great pubs here and I didn't go to any new ones for me—I stuck with the tried and tested.

You can't go wrong right from the start as within the beautiful old station building itself is the Head of Steam (on the right as you leave the station) and the King's Head (on the opposite side).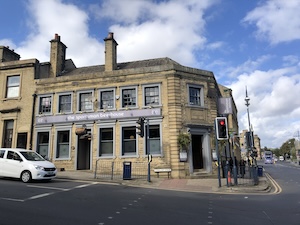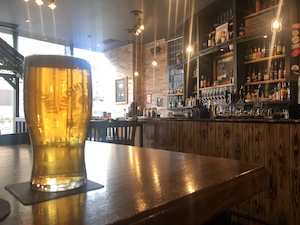 Then it's a ten minute walk or so to the Sportsman's, which is always full of cracking beer options, and it was to be no different this time. Walking back towards the station I went into Williams Beer & Gin House (it had been closed when going towards the Sportsman's). It was quiet but they had a couple of ales on. I was sent on a bit of a wrong turn by Google Maps next thanks to some roadworks and scaffolding so instead of The County next I went straight to the Rat & Ratchet. It was pretty busy in there despite the early hour. Had a lovely couple of pints before heading back across the ring road—and correctly--to The County. I decided to call it a day then and head back to Liverpool. It was an unrushed day to some great pubs with lovely beers (largely from Rat and Vocation breweries).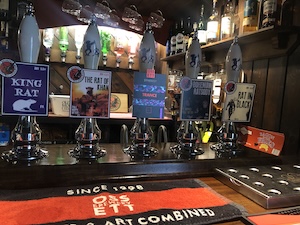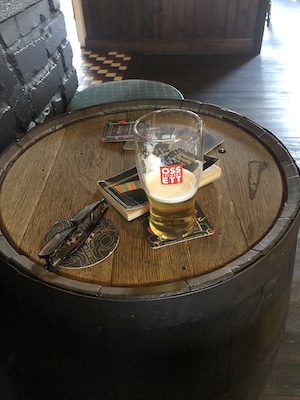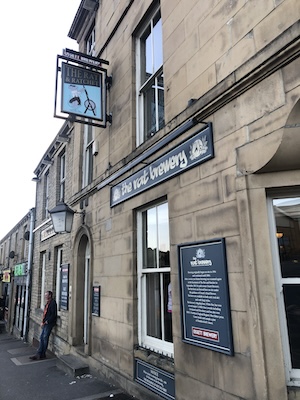 I'll pop a map up at some point. But here are the pubs I went to on this relatively short visit (and very easily walkable; even with missteps via Dr Google):


Head of Steam
King's Head
Sportsman
Williams Beer & Gin House
Rat & Ratchet
The County