A Two Day Wander Around Liverpool & Manchester
- PART TWO -


After Friday's stroll around Liverpool it was time to travel a little eastwards; to Manchester. I caught an early afternoon train to Manchester Victoria. Starting from Victoria it was a no-brainer to start the trip of with a pint in the famous and fabulous
Marble Arch
. I started with a decent session strength ale from the Marble Brewery, '
Persephone
.' I'd have liked to have stayed for another but like Friday I'd intended to have a decent length walk taking in quite a few pubs. So I headed the short walk back along Oldham Road and went to
The Angel
. Had a nice chin wag with a few people in there including a City fan in a Grealish shirt. Once I'd finished my Saltaire '
South Island
' and after much talk about this epic football season (and a mutual like of all things Frank Turner) it was time to move on.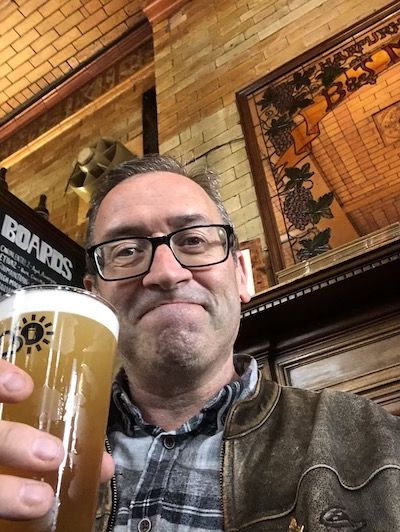 First up, a 'Persephone' in the Marble Arch


Next up was the lovely
Crown & Kettle
. It's on a busy corner and may not exactly be a desirable garden location but the outdoor seating area is a decent size and set back from the roads so that the traffic doesn't impact on you. My pint here, the third, was the lovely '
Sonoma
' from Track. After a chat to a couple there it was time to move on to the next place. And on this occasion I went to the
Castle Hotel
. The choice of beer wasn't as broad as in the previous places but I ended up with a nice '
Raspberry Pale
' from
Titanic
which I hadn't had for a while.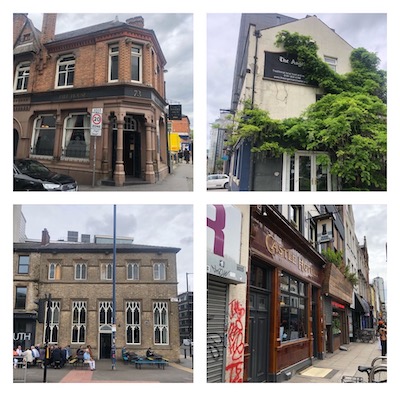 Marble, Angel, Crown & Kettle, Castle


Like all the other pubs the fifth pub was not far away either. It was time to go to the
Port Street Beer House
. There was seating area out the front and in a back yard. I headed to the yard with a pint of Thornbridge 'Wild Swan' - I was taking in some pretty top breweries as well as pub. A light rain began whilst I was sat out there: I was definitely getting the whole Manchester experience.

Next up was going to be the
Beatnikz
just a few hundred metres away. It was a shame to see that the brewery had announced their closure in the last few weeks, but good to see the venue was remaining open. However when I walked down there I spotted the
Northern Monk Refectory
, which hadn't actually been on my radar originally. I headed on in there first although with no pump clips on the four hand pulls I initially thought they had no cask on. Seems strange not to label them from both a customer's point of view and the guys & gals pouring the beer out unlabelled. I don't confess to understanding the logic in that. Anyhoo I bought a pint out of one the unmarked hand pulls – and I assume/quietly confidently that I was poured the right one: a
Little Faith
Hazy Pale. It's a big ole place and I guess it'd be a popular venue.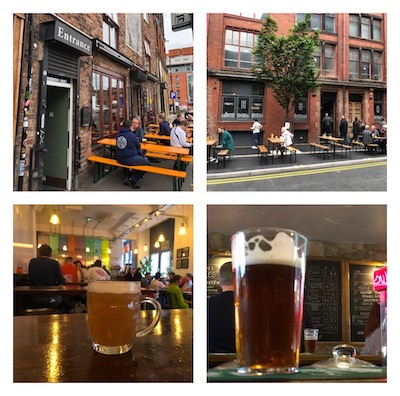 Port Street, Northern Monk, Beatnitz, Piccadilly
The
Beatnitz
then became my penultimate destination. A single colourful room with high stools and big tables. I went for '
Zero-Zero
' from one of my favourite breweries, Arbor. Then it was time to walk onwards towards Piccadilly for my train, but not before heading on into the
Piccadilly Tap
for my final destination. A bit dark and dingy after the lightness of some of the other places, but plenty of lovely ale to choose from – and a seat at the large bar. The last beer was a bit stronger than most of the others at 6% but the '
Hopfordian
' was from another good local brewery; Thirst Class.

It was then time to head on into the train station and discover which of the Liverpool trains were to run and which were to get cancelled. It had been a short train journey into Manchester, it was to prove to be a more difficult return. Thanks Northern. Well, thanks for one half of the journey.

It was definitely a very good pub walk. The longest walk was that from Victoria to the Marble Arch, then it was just a question of a little zigzagging towards Piccadilly. I'd happily do exactly the same crawl next time. Though of course I'd need to check out some other places, wouldn't I?

A Two Day Wander Around Liverpool & Manchester
- PART ONE -


Well I'd resolved myself to return to Manchester for a wander around the area between Victoria and Piccadilly stations, after visiting a few pubs in the more central area in late March. Originally intended to go out there on Friday, but the day started slower for me than I'd want and I'd have ended up with a later start in Manchester than ideal so I changed my Friday plans to a few pubs in Liverpool instead – with the intention of an early-ish finish so that I'd get up there on Saturday instead. So how did I do?…

Friday was a nice walk around many of my favourite Liverpool pubs. And yes, I know I do need to add a few Liverpool pub crawl maps to the existing maps page. Hopefully should get those sorted within the next week. But you can be pretty sure these pubs all have a good chance of being on said crawls. Wasn't planned but let's face it I can walk around Liverpool city centre with my eyes closed. Admittedly I'd probably walk into a wall early doors and then find myself in A&E so keeping my eyes open was deemed preferable on this occasion.

I started at the beautiful, and much improved,
Doctor Duncan's
as this is right by the Queen's Square bus station – so it's always a great place to start or end with (or both if you do a circular walk). I'd decided to have just one as I was going to get around to a few pubs (probably) and next up was the short walk to the
Sanctuary
. It had just got its bright rebranding on over the windows and they've thankfully removed the old branding off so that people can see in and out of the place. The old branding was nice looking but didn't do the pub any favours with passersby unsure of what the place was like. It was the end of the first full week of its reopening (after a brief opening on the Easter weekend). Had a nice chat with a few people in there and enjoyed some good tuneage (and even mastered some
Spotify
things between us - every day is an education). I'd decided to go to the Bridewell so of course had to break up the walk with a halfway stop in the
Head of Steam
(for a
Neptune/Thornbridge
'Coronado Breeze). Didn't quite crash a leaving party for Siobhan that was just starting when I was leaving. It's a shame to see her go, but it's always nice to see how close the team who work at the HoS are.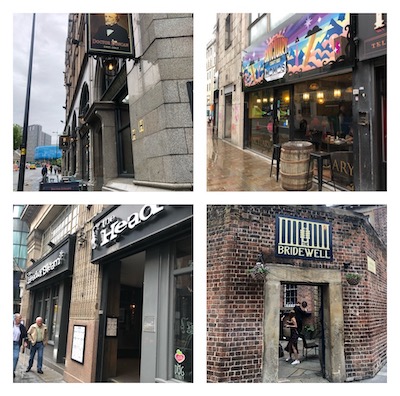 Only having one drink in a place does make the time go pretty fast but enables another few pubs. Who'd have thunk it?

The
Bridewell
was really busy. Of course with its makeup of all the cells it can fill up quite quickly (and empty out just as quick I guess). Ended up perched at the end of a bench under cover outside next to a big group of oh-so-young students. Went for a nice pint of
Five Points
XPA there. Then it was up to the
Grapes
. Hey, it's already sounding like a top crawl isn't it? And lo! they had
Coronado Breeze
on too. May have been taking it easy with the relatively low pintage but it could be made all the more dangerous with this second 5.7% of the day. Bumped into a couple of good mates there and had to stop for another then (only a half).


Then it was time for the short walk further back along Roscoe Street to the famous
Roscoe Head
. Had a lovely pint of Oakham 'White Dwarf' (thankfully in the sweet spot for a session ale at 4.3%). it was around 8pm at this time and I was conscious of hopefully getting to Manchester on Saturday so I only had time for one more pub. I'd kinda been guilted into going to the
Coach House
after the barmaid had collared me about going when I was in the Angus earlier in the week. It's only a wee hop, skip and a jump from the Roscoe so I did my duty by a stop there for a pint of Liverpool Brewing 'Liverpool Pale'. That's a lot of Liverpools in one sentence and that had been a lot of Liverpool in one crawl. If I hadn't had Manchester in mind I would have walked up the hill a bit to the Belvedere, but I'll save that one for next time.

If you know the pubs then you'll know that is a pretty decent set of hostelries. If you don't then take a look at the
maps
(or your handheld super genius with Apple/Google Maps) and get yourself down to a few them. You could do worse. And not a Wetherspoons in sight.

Part 2 of the city strolls of Liverpool and Manchester will be the Other Place. And I'll sort that tomorrow. For now I am psyching myself up for the last match of the Premier League season.
YNWA
Last Sunday was a very sad day for me and many others who frequented, or worked, at the Keystone: it closed for good. There had been a few rumours over the preceding month but it was only formerly announced on Tuesday and then closed just five days later. It was very much one of my go-to pubs in Liverpool so will create a big hole for my visits into town. I've read books there, listed to music, written stories, and of course played some music too. My Thursdays in particular will be much the poorer with the demise of the pub and John Witherspoon's open mic.

There is hope that the open mic will move to another local pub. I hope it can.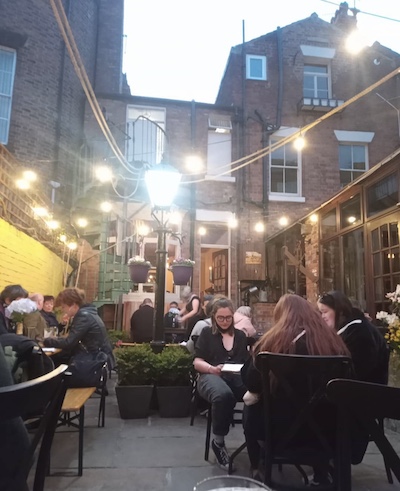 The Keystone garden.
The venue has gone through several iterations over the years, probably most notably the Clove Hitch, but opened last year as the Keystone when the pubs were only allowed to serve in outdoor settings. Its garden at the back made the place one of the few ale places available during this time. I found it early doors in those initial daft cold months of those stupid rules and fell for the place immediately.
A
pint in the conservatory. Very good place to write.
I used the indoors for writing a few times. It was a good environment for it and the music didn't tend to be too loud.
A burger and a pint before going to the Arts Club for the Magic Numbers gig.
The Tempo roasts were mega.
They went through a few in house food providers like Boffo Burger and more recently Tempo kitchen. Those burgers were lovely, and the Sunday lunches by Tempo were awesome.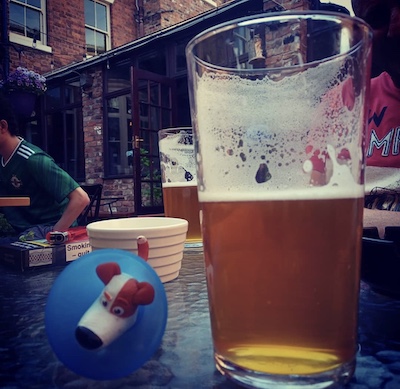 There was always a great mix of people in the pub. Locals, regulars, and some students (thankfully not too many of them of course). There were plenty of events that used the Keystone. In addition to the open mic there were regular quizzes, open mic comedy, film nights and Meet the Brewer events. All the people involved in this will miss the Key all the more.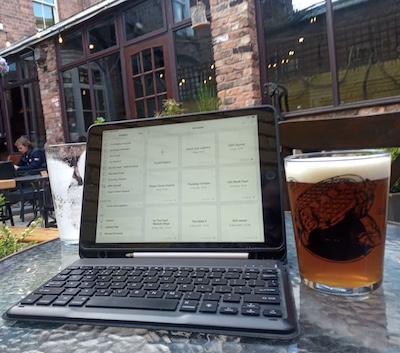 Which Scrivener project to open? When the weather was okay you could write outdoors too.
It was such a shame to see if go from my perspective but of course it was worse for the staff. It was good to hear that Charley, Ryan, Ben, Jess and all were able to get at least some work in other places within the week of being told of the closure. And I can only wish them all the best for the future. The beer, the music, the events and the food all made the place but the staff truly made it a great place to go.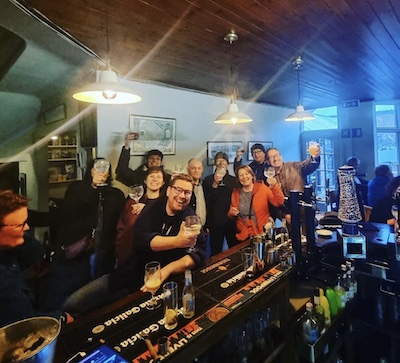 Went to the Keystone on the last afternoon to help drink the place dry. You have to pitch in at times like this.


Farewell to the Keystone and good luck to all who sailed in her. Now, what am I doing on Thursday?