Good Couple of Strolls – Part 1
22/05/22 12:05
A Two Day Wander Around Liverpool & Manchester
- PART ONE -


Well I'd resolved myself to return to Manchester for a wander around the area between Victoria and Piccadilly stations, after visiting a few pubs in the more central area in late March. Originally intended to go out there on Friday, but the day started slower for me than I'd want and I'd have ended up with a later start in Manchester than ideal so I changed my Friday plans to a few pubs in Liverpool instead – with the intention of an early-ish finish so that I'd get up there on Saturday instead. So how did I do?…

Friday was a nice walk around many of my favourite Liverpool pubs. And yes, I know I do need to add a few Liverpool pub crawl maps to the existing maps page. Hopefully should get those sorted within the next week. But you can be pretty sure these pubs all have a good chance of being on said crawls. Wasn't planned but let's face it I can walk around Liverpool city centre with my eyes closed. Admittedly I'd probably walk into a wall early doors and then find myself in A&E so keeping my eyes open was deemed preferable on this occasion.

I started at the beautiful, and much improved,
Doctor Duncan's
as this is right by the Queen's Square bus station – so it's always a great place to start or end with (or both if you do a circular walk). I'd decided to have just one as I was going to get around to a few pubs (probably) and next up was the short walk to the
Sanctuary
. It had just got its bright rebranding on over the windows and they've thankfully removed the old branding off so that people can see in and out of the place. The old branding was nice looking but didn't do the pub any favours with passersby unsure of what the place was like. It was the end of the first full week of its reopening (after a brief opening on the Easter weekend). Had a nice chat with a few people in there and enjoyed some good tuneage (and even mastered some
Spotify
things between us - every day is an education). I'd decided to go to the Bridewell so of course had to break up the walk with a halfway stop in the
Head of Steam
(for a
Neptune/Thornbridge
'Coronado Breeze). Didn't quite crash a leaving party for Siobhan that was just starting when I was leaving. It's a shame to see her go, but it's always nice to see how close the team who work at the HoS are.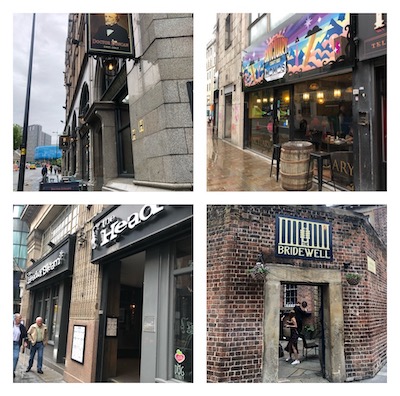 Only having one drink in a place does make the time go pretty fast but enables another few pubs. Who'd have thunk it?

The
Bridewell
was really busy. Of course with its makeup of all the cells it can fill up quite quickly (and empty out just as quick I guess). Ended up perched at the end of a bench under cover outside next to a big group of oh-so-young students. Went for a nice pint of
Five Points
XPA there. Then it was up to the
Grapes
. Hey, it's already sounding like a top crawl isn't it? And lo! they had
Coronado Breeze
on too. May have been taking it easy with the relatively low pintage but it could be made all the more dangerous with this second 5.7% of the day. Bumped into a couple of good mates there and had to stop for another then (only a half).


Then it was time for the short walk further back along Roscoe Street to the famous
Roscoe Head
. Had a lovely pint of Oakham 'White Dwarf' (thankfully in the sweet spot for a session ale at 4.3%). it was around 8pm at this time and I was conscious of hopefully getting to Manchester on Saturday so I only had time for one more pub. I'd kinda been guilted into going to the
Coach House
after the barmaid had collared me about going when I was in the Angus earlier in the week. It's only a wee hop, skip and a jump from the Roscoe so I did my duty by a stop there for a pint of Liverpool Brewing 'Liverpool Pale'. That's a lot of Liverpools in one sentence and that had been a lot of Liverpool in one crawl. If I hadn't had Manchester in mind I would have walked up the hill a bit to the Belvedere, but I'll save that one for next time.

If you know the pubs then you'll know that is a pretty decent set of hostelries. If you don't then take a look at the
maps
(or your handheld super genius with Apple/Google Maps) and get yourself down to a few them. You could do worse. And not a Wetherspoons in sight.

Part 2 of the city strolls of Liverpool and Manchester will be the Other Place. And I'll sort that tomorrow. For now I am psyching myself up for the last match of the Premier League season.
YNWA