20/11/23 11:35
On Saturday I was over in some Manchester postcodes for Salford Beer Festival and some farewell pints for a colleague. It was a good trip in both regards.

It was my first time over at the Salford Beer Festival. Last year I went to the Wirral Beer Festival which clashed with it as it did once again. And so I began this year and last with some stomach lining kindly provided at the Shiraz, which I had along with my mates who were all going to the Wirral Fest. After that I wouldn't be needing much later—and maybe no dinner either.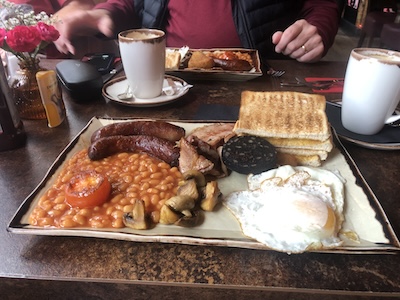 The Shiraz Breakfast Prescription Hug
Three of the Neptunians on the trip took the rather nice, very fast, and pretty damn full, Newcastle train. The previous train had been cancelled so this was inevitably to be packed all the way.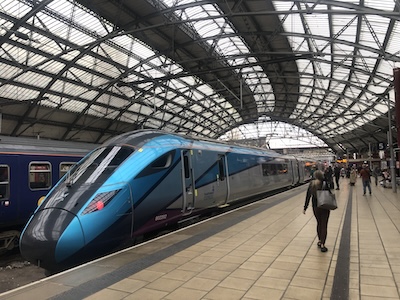 The Sleek Train To An Afternoon Ale


A speedy Uber picked us up at Manchester Victoria and whizzed us of efficiently to
Hemsley House
for the festival and we were quickly in the groove. I spent most of my time in the second smaller room which housed the cask ales, the larger room of the Masonic Hall was the keg room. It was a busy session with all the seating taken. Thankfully I'd had my knee injected (and emptied of fluid) the day before and standing all the session actually didn't prove to be an issue. I'd taken charge of a pint glass rather than one of the smart schooners of course. But I didn't have a single pint whilst I was there (or two thirds; at least not a requested one). I always find myself drinking quite slowly at festivals and it was proved to be the case again. The only one keg I had was the Neptune '
Secret Beach
' which was brewed for the festival and is a lovely Californian Pale (i'd had the cask version the night before in the Neptune Beerhouse). I had the keg whilst in the large oom to view the raffle draw—and sing along with the Wurzels and everyone there (apart from a rather perplexed Liam) '
I Am A Cider Drinker
'
ooh arrh, ooh arrh ay
!


The Cask Room of the Salford Beer Fest

In front of the bar at Salford Beer Festival


I didn't win the raffle.
Ooh arrh, oh arrh No!


At the end of the session it was time to get out of Salford (isn't it always the case?) and go over to our third city of the day, Manchester (I'm counting Liverpool of course). It was another Uber which arrived quickly. But then the traffic of Manchester intervened and we spent a lot of time not moving anywhere at all. I guess it permitted us to gain a thirst. We were only to go to two pubs in the evening though. First up was the excellent Gas Lamp, on Bridge Street, where we met up with Chess for her farewell pints.

We sat in the white tiled back room for a couple of beers and a good chinwag, whilst battling through the noise (it was packed and I think the tiles make the room an effective amplifier). After a few pints it was time to move on. Outside a passerby was stopped to take a shot of us when we left and to be fair I think he did a fine job with the available entourage. The next pub was never in doubt—you can't go to Manchester without a visit to the City Arms. After standing up all afternoon at the fest it was good to be able to get seating at both pubs. Perhaps it was a shame though that there were no further Wurzelling.
A plethora of Neptunians
Then it was time to go home (in my case via Dr Duncans; it is next to the bus stop of course). Two things I learned on the day were: that Uber is really rather good and I should download the app (even if Manchester traffic isn't), and that Salford Beer Festival is a mighty fine institution. All in all an excellent day trip.
31/03/22 18:29
After doing a blog weekly - which let's face it should be easily doable - for about five weeks I messed up last week by not getting one out. Not entirely sure why, but I guess time seemed to be at a bit of a premium. Maybe because I was working on Monday this week when I don't usually. Anyways so here are a few words about the last week or indeed the last fornight.

I haven't had any away day trips away from Liverpool since the visit to Wigan in mid March other than a visit to the Bow-Legged Beagle in New Brighton (which also took in the James Atherton opposite), so the pub numbers haven't risen significantly since Wigan. Indeed in the last fortnight I've only been to 9 new pubs for the year.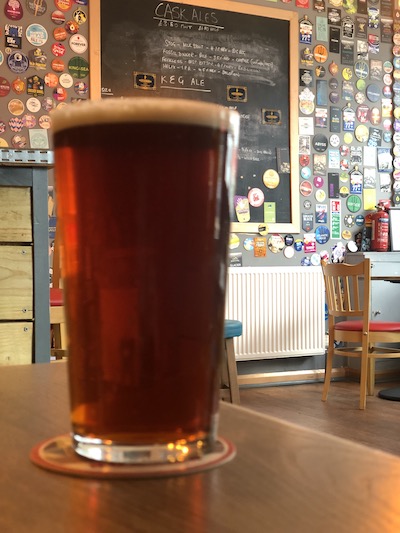 A pint of Salopian in the Bow-Legged Beagle, New Brighton.


Last week I did make it to the Wirral Beer Festival, organised by the Ship & Mitre pub in Liverpool. Many of my mates have been several times. All of them thought I had been as they always assume that if they are at a beer event I must be there… surely. But I haven't been. I dare say by the time they've left each event they've been to then they may well be struggling to remember much precisely. I'd met a couple of them a few times back in Liverpool in the evening after they've been there and they a) always say how good it was and b) at least one of them is very wobbly (somewhere between funnily wobbly and worryingly wobbly). Maybe they remember bumping into me in the pub and then back date their assumption that I must have been with them all the time. Who knows? Anyways last weekend was indeed the first time I'd been to the festival in Hulme Hall, Port Sunlight.

A group of eight of us met up in Liverpool first and had a quick bite to eat and then a pint in the Globe before catching a train at Central to Port Sunlight. It was noticeable that only two of our group wore masks on the train. The two of us happened to be the only two of the group who haven't had Covid (at least as far as we know) - make of that what you will. The train was busy and we kinda guessed looking around that a fair few were heading to Port Sunlight too. Hey, some people have a look, don't they?


Walk in the Port Sunlight sunlight.
The day was surprisingly warm for April (and even more surprising when I realised it was in fact March) and proper sunshine was bursting through the train windows on the journey, making us doubly buoyant for an afternoon of beer with our mates. At Sunlight in the Sunshine the train did disgorge the predicable occupants into the famous Wirral enclave. We'd timed it to arrive for about midday; the festival actually started at 11am (until 5pm) but the hours seemed a little over the top to us.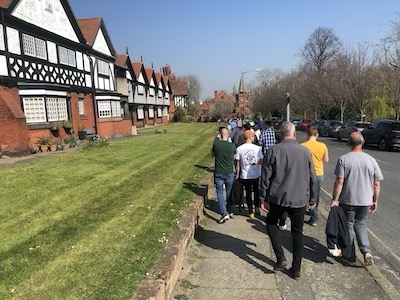 A fair few on the ale march.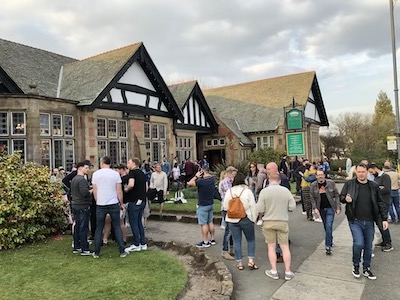 Hulme Hall


The walk from the station to Hulme Hall was lovely. The architecture of the village is brilliant - and now for me will always remind me of early
Peaky Blinders
as it was used early on (to represent Bourneville I assume - it just be cheeper up norf. By the time we got there just after noon there were already people sat outside with beers taking in the sun. It was more like Bishop's Castle in July than Wirral in March. The QR code tickets on the phone worked perfectly (which was better than the experience in the Liverpool Beer Festival earlier in the year) and then we were in.

First up a glass (pint glasses with appropriate markings) and a programme. Then a queue to pay for tokens - "
anyone paying cash?
" It was all very well organised and then we were in with an empty glass and beer tokens. Wonderful.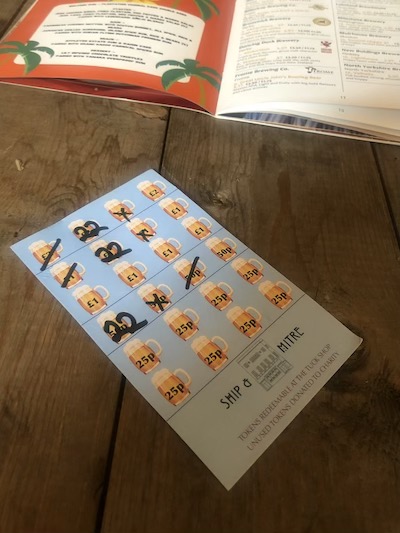 Beer Tokens
It's smaller than the Liverpool Beer Festival of course, but at the end of the day you only need enough beer for the session you are at, don't you. Bumped into a few people I knew - and the guys & gals from Liverpool Cake Co too - and a few who
knew
me only from Twitter.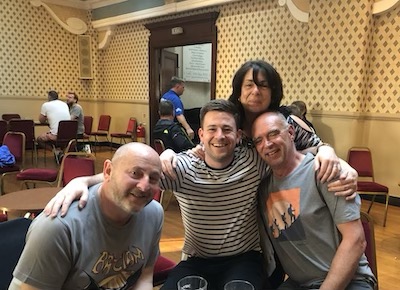 Later on after a few beers.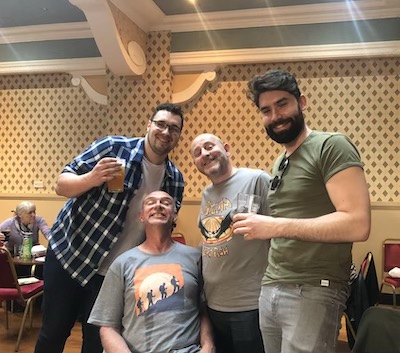 Say cheese.


There were plenty of beers I enjoyed. But I don't go to festivals often with a need to try new stuff and had mainly beers I knew or breweries I knew. The attitude towards really strong Imperial Stouts was ridiculous with a 13% not being served in thirds but only in schooners. Ridiculous - and needs to be rethought for the next festival. Assuming the purpose of the festival is to provide a range of good beers to pick from rather than an opportunity to find oblivion, or at least an early end to the visit.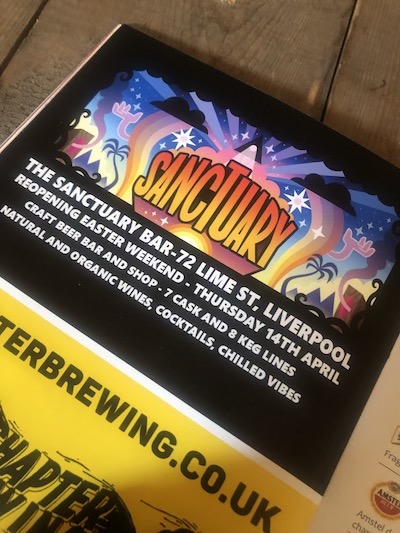 Good news in the programme about the Sanctuary return.

There was a nice advert in the festival programme heralding the return of the Sanctuary on Lime Street. I for one have missed it and am looking forward to seeing what has been done to the place.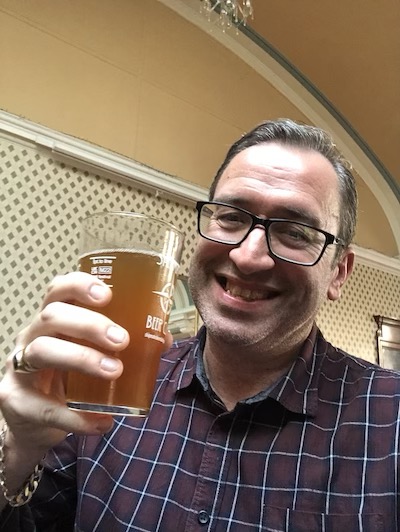 Cheers to a good event.
Got home to Liverpool in one piece and a few of us were up for a couple more pints in Rigbys, the Angus, and Dr Duncans. Ended the night with a lovely donner kebab from my local joint in Fazak. All in all a good day was had.


98 pubs and counting…