'FIVE GO TO SOUTHPORT:

A BEERY ADVENTURE WITH SEVERAL UNEXPECTED TWISTS
'


On Saturday five of us went along to Southport with the aim of having a couple of pints there then doing the
Southport Run
on Merseyrail - taking in Birkdale, Hillside, Freshfield, and Waterloo. Through no fault of our own it didn't prove to be the case though…

Two of us went to the Shiraz for a Full English first up where I bumped into three reprobates from Neptune Brewery who were doing the exact same thing before taking their train east to go to Salford Beer Festival.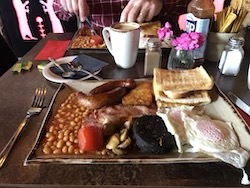 The famous Shiraz stomach lining.


We then heading on to Central and met up with a couple of the lads on the Southport train. The fifth guy was running a tiny bit late and on the following train 15 minutes later.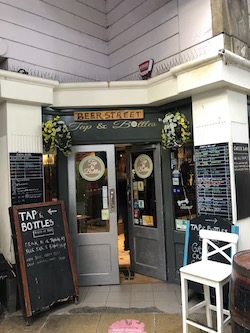 The Tap & Bottles, Cambridge Arcade
Our first pint was a Red Ale from Reedley Hallows.
The four of us arrived in Southport just before 12:30 and headed straight to the Tap & Bottles. The weather was fabulous – especially given the wet and windy week we'd just had – it really was sunny Southport. The Tap was already busy, including with some Morris Dancers, and we ended up having to sit out in the arcade seating. There was much reminiscing about visits to the town by each of us, and also lamenting the demise of the Liverpool Branch CAMRA ale trips. The fifth member of our group duly arrived and got a quick half in before heading on to the self proclaimed 'Hidden Gem' of the Masons Arms.


The Masons Arms – it's not that hidden.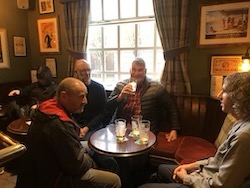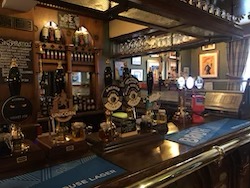 I'm pretty sure I've been with two of the guys to the Masons before, but everyone claimed that they had never been there before. The drinks of choice were Robinsons '
Dizzy Blonde
' and Titanic '
Anchor
.' It was good to see that it was busy too.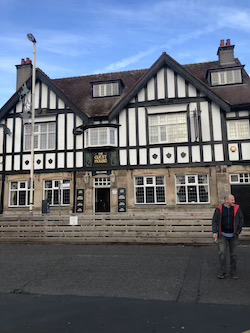 The Guest House
Another Red Ale.
Next up was the short walk, two small blocks away, to the Guest House. This time only two claimed to have not been there before. It's an old favourite that has won Southport Branch Pub of the Year award several time. Most of us drank a red ale (after three of us had drank a red ale, '
Armistice Day
' from Reedley Hallows, at the Tap too) - '
Red Goose
' from Old Mill Brewery.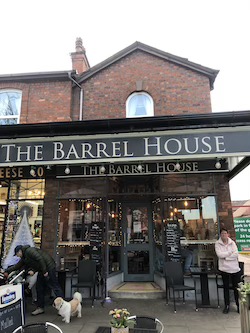 The Barrel House, Birkdale


Then it was back to the train station for the short hop (one stop) to Birkdale. There was a ten minute wait there and then we arrived in Birkdale in next to no time. The Barrel House is just a hop and skip from the station. It is a MicroPub and was full inside so we sat outside once again. This time with a pale ale from Twisted Wheel. I checked the time of the next train for our hop to Hillside and Grasshopper and we had about four minutes. We made it easily. But then it all went a bit Pete Tong.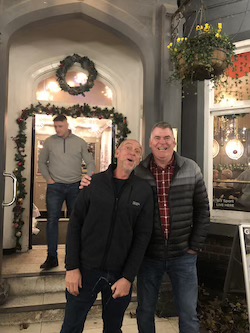 The unexpected visit to The Park, Birkdale
On the platform the sign said that the next train was twenty minutes away and not just a couple of minutes away as it should have been. There were plenty of people on the platform and faces of confusion abounded. Then the ticket guy came over and told everyone that the next train may be in about twenty or so, but might not be, Apparently we'd arrived on the last train to get there as the whole network had come to a bit of a halt following a fatality at Kirkdale. Although the station was on a different line the knock on effects were messy.

We decided to pop into The Park on the other side of the tracks, but even closer to the station than the Barrel. The beer choices were limited but at least one of them was '
Tribute
' and most of us went for that. Back at the station and we had to wait a fair while. We decided to get a bit further up the line, closer to Liverpool, given the unknowns of the continued network issues. We went on up to Freshfield and the Beer Station. We went for Serious - '
Harlequin & Aurora
' there. Tony fell for his usual love. A beautiful eleven week old border collie puppy.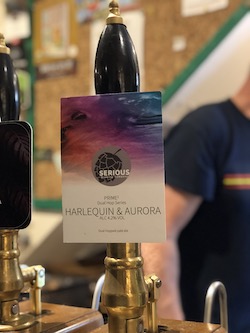 The last pint on the Run before going g back to Liverpool.

Back at the station we found the knock on effects were still evident – it was very busy again. When the train came it was pretty busy and with each additional station then on it got more and more packed. Each stop was taking too much time now and we weren't sure about how it would affect us later on, so we decided to head straight back to Liverpool on the train we were on rather than get off at Waterloo. It was a shame, but even then the adventure wasn't over yet. We'd decided to get off at Moorfields and go to the Denbigh Castle, then maybe the Ship and Dr Duncans. But the train gods were having none of that.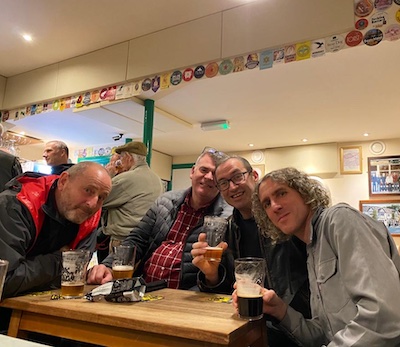 Beer Station, Freshfield


We stood up as we approached Moorfields and about a third of the train looked like they were to get off. But as the train stopped the doors failed to open. We were there for several minutes and there was no movement of the doors and no announcement on the intercom. Nope. The train just went on to Central after its stop. We were left none the wiser as to why the doors never opened.

And so we never made it to those three pubs. We went into the Head of Steam and ended up having just a few there before going our separate ways. Another couple of people joined us there (having got back from Birmingham). All in all it had been a pretty good day, but it was a bit of a shame about how it became messed up. Then again there had a been a fatality on the line so we can't exactly complain about it overly can we?

The last two Saturdays have involved local trips out to
Chester
and Southport. Wherever next? And what will befall us during the trip next time?

On Friday I was out with a few mates and we decided between us to pop over to Chester on Saturday for a couple of pints. And it nearly proved to be not much than that: much to my surprise. To be fair there was a mixture of tiredness and other stuff going on so in the end instead of the normal 6-8 pubs I'd end up doing on a day trip we just went to four. Yes, FOUR.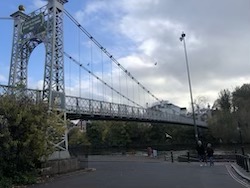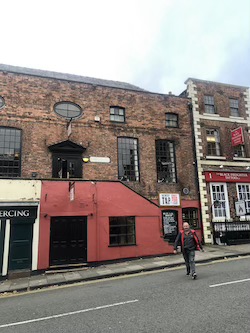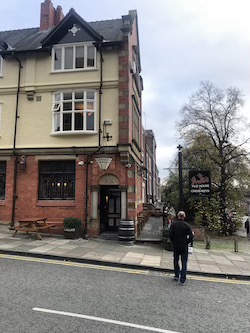 Still, it wasn't a bad day out. We started with The Brewery Tap the Spitting Feathers pub, and then it was across the road to the Cross Keys (a Joules pub). From there we went up to Cavern of the Curious Gnome, which was a new one to my mates, and then finally we popped in the Cellar on the way back to Liverpool. We were back in Central by about 7pm. So early. I went off to the Head of Steam, where one of my buddies came with me (after he had declared he was going to the toilet at Central Station).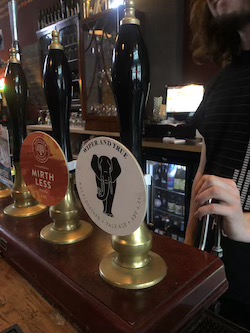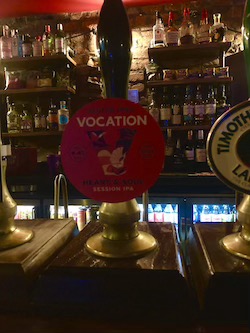 And I finally ended up with a couple in Dr Duncans, where I bumped into a couple of Americans I'd met on Thursday night. They were over for the footy (Liverpool v Southampton) from Pennsylvania. That's commute. They were a great couple, who very much loved Liverpool, saw a good game, and adopted Dr Duncan's as their local while they were here. Had a couple of good chats with them covering all sorts of subjects (including Liverpool, beer and football of course: and writing (Doug is a screenwriter)). Hope to bump into them again when they are next over – or if I accidentally end up in Pennsylvania for a spell. Pubs are great aren't they? Never know who you are going to meet.

A good day. It was short in Chester, but lengthened in Liverpool.
Hey, it's been a while since I've done a blog. The last one was following the Beer Quarter walk around Dale Street (the less said the better about completing the challenge for a draw that never happened. Ho hum.). Anyway another wee crawl was undertaken on Friday. It was an all dayer, which is best – as it means the beers are spread over a longer time. Cramming beers in faster is a recipe for disaster after all. Nope, it was the always spot on Shiraz breakfast for stomach lining followed by the train to Southport. After a few beers in Southport it was then the train back to Liverpool with a few hops off at choice locations.


I've done the Southport run a few times. The first time was many moons ago with me buddy Ken and a group of his mates from Bootle and its environs. That time we had to wait in Southport for a late comer – so we ended up having about 8 beers before even getting back on the train for the hop off and on part of the trip. Given the group I was with it was largely Guinness on the menu for yours truly too. Like I say it was a long time ago. Indeed most of the pubs I went into this week (seven out of ten) weren't even in existence back then.


After the Shiraz it was straight to Southport using a Saveaway ticket. Didn't do many in Southport as I wanted to ensure I got back on the train at a decent time. Went to three pubs. First the Tap & Bottles – which would always be my choice if I could only do one pub in Southport – where I had a Salopian '
Neewollah
.' (halloween backwards). Then it was Mason's Arms, where I had a Robinsons '
Dizzy Blonde
' and chatted with some nice people with a similar outlook on getting around and about for ales. Finally it was the Guest House for a Phoenix '
Pale Moonlight
' before getting on my bike (not literally) to the next venue.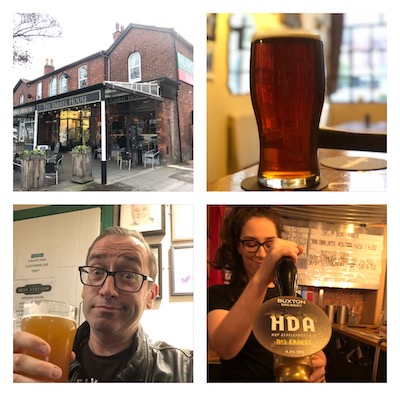 The Barrel House in Birkdale was next up. It's a very short walk from Birkdale Station and had a nice couple of beers on, including Twisted Wheel '
Footsteps on the Dance Floor
'. Loved the blues music which was on at the time as much as the beer. It was a short walk back of course within the half hour to get the train to Hillside and the Grasshopper. It was again a wee walk and one pint - it was '
Quagmire
' from Big Bog. I missed out the next station and headed straight to the Beer Station at Freshfield. It really couldn't be much closer to the station, which makes it ideal for the Southport Run. And the beer is alway excellent. It is such a popular bar the main risk is trying to find a seat. Neptune '
Mosaic
' was on and I had to stop for two didn't I?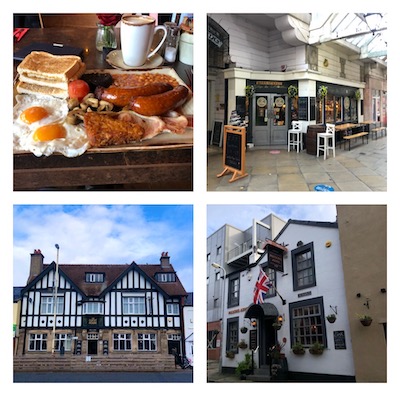 Didn't bother with Formby or Hightown and headed straight to Waterloo. There are so many options around South Road and on this particular occasion I chose not to go to the Volunteer (I usually would go there). This time I went to the Trap & Hatch where I had '
HDA No.1 Ernes
t' from Buxton Brewery, then Four Ashes, and the Old Tap (Vocation
'Heart & Soul'
). It was great to have some lovely beers and meet some great people.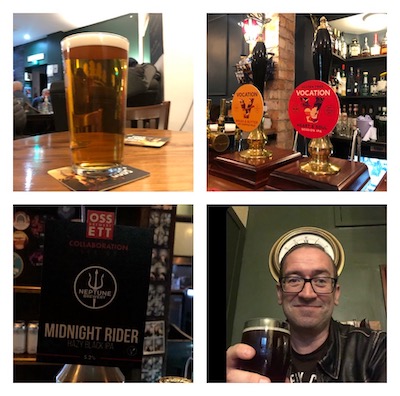 Finally it was back to Liverpool Central. I popped out to the Head of Steam in the hope of finding '
Midnight Rider
' on – the Ossett and Neptune black IPA collab – and I was in luck. It was a nice way to end a great day out.


The trip this time was as follows:


Tap & Bottles

Mason's Arms

Guest House

Barrel House

Grasshopper

Freshfield

Trap & Hatch

Four Ashes

Old Tap

Head of Steam
Will sort out a Southport Run map at some point. I promise it is always a nice day out: even without seeing the sea (and preferably ensure any accomplices arrive in good time so you don't have eight pints in Southport before starting back to the 'Pool).