A Huddersfield Jaunt
04/09/22 19:07
A Huddersfield Jaunt


On Friday I went for my second (and final) wee day trip of the week; following Sheffield on Tuesday it was a closer White Rose town this time: Huddersfield. I've been a couple of times before on CAMRA coach trips and the like, but it's been many years. The train from Liverpool is a direct one (if you get the Newcastle bound train) and is only an hour and twenty or so, so you don't even need to get up early to get there at an okay time.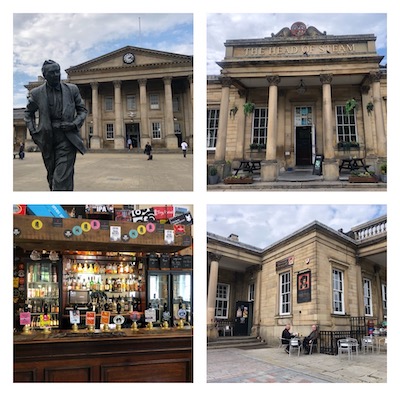 Getting off the train the first question is simply right or left? There are two pubs at either end of the station backing onto the platform. I chose right on this occasion: to the Head of Steam. It's a great one, with loads of cask on. So many options. I checked out the mapping on my iPhone whist I was sat there and worked out an approximate route. Second up was the other pub on the Huddersfield station, which was the King's Head. Not as many beers on, but plenty enough nonetheless and right bargains with reduced prices on their Saltaire beers – I went for the '
DDH Citra
'.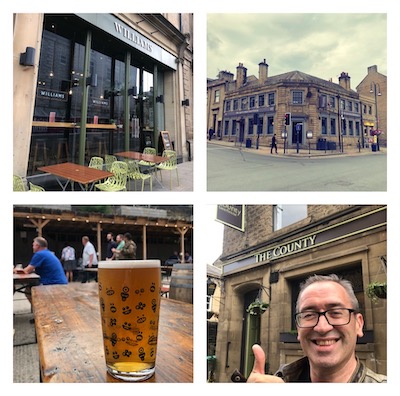 It was a short walk down the slope from the station and left again to head towards the Sportsman. I headed into a newish place called Wiliams Beer & Gin Bar. Nice tidy place. Ended up with an Oaks Brewing 'East Coast Pale' from back our way at Ellesmere Port. Never had a beer from them before. It was nice enough and I ended up seeing the same beer the following day in Liverpool. Spooky! Just the one though as I intended to get eight pubs in. So I then headed under the railway bridge and across the busy junction to get to the Sportsman. I've delivered beer there a few times, but it was my first time drinking there. Had a Bristol Beer Factory 'Showdown.' Can never go wrong with BBF. Had a nice chat with the barman, who gave me some gen on the places to give a try (and those not to bother with: local knowledge always priceless) and then with a few people who came in for their pre-match pints (it was the rugby league
Huddersfield vs Wakefield
that evening). Would have liked to stay for another – there were lots of nice options at the bar, but time was a-ticking.

Next up was another walk north over the busy main roads through and past the retail park. It was this way to the outermost venue: the Magic Rock Brewery Tap. It was worth the walk. The size of the outdoor drinking area was massive. Expect it is bustling on a sunny summer's weekend. There were about four casks on (I say about as I didn't note them down (I'm no ticker)), I went for a '
High Wire
.'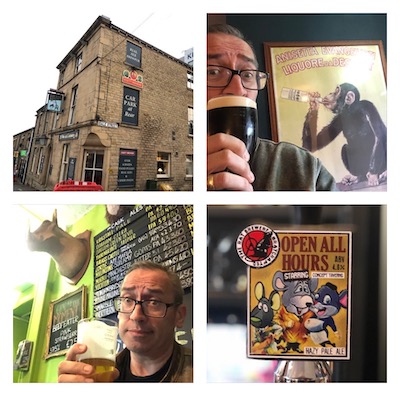 From Magic Rock it was the longest walk of the day heading back down and past the Sportsman, Williams and the railway station. Next up was The County. It had been recommended at the Sportsman. Nice place. And a good chat once more in there. Ended up with another Rat '
Ratmsophere.
' This was my sixth place so there were only two to go – and they were only ever going to be the Rat & Ratchet and The Grove. So next up was the R&R where I found Neptune '
Abyss
' was on. I'd only delivered in the the week before. After drinking Rat in several pubs on the trip and not yet having a stout, I had to go for that. It was lush. Shame I didnt have time for another before the short walk up the road to The Grove. A good selection of beers there and Thornbridge 'Jaipur' was on, Now that's a way to end a session. Jaipur it is. Cheers!


One of the great things about Huddersfield is how close all these pubs are to each other. It's a small centre and even with the stroll out to the brewery tap you probably won't even be hitting your 10,000 steps. Recommended. Hope to do it again soon with a few people.

So the pubs, in order, were:


Head of Steam
King's Head
Williams
Sportsman
Magic Rock Brewery Tap
The County
Rat & Ratchet
The Grove