'How Many Pubs Are You Up To?'
13/02/22 15:14
On New Year's Day this year I left my mates all asleep at a friends house after a heavy session welcoming the new year and headed homeward via some afternoon pints in Liverpool city centre. I went to the
Roscoe Head
as my first pub before heading around three others (
Head of Steam, Angus,
and
Doctor Duncan's
) and all were exceedingly quiet. I decided that day that for January I should try and support the local pubs by getting around a 'few' of them. I didn't set a target. There was no great plan – or some would say purpose either.

And so it was that throughout the month I would post on Twitter what pub number I was up to and as the numbers went up I seemed to gather pace and soon surpassed thirty, which would have seemed a reasonable number when I first started. Then I got to forty and beyond, and I almost aimed for fifty. I could easily have got there on the last day of the month if I'd wanted to, but on the 31st I told myself I did not need to hit fifty and stayed at home and had a coffee in front of the TV. There had never been a goal after all. So as January came to an end I'd visited
48
pubs in and around Liverpool. Pretty good in some respects (I dare say some would beg to differ on multiple accounts).

Some people on Twitter or in person have been asking at random times, '
How many pubs are you up to?
' Of course if they follow me on the real ale twitter account then clearly they have an interest in pubs and beer - if they don't they must be following me by accident.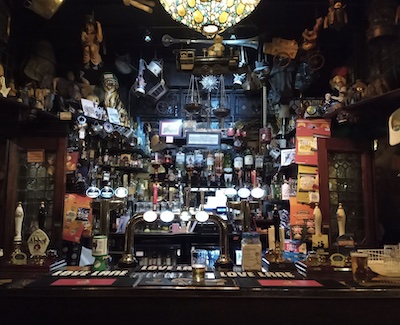 Peter Kavanagh's
As we've passed two weeks into February I continue to keep track of first pub visits of the year and have gone to plenty more in-between Southport and Liverpool along the Northern Line – doing '
The Southport Run
' – and across the water in
West Kirkby, Hoylake
and
Birkenhead
– as well as further areas within Liverpool.

Now I've never been a fan of 'tickers' – the guys & gals who log and write scores and notes on every beer they have. This trainspotter action seems a bit much to me. I mean they'd go into a pub and see their favourite beer and not buy it if they saw an inferior beer in there that would get them another tick. I am never going to be that person. If Jaipur is on cask then I know I'm getting one – and maybe a second. That said I've become a ticker of sorts by noting the numbers of pubs I've visited. I will however return to going to my favourite places in the main now I've broken the back of the numbers of ale houses in the city. The numbers will go up much slower now and in fits and starts as I go to other towns & cities.

I still don't have a goal. Maybe I'll develop one or two as the months of 2022 pass by.

Pubs, Pubs.


Anyway, '
How Many Pubs Are You Up To?
' I hear you ask. Will you still need me, will you still feed me?: It's 64.