ReLancaster
13/01/23 10:52
I went to Lancaster last June and decided to go again this week. It's a good place for a few beers as there are enough different venues for a good walk and the city is small, so getting around in good time is easy. Went on Trainline the evening before and booked my tickets and was good to go the next morning.

I went into town by my (not so) trusty No.17 and time knew time was going to be tight to get the train. Decided to get the train one hour later and it'd give me the time for a proper Full English at the (always) trusty Shiraz Palace. The later train would get me in for noon anyway, which is early enough. And the breakfast was way better than a sandwich Meal Deal. It only actually takes about an hour and quarter to get from Liverpool to Lancaster (including the change at Preston), which is pretty damn fine in my book.

Got some reading in 'The Subtle Knife' Phil Pullman (the second of the HDM trilogy, my third book of the year. Didn't need to spend the time researching where to go having been there last year. I was aiming to go to several of those same pubs (especially those in close proximity to the station) in any case and then throw in a few new ones for good measure. Decisions to be made on the hoof; with the knowledge you can always stick with exactly the same route (which was excellent) in any case.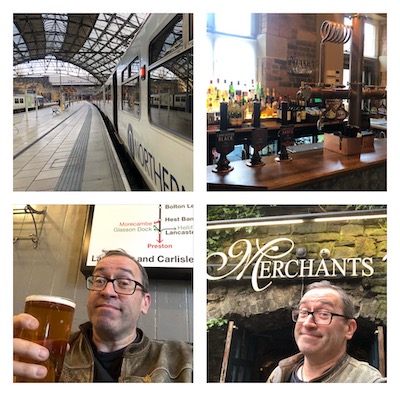 The first three pubs ended up being the same as last time. The 'Tite & Locke' which is a Lancaster Brewery pub accessible from the station itself: me Twitter buddy had been passing through the station on a journey southward earlier and said it'd be waiting for me. So first up was a
Lancaster IPA
. There were several people already in there and a large group of men expanded on the adjoining table every time a train arrived.

I walked out and across the bridge towards the centre and inevitably headed into the Merchants for the next one, a Bank Top '
Palomino
. At 5% or so I was wondering about it if I was to do eight pubs or so, but with too many Xmas beers on the options although numerous were limited. Unfortunately it coincided with a sudden sneezing fit. I get them rarely, but when they do they can last rather long. Suffice to say I was annoyed with it, as I dare say others were too. But what can you do? Asked about other pub options for cask and they pointed me to the places I knew, but always worth asking in case something new has popped up or a pub has changed. One of them was The Sun, which I hadn't gone to last time.

The John O'Gaunt isn't far away and is a proper old pub - so of course I headed there. There were a few people in there. There weren't too many ale options, but I was happy enough as there was
JHB
from Oakham. Had a look at Google Maps and figured out my next couple of pubs, namely the nearby Sun Hotel and then the Three Mariners. Both of which looked decidedly good options - and it'd be nice to go to some new venues for me.

In the
Sun
I had another Lancaster '
Snowdrop
'. It's another Lancaster Brewery pub. Just a wee bit of reading of the Knife. The walk to the Three Mariners is short from there just over the main road towards the River Lune. In the Mariners I sat near the wood fire which was warm and smelt lovely. It's a Robinsons pub. I ended up drinking a Robinsons brew for the pub (aka'
The Three Mariners'
of course). There was a good number of people in there including a few American students from the Uni talking football - it was good to hear they were going to watch lots of lower league matches around the country.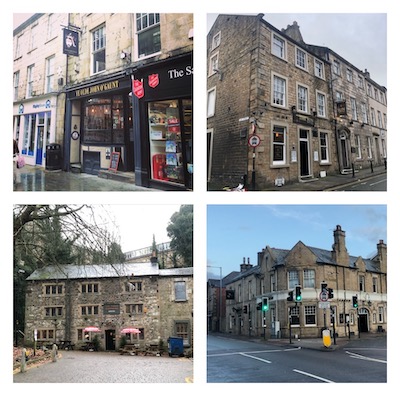 At this point I was beginning to worry about my phone battery. My ridiculously heavy battery pack was charged up but either the cable wasn't working or the charging point was all linted up. I needed to get it sorted - and soon; the downside of having your train tickets (or any tickets for that matter) on your phone is if it dies. More stressful than you need.

I decided to head back into the town centre and find a place selling a cheap cable: and hope. Walked around the main road a little and headed into the Bobbin. An old, large pub., Had an interesting time in there watching and listening to some of the customers there (I could tell you some things I saw there: flipping 'eck!). The barman helpfully rooted out a pin for me to have a dig at the charging port but whilst some lint did reveal itself the charger still wasn't working. It was defo the cable that needed replacing. Had enough charge left to check out Google Maps again and find where the Poundland was. It'd have to be the next place before the pub. To be sure I could keep it going. And thankfully Poundland and the cable worked out pretty damn fine. I was saved.



Next up I went along to the
White Cross
where I was able to discover the cable worked; thank you Poundland and cheap Chinese cable makers!
Again there were a few Christmas beers on, which wasn't what anybody really needs, so I ended up with in a Salopian '
Shropshire Gold
'. After here I was aiming for the
Accidental Brewery
which was advertised as opening at 6pm. Headed down there about ten minutes early, but there was no lights on. So I popped around the corner to
The Borough
, where I went for a dark beer for a change; a
Swan Black
from Bowness Bay Brewery. It was very quiet in there (though a few people had just left as I was getting in). Back around the corner and the Accidental Brewery was still not open and no lights on. Perhaps the January opening was a little different than the norm.

Decided to head back home, unless I passed a pub that screamed at me to get in there. So hopped on over to the station (without seeing said screaming pub) and took the next train home. When I'd left Liverpool it had been a beautiful blue sky morning, it was grey all day in Lancaster, and then on my return it was biblical rain. Could have done with waders. Ran through the deluge into Dr Duncan's and caught Man City on the telly box losing in the League Cup, which was nice. And what did I end up drinking? A pint of Lancaster. In all I'd visited eight pubs in Lancaster having got a train one hour later than I'd originally booked and got the return an hour earlier than booked too.


Tite & Locke

Merchants

John O'Gaunt

Sun Hotel

Three Mariners

The Bobbin

White Cross

The Borough
(and Dr Duncan's!)

Was another excellent trip. I'll be back again before too long - probably with a few mates too.