The Guild of Real Ale
11/04/22 21:04
Yet again I am late with my weekly beer blog. You could almost not set your watch by it. Anyway its been less than a fortnight so that's an improvement I guess.

I got to one hundred venues a week ago or so with my visits to
Shenanigans
(Guinness) and
Carnival Brewery
. Chatted to some lovely people in both places. After that the week panned out with the usual places including Dr Duncans for the
Benfica v Liverpool
match, and another open mic in the Keystone.

On Friday I spent the evening with my mates in
Doctor Duncans
drinking a few Neptune and some Salopian. It was a good evening of chat and ales.

I decided during the evening that (if I woke up early enough) I'd make a visit to Preston. It was the place I went on my last CAMRA coach trip before the lockdowns hit, and I'd been pleasantly surprised.

I did indeed wake up in good time. Unfortunately because Saturday was the day a) Everton v Man Utd and b) the Grand National at Aintree, I had not a cat in hells chance of getting a full English in the Shiraz. Shame. But it will make my next successful visit there all the more great.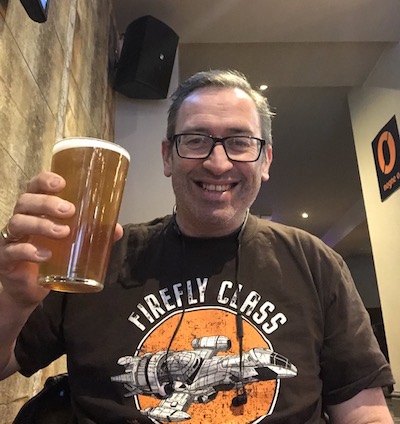 Firefly Class, Serenity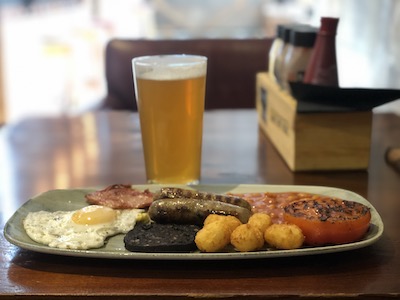 A Pre-Drinks Breakfast in Head of Steam


I grabbed a wee breakfast in the Head of Steam instead and therefore had a pint (of Galene) instead of a coffee. Then I (un)fortunately had time to take in a Thornbridge 'Ruin' before heading to Lime Street. Did a bit of surfing to make sure I knew where the headline pubs were. It's a small city in any case, so even if there was some wandering around I'd never impact too much on the day.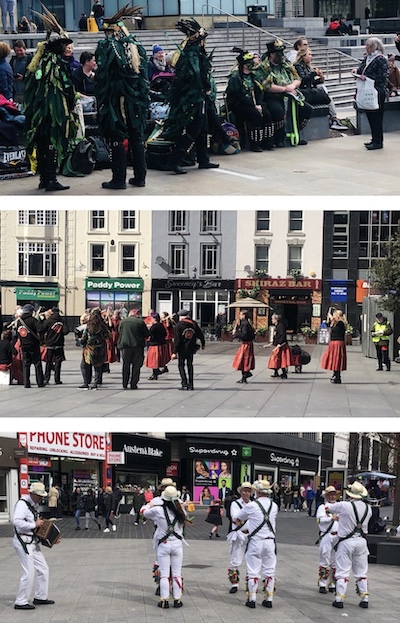 Strange Goings On Abound in Liverpool


Whilst I was getting a beer in the Head of Steam a group of blokes came in all rattling with bells. It was a Morris Dance troupe from Yorkshire or Derbyshire I think. The things you see when you haven't got a gun. It turned out that it wasn't a one off. As I went to Lime Street Station I came upon another three groups doing their thing. Not sure what the occasion was.

In my plan for the day I'd written '7 hours, 7 pubs; read book; pick Grand National winner" - spoiler alert: I managed (or even exceeded) only one of those planned items. To save you scanning the whole page: it was the pubs in Preston. I actually went to eight. Unfortunately. In hind sight I really wish I'd missed pub 2B out. The full walk took in:


1. Old Vic
2A.
Winkley Street Alehouse
(shame I didn't get in for a beer)

2B. Hopwoods
(shame I did get in for a beer)

3. Guild Ale House
4. The Orchard
5. Black Horse
6. Plug & Taps
7. Plau
8. Vinyl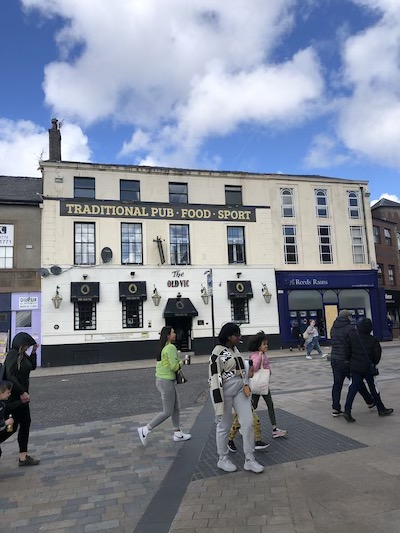 The Old Vic

The direct train to Preston from Liverpool was only 52 minutes which was very handy really. First pub up in Preston was the
Old Vic
just up the street from the station. It was pretty busy with standing room only. Being so close to the station it was a magnet for football fans up for the Preston match, so it was full of Londoners up for the QPR game. Had a nice pint of Black Edge '
Blonde Ultra Pale
.'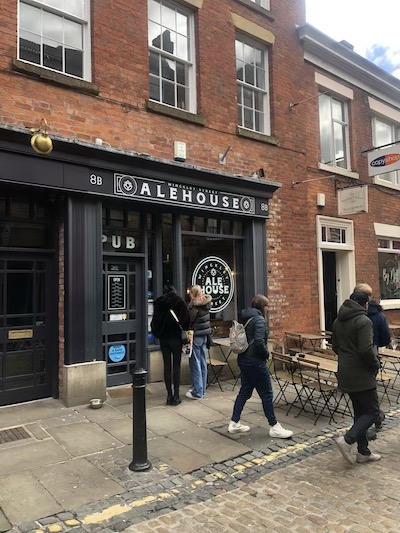 Winkley Street Ale House
Walked down Fishergate and then right down
Winkley Street
to the
Alehouse
. Looked a cool place and I'd definitely go there if… if took cash. Unfortunately my cash csrd is damaged and won't work as contactless (or indeed if inserted into a card reader). The bar is one of the few I've been to which is card only. Legal tender is illegal in some places. A shame. Maybe next time though.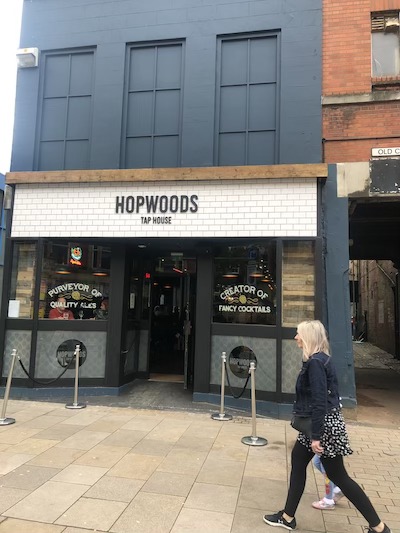 Hopwoods
Back on to Friargate and I came upon a nice looking place called
Hopwoods
. Had four casks on. Asked for a
Loweswater Gold
. There hadn't been prices on the wall and the beer isn't strong, nor the place any great shakes, so I was a little (lot) shocked to be asked for £5.50, Shame it wasn't card only. Ho hum.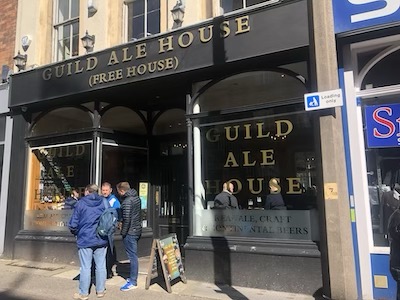 The Guild Ale House
Next up it was one of my fave Preston pubs (hey only my third visit, but it is):
The Guild Ale House
.
It's a must visit pub with plenty of cask options (seven hand pulls). I went for a Brewsmith and a Wild Childe, but there were other equally good options.
The Orchard
Across the road in the market is
The Orchard
, a small unit which is a sister pub to the Guild. A couple of casks on. I had '
Swan Blonde
' from Bowness Bay.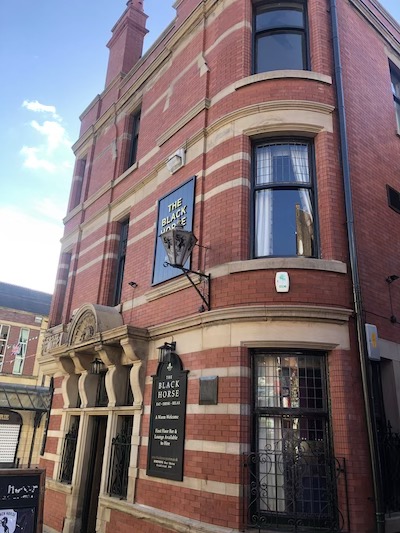 Black Horse


It's a short walk from the Orchard to the much more traditional
Black Horse
. Nice big place with plenty of rooms.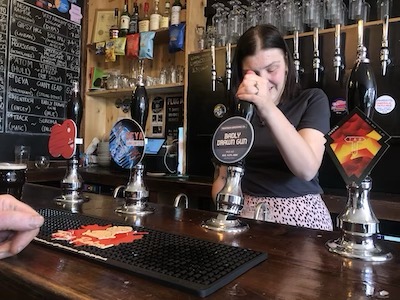 Plug & Taps
And then it is a similar distance to the next pub, which is the fabulous
Plug & Taps
. The city centre is very small really and ideal for a nice crawl of 6-8 pubs or so. There's not going to be any worry about sore feet - or much valuable time wasted walking between one pub and another. Had a lovely Track Brewery '
Sonama
.'
Plug & Taps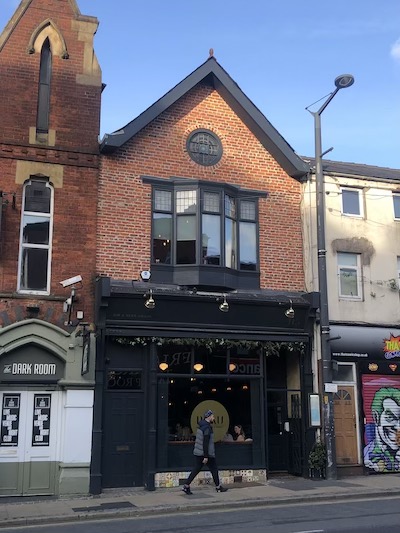 Plau
A few people I chatted to on the crawl recommended
Plau
(pronounced Plough so if you here them saying it, it's this place). Nice bar with four casks on.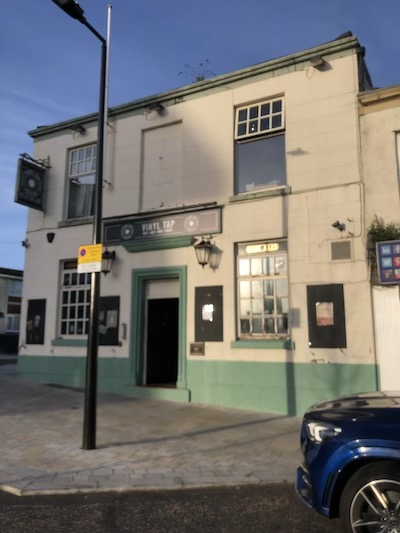 Vinyl


Last up was
Vinyl Tap
(and yes you can probably crank it up to 11). A bit more of a walk, but only in comparison with so many being so so close together. Ended the day with an all so traditional Oakham 'Citra.' All in all a damn good day out. I'd recommend everywhere I went - apart from Hopwoods (and of course make sure you've got contactless options if you're heading to Winkley Street Alehouse.


I'll do a proper map at some point. In the meantime here is a very rough sketch. Maybe next week I'll have something better (I'm just playing with a new bit of software).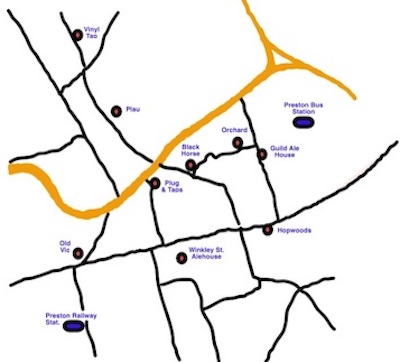 Very Rough Sketch Map - Forgive Me




The Vinyl Tap was venue
108
for the year… still counting, if not ticking.