New Open Mic Voyage
Well in the last month or so Open Mics have returned – a little erratically – to the Sanctuary and I have gone to both of them for a wee strum. This week new ones began in two other excellent Liverpool pubs; the Denbigh Castle on Hackins Hey and the Head of Steam on Hanover Street. Both started on the same night - Thursday 7
th
October.

The Denbigh Castle OM wasn't starting until 10:30pm after three or four bands played apparently. I opted for the less late (and stressful) idea of going to the Head of Steam. I'd got back home late so didn't get in to early this time, so I missed some good performances (from clips I've seen) from several artists. The room was busy with nearly every seat taken. It's the area of the pub I usually gravitate to when I'm there – and in fact is where I am writing this now. So it felt like everyone was in my front room. Jack, the organiser of the Mic, asked if I was going to play and I confirmed I would. At least once I'd bought a second drink.

He played a couple more songs on his semi acoustic and then I stepped forward to play. The set up was actually in the corner I usually sit in too. It must explain why I was relaxed enough to chat a bit on the microphone; I rarely chat between songs when I've done Mics before. Weird. So with my glass sat on the carpet I proceeded to play four songs. Usual suspects for me – I really need to get a new set or two – and they were, in order:


Oh My Sweet Carolina
(Ryan Adams)

Heart Breaks Like The Dawn
(Chuck Prophet)

Splendid Isolation
(Warren Zevon)

You Couldn't Get Arrested If You Tried
(Green on Red)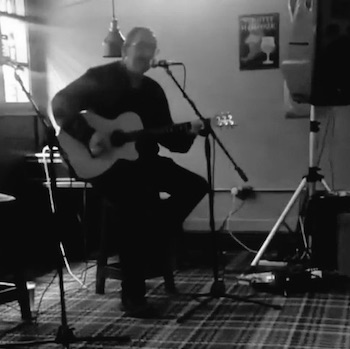 Playing in my usual corner of the HoS - who'd have thunk it?

A couple of mates came in and caught me playing which was nice. Hadn't seen either of them out for a while, and they'd been to a show down the road and popped in on the off chance. Went down okay for me I think. First time I've played an Open Mic in a different pub and therefore with a totally new crowd. Was nowhere near as nervous as when I played the first new Sanctuary one the other month. Got the usual comments I get with my use of these songs, along the lines of "Did you write those?" My CD collection must be a bit different from other peoples I guess. Still, as I said whilst I was playing, the use of songs that people don't know is a good call as they can't tell how badly you've interpreted them (or what verses you've inadvertently missed out).

The party for the Head of Steam moved off not long after I'd finished. So maybe I can become the official bell ringer for time gentlemen please? Me singing could be one way of emptying a place out.

Well done to Jack for arranging, playing and hosting the event. Think the next one scheduled for a months time (first Thursday of the month) and I hope I can make it again. Maybe with more of my excellent (apparently) obscure songs.


Onwards and Strumwards.