It's the new year and I definitely need to find a new job. Something that pays enough and provides me with a decent work-life balance. Ideally something I enjoy doing. But if it pays enough then I can live without that - as long as I earn enough to live and have proper hours so that I can have the enjoyment outside of work that balances out the tedium from any crap job.

So to that end I'll be updating my various CVs, including my writing one.

Of course I still have the problem of not knowing what I want to do when I grow up, which is not ideal. It's hard to look up jobs when you're open to consider lots - you end up seeing countless useless soul destroying adverts.

I'm not even sure what my ideal job would be. I mean I love writing, reading, music, beer, football, social media (well Twitter anyway), websiting from my Mac, photography, driving, train journeys, flying (in planes), boats (less so). Britain, Europe, the world, the planets. I love conversations and enjoy solitude too.

So what the hell would be the perfect job then?

Writing content for a beer and music site with lots of travel and a bit of footy thrown in - based in Merseyside with plenty of world travel. Look I'm your man for that. Not seen the advert for it yet and not sure where to look for it. Searching for 'Dream jobs' isn't delivering that. I'll keep looking. You never know.

In the meantime I'll carry on practicing my writing, reading and strumming the guitar and I'll keep an eye out for jobs and training opportunities. If you see this advert anywhere in the coming weeks, please drop me a line!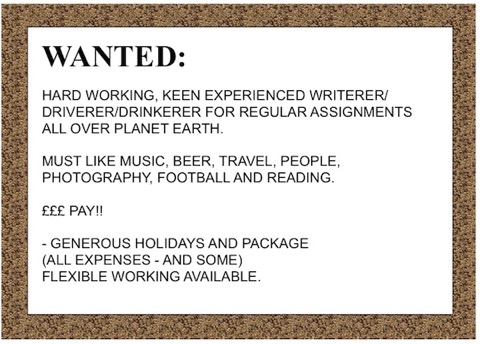 When you could print out a bridge in fifteen hours, how long would it be before it was a house, a road, a school; a city? How long before the haves and have nots would be separated by a wall printed over night?

But it's never that simple. Events don't happen in isolation. There are needs and wants. We are creatures quite simply needing to balance energy in and energy out. Then's the procreation desires. That used to be simple. One way of life and all that. Now each one of us can literally contain multitudes without the complication of personal interactions.

Our minds are massive complicated beasts, ostensibly tameable but often fragile. They need stimulation and freedom not containment and control; sometimes freedom.

Always freedom.

We have never craved conformity, not completely. A Ford 'T' with a furry dice. A front door painted pink. A left field band. A tattoo. The love of art, of music, of architecture. The love of the wrong girl; the wrong man. A dangerous liaison.

We are not the same and we should glory in that.


Then there's power. People who have it will do anything to keep it. Monitor the people: Stop the people. Manipulate. Build a wall. Build many walls. Close the cities down, until you can't trust anyone. Art is banned. Free speech is banned. You are not safe in your own home. It is not your home. Your life is the government's now.

Life is precarious. Freedom was special.

And you don't miss your water until your well's run dry.

Still working on my planning for this year's writing. Have the two NaNoWriMo projects to finish off and after that I'll then consider the re-editing and completion of one or both of these. Then there's the consideration of other projects. I've a couple of ideas which could spread across several stories/books, including YA and SF. One of these ideas may come to the forefront.

I'm going to keep an eye out all year for publication options for short stories - whether it being anthologies or competitions. I've already got one lead which looks promising.

I've the few memoirs pages on the website to continue adding to - it looks from the current Twitter vote the next one will be about my Glastonbury experiences, which is going to be fun to recall.

One thing under consideration is a weekly serialisation - of something between say 1000-5000 words - being put up on the website under the Writing section. It seems a neat idea in terms of getting into the swing of writing regularly a decent size chunk and getting it out there.

Anyways, the plans will be firmed up soon. With or without a serialisation... watch this space.