04/04/22 15:07
Was looking at a little information I have on my great grandfather, Peter Rigby from Wigan, the father of my grandmother Kathleen. He was a mining engineer who went out and lived in Ukraine in the first and second decade of the 20
th
Century. My grandma mentioned living there a few times in her later years (she lived to 98) and reminisced about escaping there before the Russian Revolution. She always mentioned Odessa when she talked about it (and said she only remembered the words for
snow
and
sled
from her time there - there was no mention of '
Rosebud
' though), so I always thought they'd lived there. But reading an article about Peter it was actually Donestk (then called
Hughesoffka
). Maybe they had trips over to Odessa or my gran remembered traveling through it. The city was an industrial one and had several mining operations where Peter worked, ironically for a
Mr J.H. Walker
. Of course many years later his granddaughter would marry a Walker (aka
dad
). I assume there were no links (J.H. Walker was from Wigan, whilst all our Walker relations are from western Scotland).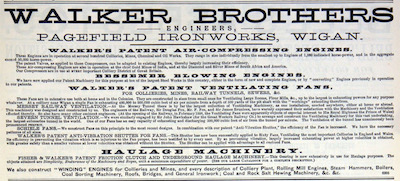 The haulage engines used in the mines were supplied from
Messrs Walker Brothers
, Wigan.



Peter was born in 1874 and died in 1952. He was in Ukraine for some eleven years working for the colliery company 'New Russia Co.' He'd have been approximately 32 when he moved there and 43 on his return. According to an article about it, he actually tried to go back to Ukraine after returning with the family to Lancashire. I thought at first that perhaps he liked working there. But then I noticed his wife (Alice Jane Rigby) died that year so maybe he was running away from that? There is no-one to ask. At some point I may have to do some more work on the family tree and maybe some answers will be obvious - or at least there my be some clues. In any case he only made it as far as Newcastle though as in view of what was going on the ship was ordered not to sail.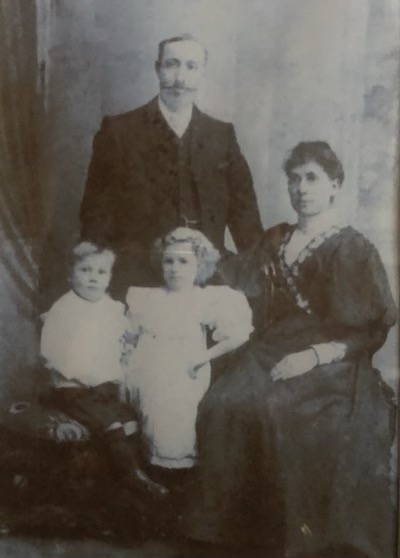 There must have been a lot of British and other Europeans there before the Revolution. The town was split between a 'workers' and a 'European' area. And the town was called Hughesoffka after a Merthyr born engineer and entrepreneur
John Hughes
who founded the city after setting out there with '100 workers and their families' mostly from the Welsh valleys in eight boats in 1870. They built an iron works there and collieries under the
New Russia Company Ltd
. The European workers, including Hughes' brothers who ran the ironworks, left the city when the plant fell under the control of the Bolsheviks in 1917. Maybe Peter, with his wife and children left with the Hughes'? The city was to become Stalino in 1924 and then Donetsk in 1961.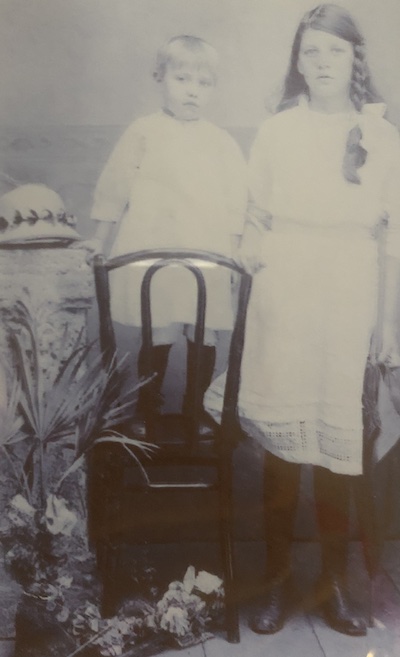 It is strange to think that my grandmother spent some of her childhood in the capital of
Donbas
- the scene of so much death and destruction for years before even the current war; She would have been about 14 when she left and her sister, Marion, even younger. Donbas has been split into areas controlled by Ukraine and Pro-Russian Separatists after civil war supported by Russia since 2014. Incidentally in a nod to the reason my great grandfather and his family were over there, just over 105 years ago, the regional name Donbas is a portmanteau word from the '
Donets Coal Basin
'.
13/09/21 10:26
This week we had a house clearance company in to clear my parents old house. We'd spent a lot of time selling stuff and taking some things to charity as well as picking a few bits for the family: mainly paperwork and photographs. Originally the clearance was supposed to be on Saturday morning but the van had a major breakdown meaning it couldn't be done until Wednesday evening after it had some major work done on it. I'd agreed to their 6-9pm estimate not thinking that meant they would be piling crockery into bins and breaking up old wardrobes and sawing bits and bats quite late into the evening. As it happened they arrived half an hour late and worked through until 10pm! Good job we're not staying - the neighbours must have really enjoyed the racket.

I asked them to take the small sofa in the back room last so I had somewhere to sit for the three hours they were ploughing through the house. It was quite depressing hearing it all going on. They piled stuff up in the front garden so that they could decide how best to fill the van later on. I'd picked up a litre of cask Neptune beer from the Tap & Bottles which I enjoyed getting thru. But soon realised I should probably have picked up two litres.

I did a little video of my last walk through of the house before the company had arrived. It's a big semidetached like a lot of the interwar ones are. It's made for a family and I hope the family who have put in the offer for it enjoy many years there. The mortgage companies surveyor was in there on Friday. So assuming they are happy with things then it could move pretty quickly now it's all but empty. Fingers crossed.



At least it's something we wont need to go though again. And assuming I pop my clogs earlier than my sis there is probably just the three guitars and couple of amps to keep or sell on. And maybe not much more (but for lots of CDs and some books - how quaint these days).


19/08/21 12:29
Time and Times: A Farewell


Strange week. My sister and I have put my parent's house up for sale. It's been put off for a long time; mainly by the whole pandemic thing mashing our collective heads. It went on sale on Monday and there were viewings today and more programmed for the weekend. We have kind of half cleared the house but still need to get rid of some of the big furniture including the beds et al and all the silly stuff like cutlery and pots & pans (and whatever is in the shed). Will get a clearance company in to do that. Probably get a quote next week after this week of viewings come to an end.

It's odd to think that today multiple strangers have been walking through
our
old front door, through the living room and kitchen,
our
bedrooms and
our
garden (let's not say anything about the bathroom) with a view to taking it on for their own family. It is a great house. A fabulous location. Made for a family. Neither of us could justify taking it on really. It needs a family there. It needs to become a home I guess. We may have grown up there (both of us went through our secondary school years - at least) there). Technically it may be our house, but I suppose it's no longer our home; however difficult it is. And it is.

In the meantime lots of books & CDs and whatnot have been taken to charity shops. Furniture, ceramics, and pictures have been sold, or given away, whilst Bits & Bobs are retained by the family; largely photos and all sorts of written bits have been put in boxes. I know I've taken too many of the books myself, including those I had as a kid (and two bookcases). The books that were mine when I was growing up in particular were very much of their time and I loved them, but many are dated and not really worth putting in a shop - or even me rereading. It's really hard throwing away things (and I've always struggled with discarding - or selling - books). Outside of the books thing it is strange what gets left behind us and what means something/what doesn't - and worse: what has been forgotten - who is that in these photographs? Are they friends or relatives of my parents or our grandparents? Should we know, or can we find out, and does it not matter? God, it is a strain.

Anyway we are getting there. At some point in the coming weeks I guess we'll get an offer and we'll say 'yes' perhaps and we'll have to get a clearance guy in to sort out the detritus. Jeez. Deep breath. Relax.