11/06/21 11:42
Well when I started doing
ReadMeSpeakMe
at the back end of 2020 I never expected to be reading my own poems on here. And of course then it is the rest of the RMSM regulars reading your words out loud. It is an interesting experience and I'm thankful for Meg coming up with this - and for asking me to send a poem in.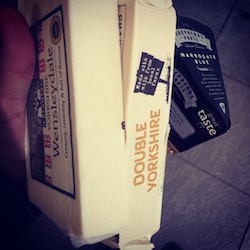 Cheeses picked up at Wensleydale Creamery in Hawes
The poem chosen was
'The Caravanette'
which I wrote when I was doing an Open University course a few years back. It's not a brilliant poem but I like it because it completely true and evocative of a holiday gone wrong. Be it down to inclement weather or, in this case, unrealistic expectations. It was nothing to do with the destination of Dent, which is in a lovely spot.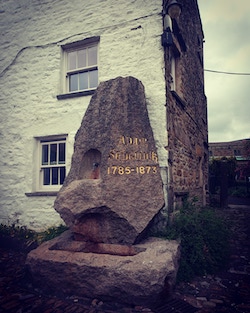 Monument to the geologist, Adam Sedgwick in Dent. He knew his graptolites!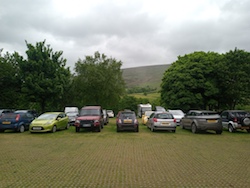 The Dent Carpark


As I'd been camping this week in North Yorkshire, in Hawes, Wensleydale, I had to take the opportunity to drive to Dent so that I could read the poem in the very carpark that we ended up staying overnight - in that wee sad vehicle. After a quick pitstop into Wensleydale Creameries for some Wenselydale Cheese (and others) then I headed to Dentdale. Here is my reading of the poem, 'The Caravanette.' Enjoy.



As I've been looking at all the tweets about this poem this week, and listening to Soundcloud retellings and YouTube videos of it, I am now getting a mountain of camper van adverts when I'm on Instagram and YouTube. I've yet to see a photo of anything like what we were in though.

Thanks to everybody who got involved this week. Every one is appreciated. And I've got to give a special mention to
Swarn Gill
who not only read a great version of it, he also recorded his YouTube video along with a beer and a bit of a chinwag before the poem akin to a certain somebody. Kudos! It made me smile a lot.

And lastly, but never leastly, it was great to see Sal record it too. Her first go on ReadMeSpeakMe (I've no idea, it could be the last too) and I thank her for the Special Guest appearance.

________________________

Twitter:

@megwaff
@ReadMeSpeakMe


Website:

www.megwaffling.wordpress.com