A Staccato Song - 25 Years Between Playing


This week I attended two open mics. The one I most commonly go to currently: the Monday night at the Dispensary hosted by Dave O'Grady (I struggle to maintain a day without an O'Grady or two), and the inaugural open mic at Metrocola (formerly Hannah's Bar on Leech Street) hosted by Ali Horn. I had intended on going to the fortnightly open mic at the Angus on the Tuesday, hosted by John Witherspoon, but it was called off quite late in the day - I don't know when it will return. So Metrocola it was.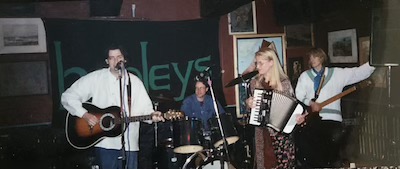 Me and Kevin popping up alongside the Hooleys (downstairs in the Slaughterhouse). You can date it by long hair (for me) as 1995.

On Monday night it started a little slowly, as it often does, but in the end eight or nine people ended up playing. Largely regulars, but there were a couple of newbies to the group too. Most played three songs but it ended with the inimitable Liz Owen playing a full gig for us; which was excellent as always. She certainly enjoyed playing Danny Bradley's guitar and sounded brilliant. Danny was his usual compelling self earlier in the evening. Beautiful. First up on the stool (currently sans mic
à
la the Belvedere) to play some of his great self penned songs was Ben Whitley (I thoroughly recommend looking him up on Spotify) with his guitar and harmonica.

He asked me after he played if I was playing '
Oh My Sweet Carolina
' (Ryan Adams). And if so could he play harmonica with it? I'd penciled in a three or four song set and had it as a possible if I decided against doing one of them (or my mood on the evening took me). How could I not say yes though? Then again it made be a bit nervous. I'd never played along with anyone since the 1990s. And this time it would be without practice. It went well – I think.

One Tuesday I went to Metrocola to support the inaugural night. It is always a toss up when it is the first night – loads because the host has keenly cajoled all their mates and acquaintances to support them, or not many because not enough had heard about it. And on Tuesday this was compounded by awful weather. In the end though it was a grand success. It was slated to start at 7-10 but went beyond ten due to their being so many performers there. Again everyone stuck to three songs and there were… 14 acts. You could see Ali was made up and the staff at Metrocola looked like they enjoyed it too.

There were many familiar faces amongst the Liverpool open mic community and plenty of new ones for me too. Most of the other singers knew each other from various venues, but I've never made it to the Jacaranda or the Cavern Monday Night Club and I guess the ones I hadn't seen before were 'graduates' from these nights. Again Ben was there and played early on; and again he asked if he could play harmonica: this time if I was doing '
Whiskey in my Whiskey
' (Felice Brothers). And so we did. This time we had to negotiate playing with a microphone though. Once more I think it went okay. But I suppose the guys & gals sitting there would be better judges than me.

Not long after I played I bumped into Aidan from the Sway, which was good. He always seems just so into music. He told me about his week ahead, with gigs in Liverpool and Leeds – including a great day for the band supporting Jamie Webster at the Echo Arena on Saturday.

All in all it was a great night. And if it continues with anything like this support then it will prove to be a great addition to the local scene. Fingers crossed for both Metrocola and Ali (not that I expect they will need much luck).

I very much enjoyed playing with Ben on his harp. Hope to do so again at some point. Whilst it made me smile it also made me think a bit about my on-off-on relationship with the guitar. Here's a potted history.


The No Guitar Years
Born, Played in the street, Went to School and University

– didn't play any musical instruments

The Guitar(ish) Years

Post university

– got a cheap electric guitar (Strat copy) and played at home a bit
– no lessons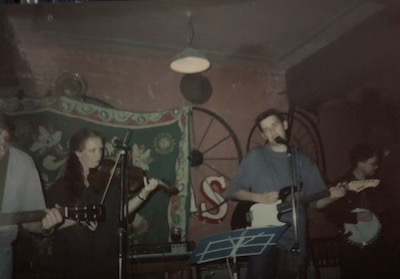 Smithdown playing at Kitty O'Sheas on Fleet Street (now Motel). Mark (guitar), Helen (fiddle), me (cheap strat copy), Kevin (banjo).
The Smithdown Years
1990-1993

– Early work years in Liverpool
– a few of us at a work's post-Christmas party played two or three songs during a band's break after practicing at Kev's house for a few fun weekends
– three of us from the work band said we'd carry on playing a bit (Mark, Kevin and your's truly)
– drafted in my cousin (a classically trained violinist) to play fiddle (Helen)
– played our first 'gig' at an interesting house birthday/coming out party, above Kelly's Wines on Smithdown Road
– had a debate about a band name in the Royal Hotel on Smithdown. Everyone's second or third choice won the day: Smithdown (proportional representation doesn't work people).
– in the early events (I'm not sure about calling them gigs) Kev generally played banjo, me and Mark guitar, me 'singing' and Helen played fiddle and sang.
– Kevin was THE musician in the band, he was a great drummer. He also played guitar, was learning the banjo, could play keyboards. He could play anything. I'm not jealous of the bastard at all. Yeah, okay I am. In the end he made the move on to drums to try and hold me and Mark into something like a rhythm. That was always gonna be a battle. Helen was a brilliant violinist. Mark was very energetic and damn enthusiastic. And I just enjoyed the craic.
– Played some midweek nights at: Kitty O'Sheas (now Motel), Slaughterhouse and a few others.
– organised our own bigger events at the Royal British Legion in Wavertree and the Irish Centre (sadly it is no more and is decaying away unused. I don't think our event can be wholly to blame though). In the latter we had the Hooleys playing and we supported them with a few songs.

The Days The Music Died

1993-1995

– the band died when Kevin moved to Reading and Mark to Scotland.
– I never played with anyone again. As far as I was concerned we were just three co-workers and my cousin having a good time. I couldn't see anyone else wanting to play with me. I wasn't good enough.
– the Hooleys once asked me to play with them and become their bass player. I didn't play bass, but they said I fitted in with them (enjoying myself and forgetting lyrics I guess) and anyway bass has only two thirds of the strings of the guitar and I'd – probably – pick it up.I thought about it and declined. They went on to play a hotel residency in the Middle East later that year I think.
– I'm not sure how many times Smithdown played, but it was probably around the low teens. I remember it all fondly.


Mexico 1996

– the last time I played along with anyone was a spooky reunion we had when I was working in Mexico. Mark and I were there for five and half months (in a supposed 'five week') project. Kevin came over for about a week. The hotel had a different resident band each month we were there. One night at an about 12:30 or 1am during the band's break the three of us got up and played a few songs with the bands instruments (we asked first!).


The Guitars In The Wilderness Years
1996-2018

– Guitars sat unused in the corners of various rooms
– Started strumming a bit at home in more recent years. Always the same old songs.
– Gave myself a target of 'one day playing in front of someone again.'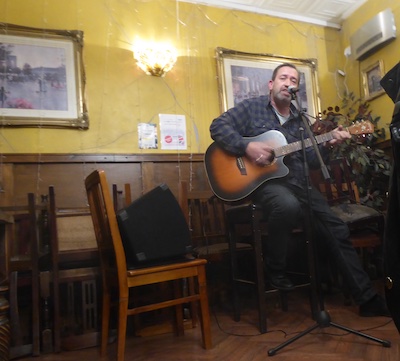 Sanctuary (in a rare downstairs appearance)
Seeking Sanctuary Years

2018-2020

– Sat in the Sanctuary on Lime Street drinking a pint and reading a book. Someone walked passed with a guitar and went upstairs. I asked the barman if there was an open mic on, and there was. Perhaps this would be my day of 'playing in front of someone again.' And it was.
– I'd been nervous as fuck and played far too fast as if I wanted to get it over with and get out of there. I did to be fair. I didn't know a single person there. Afterwards I was made up that I had done in. Two weeks later I was back doing it again.
– Went to the open mic regularly as long as it was on up until the Sanctuary closed in June 2020. The hosts were a fun twosome comprising John and Bobo.
– continued doing some open mics during the pandemic on Zoom. They were always good craic (usually ably supported by a 5-litre keg of Abyss or Mosaic from Neptune).


Keystone
The Keystone Years – And Beyond

2021-2022

– Hadn't been to any open mics other than the Sanctuary and nervous about playing in front of anyone 'new' again. Hey, I'm a nervous chap. But I was lucky to get in early doors at the Keystone open mic, hosted by John Witherspoon. Ever since getting on okay with that I have been happy to give it a go elsewhere, which has been great; especially as the Keystone is no more.

So far I've played multiple open mics at:


The Sanctuary

Keystone

Angus

Head of Steam

Belvedere

Dispensary,

and now

Metrocola

(the one time it's been on so far)

I've now played more open mics on my tod than I ever played with 'Smithdown' and I'd never have thought that would happen back in 2018.

Angus
Belvedere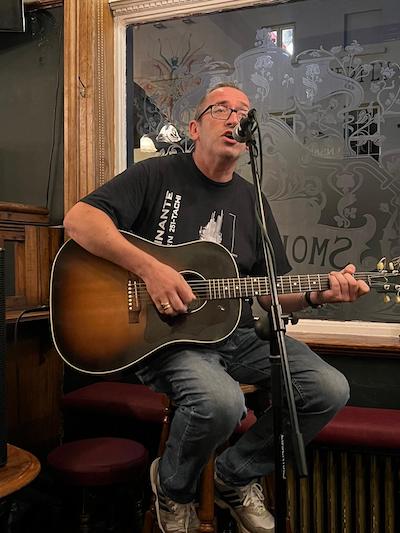 Dispensary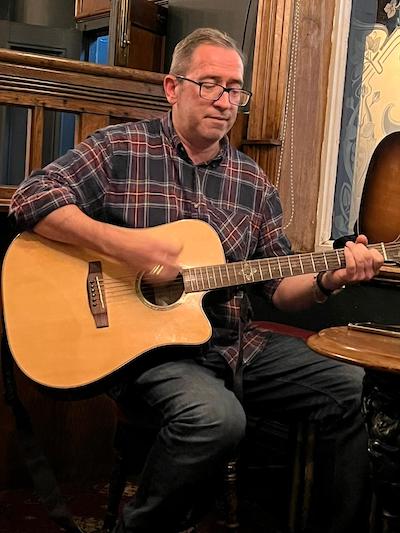 Dispensary
Really I had two or three years playing with some mates at the start of the 1990s and then have just got back into playing around 25 years later after going up once at the Sanctuary open mic in 2018 – and since then pushing myself to do it more. After saying to myself I wanted to play in front of someone again once then I've not really looked back much. The next aim though is to write some of my own songs. I'm a bit gutted that I didn't carry on playing from the 1990s. I mean I could have had 25 years of damn practice. Ho hum. But we are where are – or, I am where I am.



The Songs (currently)

I currently end up playing songs from a pretty small song book. I'm usually covering one or two of these:


'
Oh My Sweet Carolina
' -
Ryan Adams

'
Whiskey in my Whiskey
' -
Felice Brothers

'
Couldn't Get Arrested
' -
Green on Red

'
Shed A Tear (For the Lonesome)'
-
Green on Red

'
Splendid Isolation
' -
Warren Zevon

'
Please Stay
' -
Warren Zevon

'
Van Diemen's Land
' -
U2 (trad.)

'
One I Love
' -
REM

'
Heart Breaks Like the Dawn
' -
Chuck Prophet

'
110 in the Shade
' -
Chuck Prophet

'
Somewhere Down the Road
' -
Chuck Prophet

'
Mostly Wate
r' -
Bap Kennedy

'
Down By The Water
' -
Decemberists


As you can see it's got a very much Green on Red/Chuck Prophet thing going on (and very much Americana). I definitely need to add some more songs to that list (there's 13 there, so I guess getting it up to 20 would be a good initial aim). But I also need to get on and write some of my own songs. The vast majority of songs sung by all the open mic glitterati are self penned, and it would be nice to do at least a couple of my own one day. And, who knows, then get to the Monday Night Club or Jacaranda… We shall see.



The Guitars

I have two semi acoustic guitars (a
Takamine 363
and a
Tanglewood TW145SS
) and a beautiful dark green
Fender Squier Telecaster
. I currently only pick up the acoustics for a strum. Plugging them in (or the Telecaster) is a rare event. Maybe once I'm writing some songs and messing about with GarageBand some.

Onwards and Upwards (
probably in C Major
).

_______________________________________


Spotify Links to the Liverpool Open Mic-ers


Links to some of the great & lovely of the open mic peeps. There's some brilliant local talent around at the moment (not least of course Dave O'Grady & Muzz (Seafoam Green), John Witherspoon, and Ali Horn (all on Spotify - and maybe playing at a venue near you (or not). Check them out:


John Witherspoon
Seafoam Green
Ali Horn
Ben Whitley
Liam Sweeney
Liz Owen
Danny Bradley
I didn't get to read a poem for #ReadMeSpeakMe this weekend, but that was because it was a poem of mine which was chosen for the weekly read (Week #184). So I'll be reading it later in the week after others have put their twists on it. I'll have to have a wee think about how I will do that. There may, or may not, be tankards involved. And hopefully no crying and hopefully not too sulky a face.

If you want to give it a go then please do. Just follow the standard instructions of #ReadMeSpeakMe (see below) and post it up in your preferred app (many use Soundcloud or YouTube, or some even put it straight into a tweet). I've been enjoying people's takes on it so far. And some lovely voices; both familiar and new to me this week too.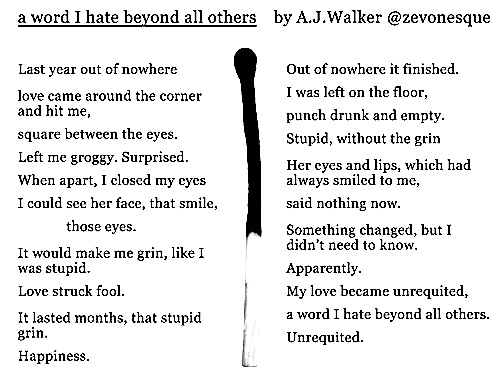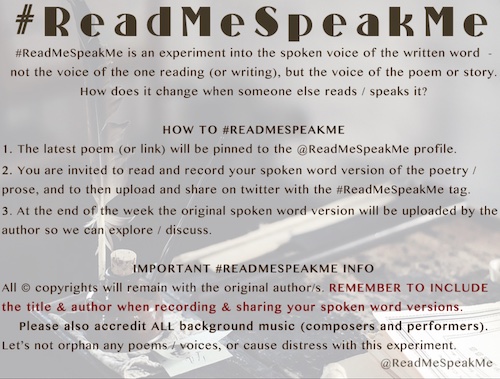 Thanks to @megwaf for hosting (and picking & presenting the poems). Doing a weekly event like this in your own time is sometimes a bit a thankless task (I know from doing the weekly '
Seedling Challenge
' a few years ago - even when it's not that much time it IS time and the clock is always ticking and tapping you on your shoulder). Everyone who gets involved with RMSM loves the little escape it gives us for a while each week. So, thank you.

If you're on Twitter why not follow:


@ReadMeSpeakMe
and

@megwaf


And give a go. We'd all love to hear you. Maybe next week, when it's someone else's words though - bloody unrequited.

I've loved Twitter for the many years I've been on it. I joined as
Zevonesque
in February 2009 and then created
RealeLiverpool
in December 2013. Incredibly both accounts have somehow accrued over three thousand followers each. Like I say, incredible.

It was through Twitter that I found the various writing challenges that have sprouted up over the years and through these that been involved in things like the Flash Dogs. People who don't use Twitter only hear about it in terms of the poorly curated news (and in the case of our local paper that means using it for all their news rather than having journalists (sadly)). But hearing about stars or politicians who've sent out a Tweet about something in the news is not really what it is about. It is so much more than a news app – or news creator.

And now we are in this strained situation thanks to the strange and rich ego of Musk. I absolutely love the Space-X stuff. Don't care much either way about Tesla. But what is he doing with Twitter as a play thing? Can't he stick to real engineering challenges rather than social engineering?

The $8/month that Musk has expressed as a cost to keep the blue ticks is not relevant to me at the moment. But it is unclear what it will mean in the longer term in relation to what effect it will have in the algorithms: and therefore what will show in my timeline. I want to really just want to see the people I follow (and by extension what they think is worth seeing) rather than adverts and 'news' that Musk and Twitter make me see.

I'm hoping this turbulent few weeks on Twitter proves to be nothing more than a horrible aberration. I can but hope.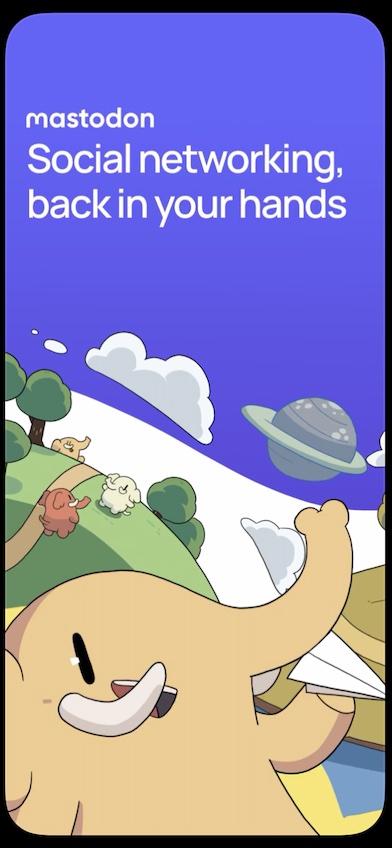 Not sure, of course, yet about the open source app
Mastodon
, but have created an account in case it becomes the new place to be. If it becomes so much bigger (and it looks like it will) then it may well become a boss place to hang out. We shall see. If you are over there too you can find me on:


@Zevonesque@mastodonapp.uk


To top off my I.T. day I've also installed '
Ventura'
on to the laptop. Go me!