Out of nowhere - with just one day's notice - the Sanctuary announced they were having an Open Mic the following day. The event was to be hosted by
Barry Sutton
- one of many former Las. He is a brilliant guitarist.

So I went along a bit (read:
very
) nervous about playing with a different group of people. The usual crew were absent of course as were the people who usually turned up to play there: the ones I was comfortable playing in front of because they knew me and my limitations. Playing in front of really good musicians who I didn't know at all had my hands really shaking. I played and sang okay though but my nervous shaking was obvious.

Barry said if'd been shite he'd let me do one song then pull me off (as it were) but in the end I did four songs. So it couldn't have been as bad as I feared it was. At the end several people shook my hand and said they enjoyed it. I'll take that. And next time - if there is a next time - I will be a lot more relaxed appearing in front of a new audience.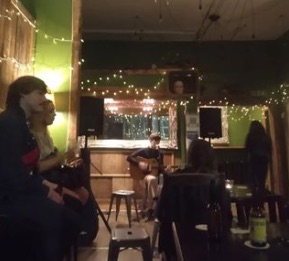 One of the excellent young guitarists who I warmed up for.
I didn't catch the names of the people who played other than Barry. It's not like I'm writing a review. But bloody hell there were some fabulous (young) performers. It was a really good night. I had to leave early (if 11:30pm is counted as early) so missed
Matt Holland Author Dot Com
- the one other representative of the former Open Mic crew - read his stories out. Next time; if there is etc etc.

It did feel strange playing there with a different organiser than the previous Open Mic events. I'm hoping to get along to the OM from
Bobo & John
once they are up and running (I expect in the Outpost, a little further down the road). I could end up playing more often, learning more stuff, and getting more confident. Well it could happen…

____________

Incidentally my four songs on the return were:

'
Sweet Carolina'
-
Ryan Adams
'Couldn't Get Arrested
' -
Green on Red
'Whiskey in my Whiskey'
-
Felice Brothers
(accompanied by a Highland Park 12YO: thanks, Josh)
'
One I Love'
-
REM