15/02/20 10:54
For ten years I've had a MacBook Pro and it's a lovely bit of kit (I'm still using it ten years later and use it for my website and writing). But let's face it at 5.5 kilos it's not designed for walking around on the off chance you may want to pop a few words down. For that you need a notebook and a pen. Yeah, but then you need to type it up when you get home. That's some double handling you can do without, surely. As well as being large and heavy a proper laptop like that is very attractive to thieves. It's not like you can have a coffee or beer and walk away and leave it without worrying about it not being there when you safely got back with a lighter bladder. No: not conducive to carrying, opening, running software, writing and saving, closing, packing away, bringing back and repeat.. etc. For the sake of the odd hundred words or so you just don't take it out in the end.


I've finally bit the bullet and gone for the cheapest of the standard iPads and got an integral case with keyboard. It is brilliant for me. A friend offered me a none Apple tablet (which he didn't want , nor could think of anyone else that might either) but as I mainly wanted it for writing it had to Apple so that I could link it with Scrivener on my Pro. Not knowing anyone with the same set up it was a little bit risky in case it didn't work. But I did plenty of online research. Now I have it... what was I worried about? It is perfect.

If you've got a Dropbox account, it's flawless. If you haven't, just set one up. It doesn't take long. Then save your Scrivener projects into Dropbox and you're away. An iPad is 5 kilos less than your laptop; it's like carrying a small book.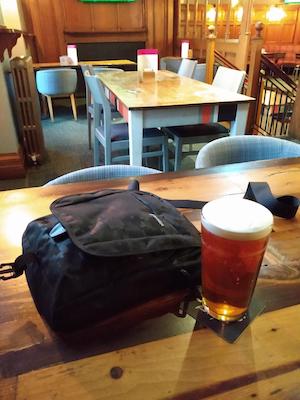 Smaller and lighter and less obvious than a laptop. Easier to open, close, save etc. Less of a risk and at the same time more likely to be used for your writing whilst you're out.

I'm sure it would be great without Scrivener and Dropbox, but it's just so seamless the way these two bits of software work if you already do.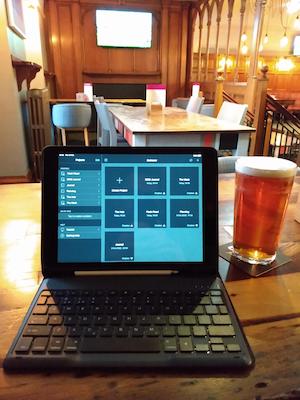 One of the first things I did, which I hadn't planned to do , was create a diary using Scrivener, knowing I'd pick up the iPad once every day or two. It's so much easier than guaranteeing doing that with a paper copy book. I simply created twelve folders for the months then the requisite number of pages for the days of the week. Then saved that as a Template I can use for later years. Now I find me typing out a simple diary each day - it's been a few years, but I used to keep a regular diary and loved it. It's nice to get back to it. So far I haven't thought about adding anything other than words to it - but if I wanted I could add photos, links, anything to the diary. We'll see how it evolves,

Anyway, in short, if you are away from home, your PC and (hardback) notebooks regularly then having the option of a tablet to put your notes or stories into can be a massive plus in multiple ways. I've only had mine for a week or so and reckon I've written at least 4k additional words than I would have without one. Even this blog post has been written in one sitting at a pub, with a single pint (of Oakham 'Citra', in the Dispensary). It certainly increases productivity and options - and I reckon writing habits.