20/10/17 21:08
Been a good year for reading for me (not yet for writing, but there's still time so watch this space). Picked up another couple of books during the week including the
Fifth Elephant
by Terry Pratchett, which is one of the nine Discworld's I've yet to read.
This week I surpassed the forty books I'd set as a target for the year on
GoodReads.


Somehow forty books in some ways doesn't sound that much to me, but it's a struggle to get the reading time in some weeks with our busy lives and so I've got to be pretty satisfied with getting close to a book a week. And it's mad when you look at the average number of books people read or the number of books the average person reads (which is quite different). Apparently the average number of books is around 10 to 12 or so, but the median number (i.e. the number that most people profess to have read in a year) is only 4; the average number being skewed so much by the heavier readers out there. Damn stats, hey. Data suggests that more intelligent - sorry I should say better educated - people read more books, women read more books than men, and incredibly around a quarter of people don't read any books at all (FFS).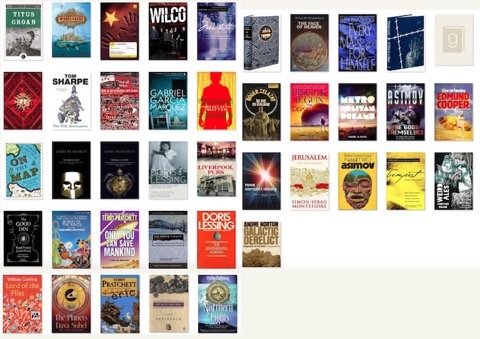 These stats seem quite reasonable when I think about it. I've got mates that read no books at all and a few who read maybe five or so. I've had years in the past when I didn't read as much as I do now and I wish that wasn't true (that said I may have been strumming my guitar more some years and I feel guilty about not doing
that
as much as I used to now); basically there's only so much time.
Roughly 50% of the books I've read so far this year have been SF/Fantasy (so far so predictable) and 25% non-fiction and there have been a few classics thrown in there (
The Tempest, Macbeth, Lord of the Flies, Of Mice and Men, Titus Groan
). All in all many very satisfying and fascinating reads. Some have made me think about my writing methods and style but mostly they have just given me fabulous escapism and provided me with worlds away from this hopeless dystopia we appear to be in at the moment.
All these hours of escapism are priceless and I wish more people would read more, but you can lead a horse to water etc. It would entertain, inform and de-stress many a bod I know if they would. If we all had a few hours away from the google-box and the news and those bloody adverts it would be a better place (imagine if Donald Trump sat back and read a history book or six, and maybe looked at an atlas rather than SNL, Fox and his Twitter feed. Ho hum.).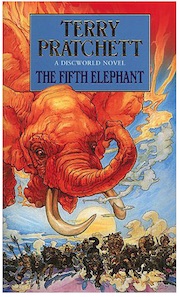 Anyway's for my next bit of escapism I am heading back to the
Discworld
to find out about the
Fifth Elephant
.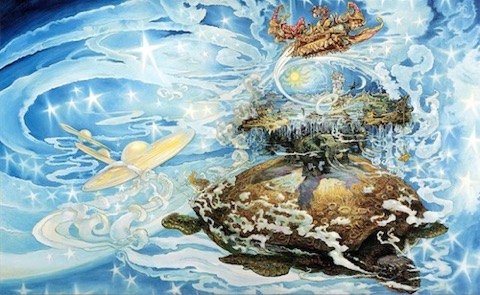 The Discworld on the back of the
Great A'Tuin