Since the early days of VSS365 I've been involved in writing from these daily word prompts. It has grown immensely over the years and in the last six months in particular it has become a bit of a juggernaut. 'Back in the day' these wee stories were confined to 140 characters–I ask ya! But now we're back in the realms of flash fiction with up to 280 characters–wow!
Back in November 2018 I hosted it whilst travelling around the distant states of Zevonia and Zevonistan - from the foothills of the Mountains of Ruin and the famous Sprout Festival, along with my mate Benzo Diazapan - and it was very much a fun month.
Despite being a keen as mustard VSSer and evangelic about it I wasn't sure when the news of the anthology came out. I wasn't sure about an entire book featuring tweet length stories and wondered whether anyone would be interested in reading them. But I must say having just finished reading the anthology it hangs together very well indeed and looks great. I found it compelling to see how different the stories or poems were from each single prompt. And it is amazing how beautiful some of them were with so few words to play with. The quality of the stories are fantastic. It is sometimes difficult when reading one after the other to remember what the prompt was when they take you in different directions.
The work of Mark and the Ambassadors in producing this book has got to be appreciated. They have done a fab job, as it has paid off in spades. It is a book to pop in and out of–Maybe even one for the small room.
I've only got the Kindle version at the moment. But I think I'll have to get myself the paperback.
Follow Mark King on Twitter @Making_Fiction
Buy the book:
VSS365 Anthology
27/11/18 13:17 Filed in:
VSS365
It's almost four weeks since I took the role of VSS365 prompter on and it has been fun. The words, the stories, the sagas, the one liners and so so many people out there getting involved. I must say big thanks to
@Voimaoy
for trusting me to do it and to
@RozLevens
for handing it over to me with such aplomb. And talking of handing it over just make sure you're following Camilla
@TheWritingKind
in good time for December so that you do not miss the prompts. I'm not sure what time she'll be putting them out there, I just picked a random time myself!
It surprises me sometimes when people say that they can't find the prompt easily, but I suppose not every one uses Twitter quite as much as some of us (i.e. especially me). But my suggestion for anyone who doesn't want to follow a new prompter each month the easiest way to find each day's prompt is simply to search Twitter. It's not rocket science and I don't want to teach grandmothers to suck eggs or whatever. But just in case you're not used to Twitter or any general searching methods just do this:
Search:
#VSS365 #prompt

It automatically lists in terms of some sort of wrangled algorithm (aren't they all) and may come up with top answers equating to previous days or weeks prompts, so once you have that list in front of you just select
Latest
and hey presto you should have it. Just bear in mind that there are some people (not many but you do see it) who put #VSS365 along with random #words which have nothing to do with the community. Go figure. But if you see more than a couple of Tweets relating to the same word on the same day then that should be the day's prompt. Simples.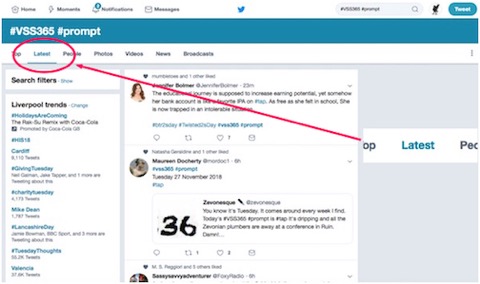 With regard to the prompting scheduler I have been using
twittimer.com
it's basic and not quite as user friendly as
Buffer
but I needed a second scheduler for this monthly stint. It worked every day without any messing about so I can certainly recommend it if you want to schedule up to ten tweets at a time and perhaps need a second scheduler like I did.
Anyhoo enough of that, there's only three more prompts for me to go after today's word:
Tap.
Wonder what the last one will be?
______
Remember, follow @TheWritingKind to get December's prompts without having to search for them.