14/07/20 18:26
On Friday I drove down to Shropshire to the beautiful village of Bishop's Castle. As I said in my
last blog
I was a little apprehensive but broadly looking forward at the very least to being out of the house for a few days.

The drive down was uneventful and was the usual 2 hours or so, with just a couple of roadworks there to slow the day down–they do seem to be everywhere at the moment. I was the first to arrive and was surprised to see how busy the campsite was. I paid the £9 per day and set up exactly where we camped last year. But last year there were thirty of us there, partly due to the 'stag' nature of some of the attendees prior to Paddy's upcoming wedding. I wrote up last year's fab weekend in a
blog
of course. This time there was to be ten of us, which given the Covid-19 pandemic seemed quite a few people. Especially as I haven't been seeing anyone–no bubbles for me.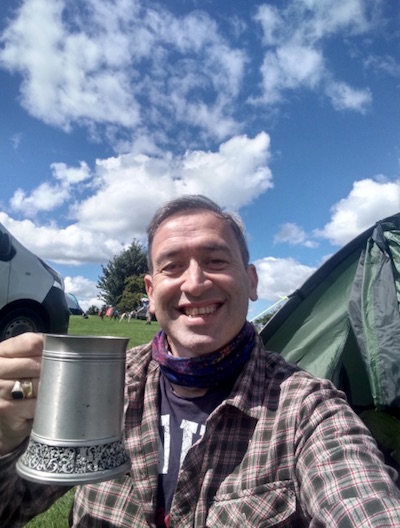 First drink after putting up your tent is always one of the best
Tony K and Jane came next with Jane's son; then Tony and Jeanette, quickly followed by Rob and his cohorts. We all managed to camp close together (socially distanced, of course). Uniquely for a Bishop's Castle camping weekend we didn't go down to the village for a beer or two. It didn't seem necessary as we had lots of beer between us and it is not like there was any entertainment down in Bishop's Castle. Jeanette fed us with a homemade chilli and then we got in with drinking and chatting. All with some tunes from playlists by myself and Jeanette. It was pretty cold and got colder as the sky cleared. But of course that meant with clear Shropshire skies we had a beautiful view–which even encompassed satellites and shooting stars.

Social distancing was pretty well done in the main. The folding chairs and dark night keeping everyone together around a fire pit. It was a nice night.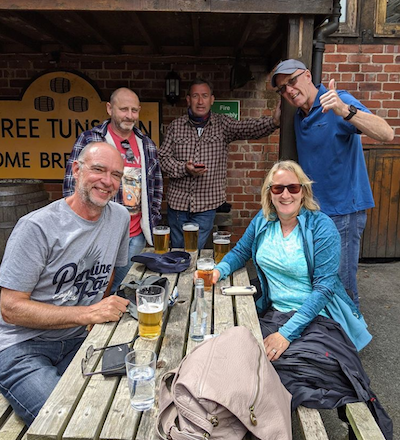 Group drinking in the Three Tuns. Wonderful.

The next day started with a sunnier forecast if a little cloudy. Breakfast was sourced either at the Greedy Fox from the Foxholes campsite we were on, or cooked by the various volunteers in the group. And then the final member of the group, Ste, arrived. He'd had to delay due to doing a good thing in terms of looking after a neighbours dog. We then finally headed down into BC around 1pm–again around 2 hours later than we would normally have. On the basis of only two open pubs rather than the usual five or six this seemed to make sense.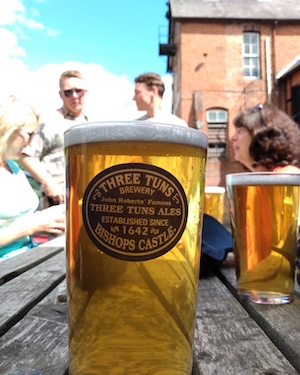 Sunshine pint in the Three Tuns
We first headed into the Three Tuns. There we were asked for one member of the group to scan in a QR code and provide details through that before going in and getting seated. We headed outside to one of the two benches in the yard. Normally during this weekend of the year there would be a music playing and a barbecue going, as well as the Three Tuns brewer selling beers straight out of the barrels there. This time: nothing. Of course. We ended up staying there for about four hours or so before heading up to the Castle. The only issue I had was someone squeezing in between me and someone else on a bench. I shot on up and out of there and left it to the girls. Social distancing guys (and gals)! Went through several pints of Solstice, XXX and Cleric's Cure (which I settled on for a few).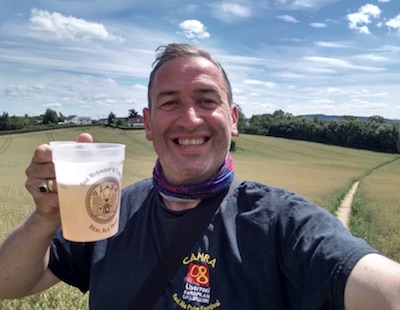 The Shropshire Way walk into Bishop's Castle
In the Castle the garden was full. Most having being booked in advance. No-one was in the garden on the grass, they were all seated at tables. We stayed in the tables outside at the bottom of the steps. Here the staff all wore visors, which was visibly different to the Three Tuns, where the staff concentrated on limiting touching the glasses (using trays and asking us to load them with empty glasses etc). Like Liverpool last week, every establishment is having to find their own way with the reopening.

Most the boys and girls of our group went into the BC chippy for sustenance. I kept away: just not hungry. Then we all went back on up to Foxholes for the evening. It was spent drinking beer (or wine in the case of Rob and Co.), chatting and listening to tunes. I even got my guitar out and played a few songs–it would have been Open Mic tonight if I had been home. There was no WiFi available to log into Zoom on the campsite. Tony talked loudly all the way through most of the songs. But to be fair that made my 'gig' more like an Open Mic than if he'd kept quiet. There's always one. The night was a clear as the day before and again we saw shooting stars. It closed around 1:30am or so after some surprising spoons and a collapsing chair and table incident.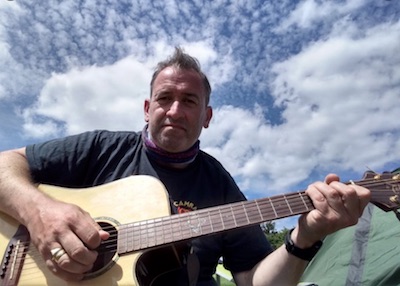 Playing in the sun to an appreciative crowd (me)
Sunday brought us even more sunshine. The forecast was it would be there for the day. And boy, it was. I ended up getting a little sunburnt on my face, mainly on the nose and forehead. Steve got off early, as did Rob and the boys, whilst I wasn't sure whether to stay or go. I was torn, as I was off on Monday and was thinking I'd do some writing if I got back on Sunday, but then again another night relaxing whilst away for the first time for months was very attractive. In the end I decided to stay. Tony K took the rest of the intrepid group on a truncated walk (basically adding a few hundred metres to getting into BC and then walking along the road rather than on the Shropshire Way. Most surprising. Not.). They all heading into Poppy's (where we normally go for breakfast on our last day camping) and had a Sunday Roast.

Meanwhile I was still at the campsite listening to the screeching of a couple of the red kites what whirled above the countryside, whilst strumming the guitar and burning my face; before walking down to the Three Tuns. Had a pint of Solstice and three of Cleric's before heading up to the site with a takeout. I began reading '
The Psychology of Time Travel
' (Kate Mascarenhas) which seems really good.

The evening was its by now standard form. A couple of beers, some music and bed. But this time finished much, much earlier. Everyone was getting a bit more tired which after a few days trying to sleep in a tent is par for the course.

And then it was Monday and time for me to go. The remaining five stayed in BC to do a walk along the Long Mynd from Church Stretton. I got home at 1pm and it didn't take me long to fall into some serious napping.

All in all the weekend had been excellent. There hadn't been much in the way of any rain and we all got into the two pubs that were open. Clearly the logging in, the directional information, the toilet occupancy, and cleaning stations (as well as staff methods and PPE) make the pubs a different proposition to the BC real ale trail. The lack of entertainment, and a hog roast or two, being an obvious miss. It is hard to see how and when this can come back prior to a vaccine. It really is a worry and I really wonder if even this time next year the real ale trail will be back. That said, even if it isn't I expect we will be. Camping is great. So is Shropshire, the village and the campsite. And of course, most of all, our group of people make the event the success it always is.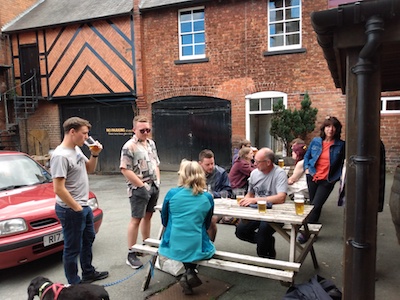 Three Tuns quieter than usual.


Cheers!