Camping at Bishop's Castle (Again)
This weekend it is my now annual pilgrimage to
Bishop's Castle
, in Shropshire, for the Real Ale Trail Festival. I think it's my ninth in a row as ten years ago I was at
T in the Park
, in Balado, this weekend in 2009 watching bands including; Kings of Leon, Snow Patrol, Blur, The Killers, Regina Spektor, Mogwai and Squeeze (incidentally, looking at the band list I note that Mumford & Sons were playing in the King Tuts (first on, on the Saturday) though I didn't see them).
Once I stopped going to T in the Park with my music festival buddies (after 2009) I began to go to Bishop's Castle Beer Festival with my ale drinking buddies instead. So basically this weekend has been a big one for fifteen years or so, albeit with very different festivals. Both involve camping though and I very much enjoy it. Every time I do it I wonder why I don't do it more. It will be my first camping trip of the year and will be swiftly followed by camping the following weekend where I am camping for a wedding! I dare say there won't be too many people leaving their tents suited and booted (although I believe there will be at least one more doing the same).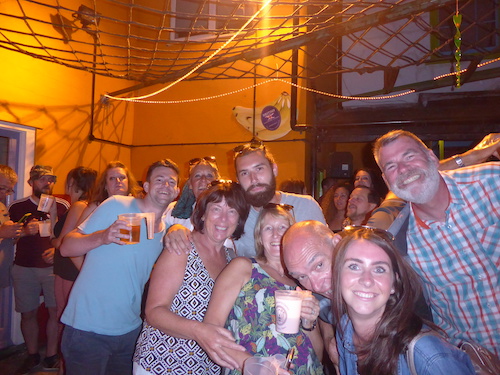 Last year at the festival it coincided with England doing rather well in the World Cup. There was a lot of sunshine, lovely booze, boss people and all round good vibes (these peeps in the photo are all looking suitably in the pink). Incidentally, Rachel in the front there, behind her dad on the right, is the lovely lady getting married next week - and the groom is lurking there on the left too.
It's nice to get a new Eurohike tent for this year - even if it is the same design as I used to use. It served me very well (including back in T in the Park).
Roll on a couple of weekends of fun camping, lovely beers, decent bands (largely in the Vaults), and good people & times.