Out of nowhere
Flash! Friday
is returning and I for one am made up. Of course I am not the only one. It is one of the first flash fiction challenges I got into regularly. Along with
Angry Hourglass
these were my two favourite weekly challenges and when it went away (I won't say died, for this is no resurrection) I was a little sad. This was compounded later by the long walk taken by Angry Hourglass too (um… I wonder if that will be back one day?).

The friends I met online through being involved in these two challenges have endured the years since. Many of the regulars who wrote most of the weeks in these grew to become the fabulous
Flash Dogs
, who produced amazing books in the following years. Yes, from writing in these challenges and meeting regularly on Twitter we actually produced hard copy beautiful books. Champion!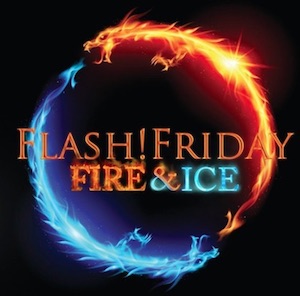 Who knows where this return will take us, maybe not so far. Maybe further. Wherever it goes it will be a fun ride. And it will be fabulous to introduce the dragons to all the new brethren who have discovered the joy of micro fiction through
VSS365
(which after all is a love child from the Flash Dogs).

Please get involved. It's great writing practice and may give you ideas for longer stories too. I can't wait to see your stories there. And hell, some weeks I'll be helping judge them – yeah, didn't I say? It's a judged challenge. It's great that I'll be teamed up together with @voimaoy for this again. Winners get a virtual badge and a warm feeling. I was lucky to win and get placed several times – and it did make me feel warm and fuzzy.

When does it start? That'll be
Friday
(there's a clue in the name, you know).

Follow
@FlashFridayFic
on Twitter and if you are tweeting about it use the hashtag
#fireiceflash
and, of course, get one over to the website:
flashfriday.wordpress.com
08/08/20 08:47 Filed in:
Work
Amazingly this week I've been back in work after my accident last week. The accident was quite horrible and very discomforting over the following period. It was quite a fall as I'd gone up some steps in a back garden to deliver a parcel. On the way down I stupidly stepped backwards rather than turning around. And as the steps were not finished (the garden was being worked on) my foot went into free air and I went spinning through the air from a foot or two above the ground and as I twisted through the air in something like an ice skating move, perhaps it was a Salchow. Anyway this exciting move was aborted early by my back finding a rather uncomfortable sudden stop on a metal railing. From where I bounced down to the concrete path. It was all quite dramatic. Severely winded and sore I lay there for a while wondering how far my swearing had travelled. I went to sit in my van for a while wondering what damage I'd done. I couldn't breath properly due to the pain. I wondered whether I'd broken a rib and pierced my lung. All sorts of things swam around my head. But ultimately I decided it couldn't be that bad as I could still move albeit painfully it wasn't making me faint or anything.

Eventually I wen on to the next stop, before ringing work and telling them about it - and that I should be able to finish the route but would likely not be in again for a while. It was sure to stiffen up and get worse. And it did.

The next day the agony getting out of bed - where I'd had to sleep sat upright, wedged between two pillows - made me think I had indeed done more damage. I struggled through a shower just in case I needed to make a last minute call to go to A&E. Over the next couple of days I thought the same on several occasions. At one point I was pretty sure I wouldn't get into work until late this week at the earliest. And what happened? I ended up being off work from Thursday through to Sunday. I've been in for a normal working week - 5 days. They gave me an easy day on Monday, and I finished quickly but was sore the next day. The following day I was back on a normal route and boy was that hard. I struggled with the pain in the evening. Next day was a smaller route in terms of number of drops and was a lot easier.

Anyway, here I am ten days after a most painful accident and I've done a week's work. In terms of working days lost, incredibly I only lost two days. All in all, if anything, it shows how resilient the body is. Where it can fix itself it does an amazing job. Looking back at the accident it could have been a lot worse I guess - as a glass half full person - the railing could have had sharp edges instead of being curved and maybe if I hadn't landed on the railing and bounced to the ground I would have landed on my head and done some more serious damage. If I'd bashed my head I'd have lost a lot more time off work, at the very least.

Moral of the story: don't walk backwards down steps you don't know. And the world is precarious for each of us.



Looking at getting stricter with my writing which is partly why I want to record it: as a document of success or failure and a rod for my own back (or something like that).
I'm not sure what to aim for. It will probably be a matter of finding what works for me as I get into the writing daily habit. Be it 300 words or 2000 words (hell, I know it won't be that initially).
I found a website called The Daily Word Counter <
www.wordcounter.net
> which had an article giving an idea of the daily word count of many famous writing as follows:
Ernest Hemingway - 500 words
Stephen King - 2000
Jack London - 1500
Tom Wolfe - 135
Mark Twain - 1400-1800
W Somerset Maugham - 1000
Sarah Walters - 1000
Sebastian Faulks - 1000
Michael Crichton - 10,000
Kate DiCamillo -600-900
Nicholas Sparks - 2000
J.G. Ballard - 1000
Ian McEwan - 600
Lee Child - 1800
Anne Rice - 3000
Arthur Conan Doyle - 3000
Arthur Hayley - 600
Graham Greene - 500
Holly Black - 1000
I'm not sure of the voracity of these numbers and whilst they show a wide difference; most are between a pretty manageable 500 and 2000 words. Given I can crack off a blog of 300-500 words or a flash of 365 words in less than an hour then having a daily word count of 500-1000 words should be achievable, I've also done NaNo successfully twice, which equates to 1666 a day.
I don't think having the NaNo tick-tock is necessary but it certainly helps over the relative short term of a month. Without it maybe the very act of recording it will be the kick up the backside.
So let's see how I go with achieving 500-1000 words on projects (not counting blogs) – incidentally this will be about 380 words.
Writing even that much/little will drive me into more projects and ideas i.e. finishing existing ones and getting me to new ones. Let's see where I get to come November . In theory that should be 45-90.,000 words. Ha, we shall see.
First thing I've done is write down where I'm up to in various projects in terms of current word count so I can check up on progress.

Current Word Counts and aims:
TWO1 - 56,267 : 80,000
TM2 - 3946 : 6000
SC1 - 601 : 4000
TT1 - 1193 : 50,000
THS1 - 73 : 50,000*
* may get broken down into multiple short stories.