Have had a wee chest infection for a few weeks. So much so that I even went to see the GP in case it was something more serious. Thankfully it seems like it is just that. Can't wait for it to clear up fully though. Its made singing some songs very difficult, indeed impossible, as I've not been able to fill my lungs enough with breath! Some songs though survived this breathless cull.

I've previously gone to watch some open mics recently without singing as I knew I would fail miserably. Collapsing in a heap in a high pitch wheeze is not a look I want to aim for. Yesterday though I managed to clear my lungs enough to sing any of my usual songs – and I did. I went along to the Dispensary again (think for the fifth time?) to play. It was run once more by Muzz and I was pleased to see Ollie and Guy there. They usually play at the Monday Night Club at the Cavern, but it was cancelled this week allowing them to come along for their first time.

In the end I think there were seven people who played. And most got up twice. I ended up playing two lots of three songs:


'Down By The Water' -
Decemberists

'Oh My Sweet Carolina' -
Ryan Adams

'Whiskey In My Whiskey' -
Felice Brothers

'Heart Breaks Like the Dawn' -
Chuck Prophet

'You Couldn't Get Arrested' -
Green on Red

'Somewhere Down the Road' -
Chuck Prophet

It being a Bank Holiday the event finished a bit earlier than usual (before 10). So after getting my free pint of White Rat for playing, I had one more then got of and had a final drink in the Sanctuary before heading home. I had an early start on Tuesday to look forward to for a real ale visit to Sheffield. More of that later…


Still a bit chesty and I think I'll give the antibiotics a go (I was prescribed them by the GP in case it hung around for any longer). Of course it's as likely to be viral as biological but worth a spin of the wheel I suppose if it gets rid of my 'smoker's cough' for non-smokers.
Done a few open mics at the Dispensary now, hosted by either of the
Seafoam Green
duo (Dave & Muzz). Last week it went pretty well and I felt I sounded better than usual - ie not forgetting too many words or messing up chord changes. But I am aware that I have kept doing the same three or four songs (last week's songs were: '
Oh My Sweet Carolina
' - Ryan Adams, '
Heart Breaks Like the Dawn
' - Chuck Prophet, '
Couldn't Get Arrested
' - Green on Red, and '
Whisky In My Whiskey
' - Felice Brothers). The next time I play I intend to not play any of these as I should try to mix it up and stretch myself a bit.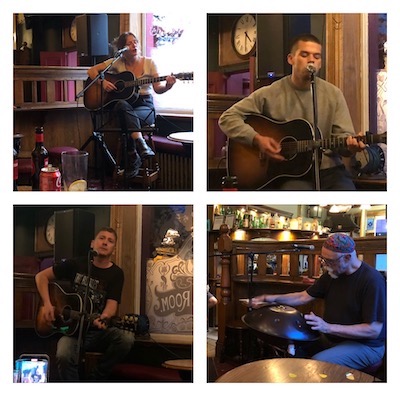 Currently thinking next time I'll go for '
Down By the Water
' - Decemberists, '
Somewhere Down The Road
' - Chuck Prophet, '
Splendid Isolation
' - Warren Zevon, and maybe '
One I Love
' - REM. We shall see. I dare say that I'll end up playing one or two of the usual instead. I'll let you know!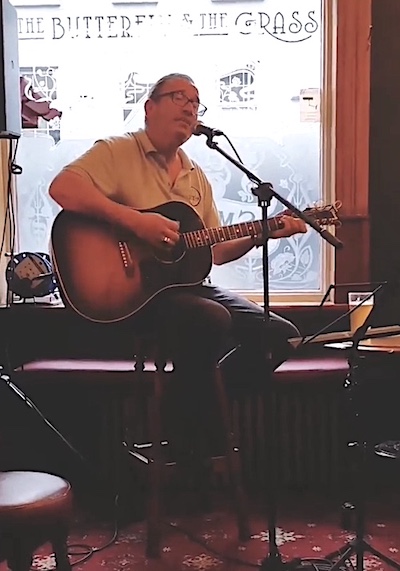 Ripping it up at the Dizz.- well maybe just playing a C.
And in the coming weeks I intend to learn some new songs and get them out there. Before maybe playing with my own words (alongside the usual C, G, Am and F chords no doubt). Again, watch this space.