28/12/20 21:40
It had snowed overnight in Liverpool and it looked all very Christmassy. Not much like. It was not like it ended up with estates full of snowmen or snowball fights breaking out everywhere. Just enough snow to comment on and cause consternation for walkers and drivers alike. Later in the day some snow was still here whilst I was trying to get to grip with this week's interesting '
ReadMeSpeakMe
.' RMSM 127 comprised a poem put together expertly by RMSM chief Meg
@megwaff
by slotting together first lines from dozens of poems from previous ReadMeSpeakMe poems and actually included poems from 44 writers.
As previous few poems I've put it up on the
YouTube
channel. Had one annoying issue as I got to the end of a recording the device informed me it was full and just stopped recording. I very nearly shouted out 'Flipping heck!' or something akin to that. But I stayed strong and only minor work will be required to fix the head shaped hole in the wall's plaster. Got the recording done with only a couple of stutters and one wrong word (I think). Don't be too critical.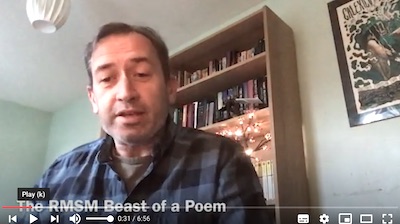 ReadMeSpeakMe 127
Read more about the poem on Meg's web page
www.megwaffling.wordpress.com/2020/12/27/the-rmsm-beast-of-a-poem/
and you'll realise what a big job she had on her hands to compile the poem. Great work, Meg. Kudos.
As ever my lovely pewter tankard makes its appearance. This time it has a bottle of '
Platform 6.1'
from
Wickwar Brewery
. A decent pint at a decent price from B&M (£1.60).
________________________
Twitter:
@megwaff
@ReadMeSpeakMe

Website:

www,megwaffling.wordpress.com

09/12/20 10:15
Sunday is rapidly becoming 'ReadMeSpeakMe Day'. And this week's Sunday was no different, at least from this perspective. If you are not aware of it (and I wasn't until a few weeks ago) it involved @readmespeakme posting a weekly poem every Sunday with the request for people to record themselves reading the poem and posting it on - or via - Twitter.
For the last three weeks I've recorded vids short enough to put within a Tweet but this week it was about ten seconds too long and I didn't want to edit the start or ends of it. This meant the obvious option was to put it up on YouTube. So that is where it has ended up. I may well put all future
ReadMeSpeakMe
efforts up on YouTube even if they are short just so there is a one-stop-shop for it.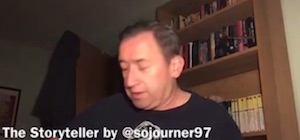 This week's poem was from
@sojourner97
titled
'The Storyteller
'. It was just three verses and as I was setting up my phone and iPad to do the recording I was messing about with my guitar and it came to me to read the poem over a few chords, which I did. I of course read it as a poem too. All in one take as well - no editing required. After the day I had, or maybe because of it, I was remarkably relaxed. Due to playing and reading it the vid was over the length permitted on Twitter which is why I had little choice but to put it on YouTube.
Anyway, if you click on the photo it will take you through to the YouTube vid and you can see for yourself.
And why not get up on to
@readmespeakme
and check out the poems and the readings from the many talented people who get involved?
_______
Twitter links:
@zevonesque
@sojourner97
@readmespeakme
23/11/20 12:02
After reading the
Read Me Speak Me
poems No.120 and 121 last weekend it is time for poem No.122: it's almost like they are in numeric order or something. This week's poem is '
Journey Along The Banks
' by
Swarn Gill
@theedemaruh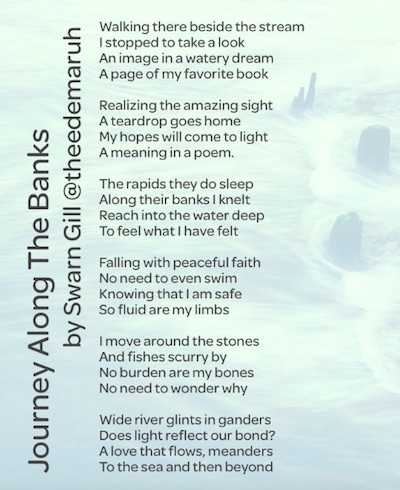 Haven't decided whether to put it directly onto
Twitter
, or whether to create a folder and put it up on my
YouTube
. I'm thinking ultimately YouTube makes sense as for some of the longer poems as they won't fit onto a Tweet. That said this one would fit I'm sure so perhaps I can do both.

We'll see later on.