15/07/17 08:01
I love Twitter. It's just a fab community. A fast way to find out things, identify trends. Follow the right people, ignore a lot. Sift through the mire with your eyes wide open and it is a fab world in itself.
Oh, and through it I've
WON
a load of boss stuff on it. In the last few years: pairs of tickets to
Glastonbury
, to
V Festival
,
Low, Magic Numbers, Josh Rouse
and
Ed Harcourt
. And
meals
at a couple of Liverpool pubs. A
£30 bar tab
. And a Liverpool
Cheese Clu
b event. All through Twitter.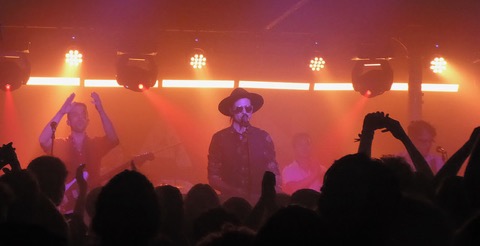 Saint Motel at Liverpool, July 2017
And this week I won a couple of tickets to
Saint Motel
at Liverpool O2 Academy, through Bido Lito! Didn't know the band. Didn't have a song by them. The only song I'd heard a bit of was through the NowTV advert (and I didn't know it was them until I won the tickets); just break it down to different sizes and listen to the very catchy
'My Type'
. Anyway, medium length story short... it was a lovely gig. Thanks Bido Lito.
And thanks again Twitter!!!