So I fixed my TV earlier in the week by disconnecting the buttons that
work
it (yeah, who'd have thunk it?) and what did I do last night? I only went and watched the
Strictly
Final and Michael Bloody McIntyre. I mean WTF!? If ever there was evidence that my remote control wasn't working that would normally be it. But no, I saw through most of the former and all of the latter with only two bottles of Wild Bill's IPA from Aldi to keep me company: Living the Dream on a Saturday night. To be fair I did actually quite enjoy them - but, in my defence, I was also quite knackered. With respect to the winner, I do like Stacey Dooley for what she does on the telly box, but I thought (assuming we weren't basing it purely on actual dancing - when clearly the American Pussycat should have won) then Faye deserved it. Anyway, congrats to Grimsby and all that.

I then went all dark and watched the latest two episodes of
Sinner
(Season 1) on BBC4. An interesting crime in a fucked up little American town with a fucked up police detective investigating the crime. It's hard to think of any detectives on the box that aren't at least a wee bitted messed up in one way or another. I assume at detective interviews if you claim you have a calm and stable life with no messy backstory, or a closet full of weird shit, you don't get to the second round of interviews. In this one he's got a messed up marriage and spends most his none investigating time getting beaten up by an ex (who he now pays to do it) in a severe masochistic relationship. Still, I'm sure he'll uncover the crime and all the baddies in the end; as long as he doesn't get accidentally suffocated first in a bizarre sexual encounter. Now that's an ending...
and all the criminals lived happily ever after in the ultimate sliding doors moment
.

In other news, I announced I'd probably stop
Class Song of the Day
at the end of this year (frighteningly just 15 days away) and one of my (okay probably my only) regular clicker and listener has said '
I won't miss it...
'. Now that is a damning indictment if ever I've read one. I suppose if not doing it gives me another 26 hours a year to do something and it does for others too, then I have magically created at least 6 working days of time out of nothing. So sometimes stopping something can be a job well done then. Huzzah!

Talking of time creation... watching that much TV in a night can't be a good thing. But I was tuckered out and moving not a jot was the way to go. Won't be watching too much TV today other than the Liverpool v Man Utd match (and if we win MOTD).

10/12/18 21:33 Filed in:
TV
I reported a few weeks ago my TV had started going a bit random on me. It would turn itself over to other sources, cycling through TV/PC/HDMI input 1/HDMI input 2 etc very frustrating. In actual fact it has been relatively well behaved and only doing it occasionally for a while. But when you're watching something and it suddenly goes off and you can't get it back on it is more than frustrating.
The Remote had stopped working completely - apart from the On/Off button - and the buttons on the side of the TV were not useful (I could turn on the Menu, but could not select anything from it).
I had looked through pages and pages of issues for Troubleshooting on the net looking for possible issues and fixes and was fearing it was a board/capacitor issue which would end up being either messy or expensive or both. These days it is often as cheap to buy a new TV (or any electrical good) rather than get something fixed.
But today I was lucky enough to find the right page for me; it doesn't help with the Samsung TV naming standards - my TV is snappy titled:
LE32B450C4W.
Rolls of the tongue that one doesn't it? It's a few years old okay, but my last TV lasted longer and when I started looking into the Samsung issue it is all over the net - but complicated by the naming thing in terms of which problems are common to groups of 'similar' TVs (how can you tell if LE32B..... is similar to LF54Cxxx.... etc? No chance.)
The page I found today was on
cnet.com
and the specific answer is from '
Kimberley3g
' near the bottom of the link. If you've got a similar problem take a look at it. In summary though the issue, which seems widespread, is with the button array at the side of the TV. And the fix... disconnect the little bastards.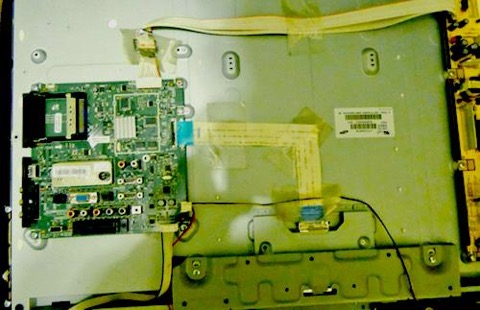 So basically all you need is a screwdriver or two, half an hour and some confidence. I found the screws were easy enough to take out. It was a bit fiddly disconnecting the cables - I tried at both ends. In the end I disconnected the connector on the button board (the other end is on the Infrared board (see pics). The buttons are on the bottom left of the TV (looking from the back) and the connections are to the IR board at the very bottom of the same corner.
Anyway, got it disconnected. Screwed the back and base back on and plugged all the connections back in (satellite, playstation, audio) and crossed my fingers.
Turned the TV on and hey presto! The Remote Control was miraculously working again for the first time for a month or so. The lack of information on the Samsung website and Forums on what is a known issue is very frustrating. I'm pretty sure I won't buy a Samsung TV again (this issue has carried on through to much more recent TVs).
Fingers crossed it continues to work - I suspect it will. I don't know Kimberley but I'll be raising a glass to her tomorrow.
Huzzah!