Been a very good month for live music for me. Lucky enough to see
Heavy North
at the Arts Club (the former Masque) and then there was
Frank Turner
at the Carling Academy, swiftly followed by
Thea Gilmore
at the Music Room at the Philharmonic Hall. All great artists - and hopefully I'll see then all again. In fact I have already booked to see Frank again in January. Was looking up hotels and trains to go up to Lancaster to see him, but unfortunately the tickets for that gig went in a day. Ended up deciding to get tickets for the Wolverhampton gig. Both gigs are on Saturdays and made them attractive for that reason as much as the venue. York and Leicester would have been good but didn't fall on weekends, so Wolverhampton it was. Will be a good way to start of my gig year. Can never not love his gigs.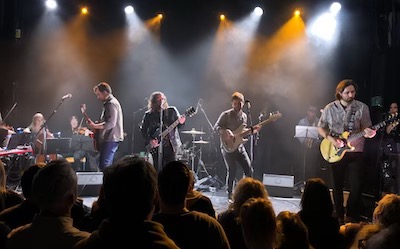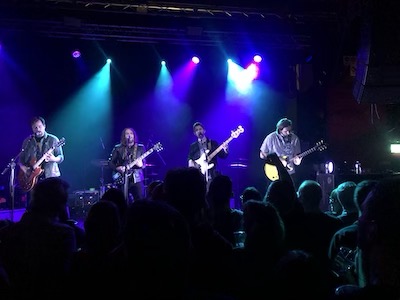 Heavy North at the Arts Club, Liverpool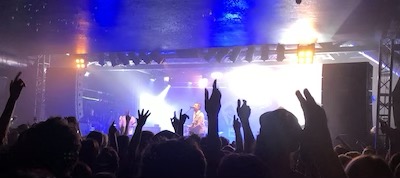 Frank Turner at the Liverpool Carling Academy
On top of that I went to the
Sofar Sounds
gig on 15 September which was at the Carnival Brewery. That featured
Conleth McGeary, George Fell,
and
Wild Love
.And I've caught the Loose Moose String Band and John Witherspoon playing at pubs including the Caledonia, Dispensary, and the Angus. Like I say a good month. Rock on.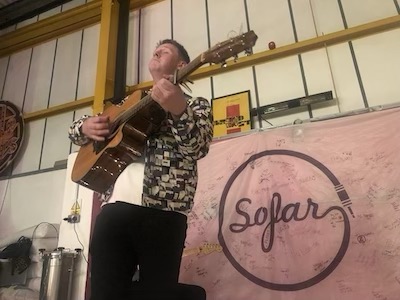 Conleth McGeary at the Sofar gig at Carnival Brewery

I've also played at four or so open mics in that month at the Dispensary with the host of either Dave or Muzzy from Seafoam Green. All the nights have been most enjoyable. Keen to play more new stuff and hopefully write some songs of my own. We shall see.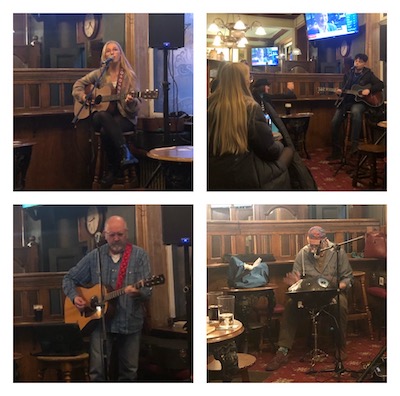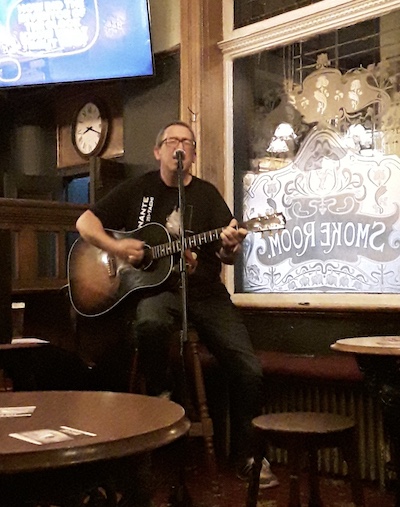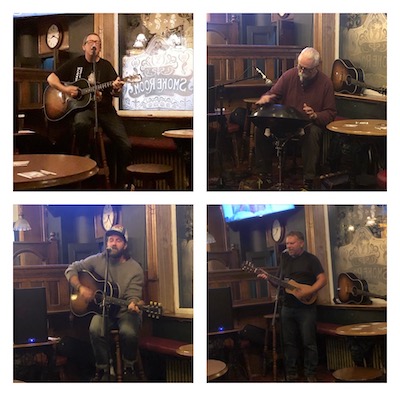 Open Mic at the Dispensary, Liverpool
Watched the queen's procession before the funeral this morning from Westminster Hall to Westminster Cathedral. It looked very impressive. Once the funeral part began I thought I'd go out. Not done much exercise this week so decided to get out on the bike. Had no aim when I left, but took a rucksack in case any shops were open (there weren't).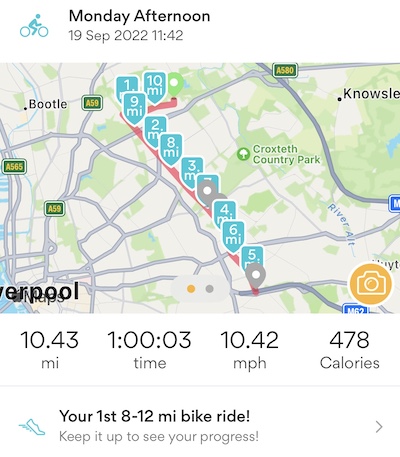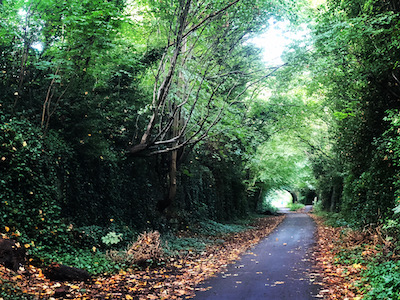 In the end I completed a ten mile trip along the Liverpool Loop Line. Was good to get out and it remained dry for the hour. The roads themselves were very quiet. I expect many were watching the funeral. Yup, even in the People's Republic of Liverpool. By the time of my return the roads were once again getting busier.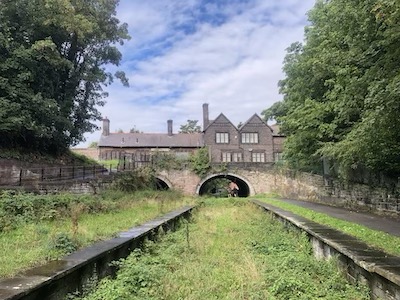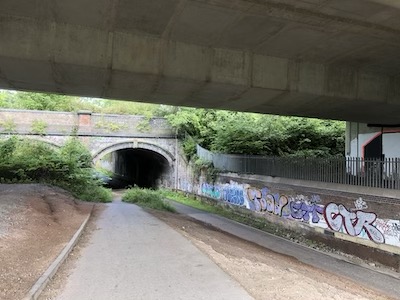 Hadn't realised that I'd never done a ten mile trip on my bike until it showed up as such on Runkeeper. I generally do about 6 miles into work and that's that. Will have to do some more I think; keep the legs and heart going. Of course coming up with that idea as the nights begin to draw in is maybe not ideal Coincidentally it's almost exactly
a year ago
since I first began cycling on my dad's old bike;
ZevonOne
. It's definitely a good form of exercise, wish I'd done that years earlier.

The chest infection is lingering on but isn't as bad as it was. And I managed last week to cycle to work, to actually work – and to do two open mics again. I played at the open mic at the
Dispensary
on Monday night. It was a good crowd again playing. Andy they had more beer choices this week too, which was nice to see (after they only had two ales on last week). Later on in the week I played at the
Belvedere
for the first time in ages at John Witherspoon's night.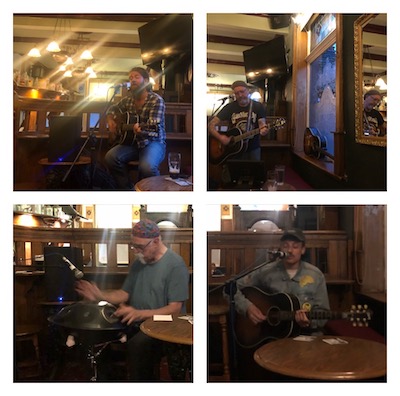 Dispensary Open Mic
Played four songs on Monday and three on Thursday. Not bad eh? Trying not to start off automatically with 'Oh My Sweet Carolina' and actually going for one of either
'Couldn't Get Arrested' 'Whiskey in my Whiskey'
and
'Heart Breaks Like the Dawn'.


On the Monday I met a local who'd returned to Liverpool after living in Aus and was just getting back into the place. It'll be like he's never been away in no time. He played his three songs and I chatted to him about other venues with open mics. I recommended the Belvedere on Thursday – and yes he did go and play there too. I'm an influencer!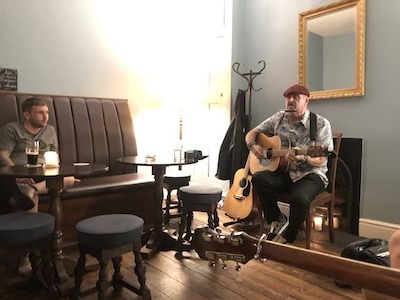 Barry, brilliant as ever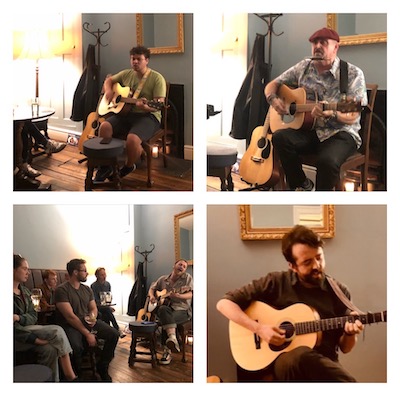 Great to see John play again. It'd been a while.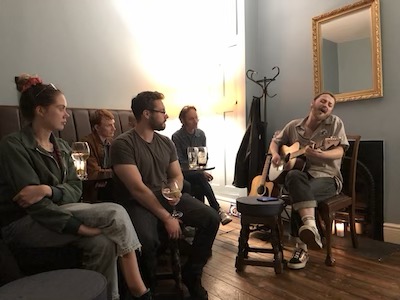 There were a few people in the small room. Cosy!

Lots of regulars there all on top form – and someone's grandmother (who'll remain nameless) was enjoying the evening with a great deal of toe-tapping and she even regaled us with a couple of songs
sans
guitar.

Bit mad to hear a fair few people singing along with
Couldn't Get Arrested
and
Whiskey in my Whiskey
in the Belvedere. It felt like I had a chorus being sung like the muppets on
Fraggle Rock
. But it was nice though.

Not sure whether I'll get to any open mics next week. If I do it'll probably just be the Dispensary one as I am going to a
Sofar
gig on Thursday (I do wish autocorrect would stop changing that to Solar gig). Of course that is assuming music is still on in the middle of this week of random mourning (you can play cricket or rugby, but not football?).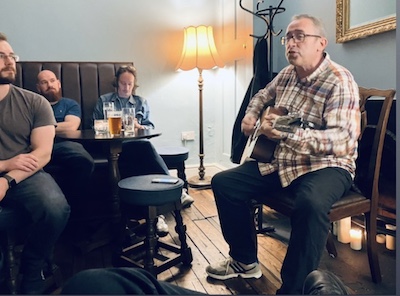 Me, looking like an old overweight white bluesman. It's just the shirt I tell ya!
John, the host with most.

Thank you everyone, including the muppets!