Went to Phase One for the
Lottery Winners
gig on Friday and it was wonderful. They gave such a joyous performance, very much still on the No.1 album high of
Anxiety Replacement Therapy (ART)
. Thom announced that they were no longer at the top of the charts as someone called Ed had taken their place. I guess Mr Sheeran is a well known chap, but it won't be forever before the Lottery Winners are a lot better known. As an 'album launch' (a week or so on) it wasn't a full gig but still went to beyond an hour. I spoke to the band members afterwards congratulating them on the album and its success - and the performance that night. They were all exceedingly happy all round. Thom's chat between songs was never less than entertaining and it put me in mind of seeing Pulp back in the day and enjoying Jarvis between songs as much as the songs themselves.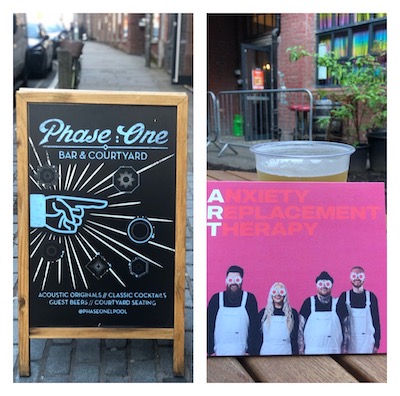 There was probably fewer than one hundred people at Phase One - in the middle of the Eurovision chaos at Pier Head. So many people are yet to hear of the band but they are getting out there with the success of ART, and more and more people will be discovering their songs shortly I am sure. On Sunday I went into a pub in Liverpool when there was no-one else there. I asked the bar manager (nicely) if they could put Lottery Winners on Spotify and she did. Needless to say she was new to them. The next customers in were a couple and before buying a pint they were struck by the music, 'Is that the Lottery Winners?' they asked. Turns out that they were big fans and had seen them lots of times, including at Phase One. Spooky!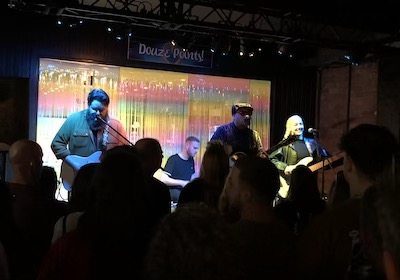 Talking of spooky, I bought a lottery ticket on the Friday of the gig and... yes I won! Not sure how the win will change me. But maybe I'll put the £4.80 towards a
Too Good To Go
or a kebab.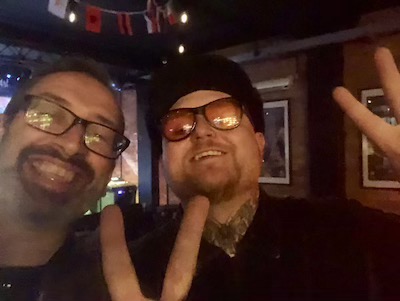 Spookiness, lad and dads


It's been a funny week in more than one sense of the word. I've not laughed so much on a bus for a long while when last Monday I was on a 17 back from town. I'd been watching the potentially interesting (it was)
Leicester v Everton
match (it finished 2-2). I bumped into a few people, including a Canadian couple, and a couple of local guys who have similar interests: music, ale, festivals, and football and the like. One of them I'd met a couple of times before and we carried on talking about ale, music festivals, books and writing. Well all sorts really.

Homeward bound we carried on the chit-chat on the bus (he lives around half way along my bus route). Part way into the journey a young fella (twenties, I guess) sat on seats across the great divide leant into our conversation as it veered between writing and music. He came to the conclusion (understandably) that we were talking about songwriting (we were not). It turns out he is a guitarist and writes his own songs sometimes. I asked whether he ever did open mics and if so he should try the Dizzy. He said yes he has a few times, including the Dizz. Apparently he was told he couldn't play there when he went '
as they don't allow covers
.' That made me laugh, as I only ever do covers (even if they are not well known ones). I suspected from the way he was talking that there was something else behind the reason he was stopped, or discouraged, from playing - which may or may not have had something to do with mates and/or drunkenness. It wasn't clear.

Anyway, as the conversation between the three of us continued it took an hilarious turn when the fella asked us if we were on a '
lad and dad
' night out - I think he's only about 12 or 13 years older than me. Much laughter ensued and every comment, question and bit of banter subsequently was explained by my occasional drinking buddy being me dad. Who knew!?


Later in the week I was delivering some ale to a place that requires a password to drive out. I asked what it was and it turned out to be 1968. 'A good number.' I suggested. The guy who'd let me into the cellar agreed. 'I was born in '68.' I said. So was he apparently. 'Hey Jude was No.1.' He said. 'That's spooky, me too.' Etc etc. Anyway, it turned out that not only were we born in the same year, we were born on the exact same bloody day. That was some spooky shit. And laughter again ensued.

He looked quite a bit older than me and I'd never have thought he were born in the same year yet alone the same day. Not quite in lad & dad territory though. To be fair when I'd arrived he was having a fag break. And in hindsight that there explains it. Just don't smoke people. It ages ya. It truly does.

I'll never be able to go on a real lad and dad day again. But maybe I'll be on some more '
could be lad & dad'
days. These events are evidently outside of my control.
Made up that I made the effort to get a ticket for the
Lottery Winners
at Phase One, Liverpool for the album launch event. It's launch gig for ART - 'Anxiety Replacement Therapy' where you get a physical copy of the album and entry into the gig for just £17. Can't say fairer than that.

It'll be my third gig there following
Heavy North
, and
Casino
, which were both excellent. I'm sure the Lottery Winners will be every bit as good. The album sounds great (been listening to it on
Spotify
- not got the physical copy yet) and it even has some excellent guest appearances from Shaun Ryder, Boy George, and - yes - The Frank Turner. Cool! Frank is a big fan of their's and has done some production with them as well as singing on tracks. And the Lottery Winners supported Frank on some of his recent UK tour.

It has been a big week for the 'Winners too… as ART has come in a No.1 in the UK album chart. How good is that!? They should be in a damn good mood for the event in Liverpool then. Town will be mad busy as the Eurovision week progresses (it already is). I'm not exactly sure how it will be in town. Great, mad: greatly mad? I don't know. But it will definitely be crazy busy as the Eurovision fans inundate the city for the antithesis of good music (hey, just my opinion). I know, it's more about the fun and everything that goes with the event; a festival of music not about the music. At least I'll be seeing a band at the peak of their powers in the town, just a day before the final event arena.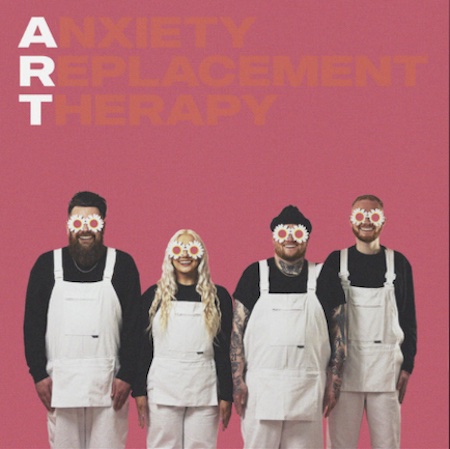 Anxiety Replacement Therapy - click on here to have a listen on Spotify.