13/07/18 12:39
I've got over England being beaten by Croatia in the semi-final of the World Cup, a lot faster than I do any Liverpool result. That said if they'd got to the final I'd have bloody loved it.
Anyway away from sport there's some good TV about at the moment, loving
The Handmaid's Tale
again of course. But my current highlight is the wonderful '
Gone Fishing
' with Mortimer and Whitehouse on BBC2.
The banter between the two old mates cover serious growing up issues (ok, largely men's health) and features lots of drug taking (Whitehouse surely rattles when he walks), alcohol (Mortimer likes his ale, huzzah!), cooking and even some fishing. The filming of the British countryside is reminiscent of
The Detectorists
making it seem all low key whilst beautiful.
Behind it all Bob and Paul's friendship shines through and leaves you with a warm happy feeling and a buzzy grin throughout. And the barbel is quite a cool fish. If you haven't been watching it yet then get yourself on that iPlayer thing. It's brilliant TV.
01/07/18 10:44
Been loving the World Cup so far, though I have not seen as many games as I would like. It is a strange one as an England fan(-ish). So far I've not made it to the pub yet to watch an England match. Three games in. That said, I definitely fall into the demographic that calls himself a Liverpool fan first and foremost and England gets a minor look in during a tournament (which let's face it usually lasts just a week).
I've always struggled to get behind England due to the years I've grown up with them. For decades we're played beneath ourselves. Draw and boring draw for years; or defeats of course. Experts (okay, journalists) and then managers seemed to criticise the team for not being able to retain the ball like our adversaries do and so the drive seemed to be for England to play like other teams. To retain the ball and pass it around and around waiting for the opportunity to put through a key pass to a runner who never came. If the other team hasn't got the ball they can't score and all that. The problem with that is that for years we've played boring football and it hasn't actually achieved anything but mediocrity even when we've had plenty of class players in the squad. The attackers haven't had the opportunities and the defence has not been up to the task.
Watching an International match on the weekend of those awful Premiership international breaks has never been something anyone really wants to do - except to check if the manager was overplaying 'our' players and risking injuries to our stars. The product of Premiership football is so far ahead of the average international match especially friendlies when there is nothing to play for but a pride none of the footballers have these days. The most frustrating thing is that many of the shortcomings have been so obvious to anyone who watches the game that it defies belief. All our footballers are involved in teams that play exciting and sometimes innovative football, many from great counter attacking teams. Why constrain the England team to play in a way to defend and keep the ball to pass it around like Spain or Italy do or in the fashion where football is played differently because the climate dictates it! We're not Spain, Italy, Brazil or anyone else. We're England.
And what are friendlies about anyway? They are not a product anyone can value. At least back in the 70s we had the British Championship even if the results were largely predictable they were proper games, with players really playing with pride in their shirt. Perhaps now football fandom and hooliganism has changed they could bring that back. I'd rather watch England v Wales or Scotland v N.Ireland in the British Championship than England v Portugal in a friendly with below strength teams and ten changes at half time.
For years we have not played to our players strengths and it is crazy and mightily frustrating as an agnostic England fan. Why not play fast counter attacking football? Why put a straight-jacket on the teams and make players play in a way that makes them uncomfortable and stiffen them up? But for years they have. We've also tried to stuff all our best players in, even if it meant putting players in the wrong position, trying to put the eleven best players on the pitch even if they all played in the same position it's ludicrous. By doing that we created teams that couldn't play as teams. Teams should play as more as the sum of their parts (Iceland anyone?) or at least be equal. Square pegs in round holes means it's never going to work.
We have played crap boring football for decades and for no good reason and, importantly, to no good end. Play as well as you can. Let them play with freedom and without fear and okay we may get knocked out early (poor Germany, Portugal and Argentina have already gone home), but at least we can see we've tried and for pity's sake the fans may actually enjoy watching the match for a change. New fans and old fans may come to the fold and support their international team, God forbid.
And that I think is what Gareth Southgate has tried to get the team to do; get a balanced team, put players where they should be and play with the hand brake off. It's not rocket science and it's a crying shame that we've had so many teams over the years with plenty of players with obvious abilities who've not achieved their potential. Or let's face it entertained us. Sport IS an entertainment after all.
So who knows, we may go out on Tuesday to Columbia. But if we do let it be whilst playing a brand of football that shows what English football is about. Let them play with a smile on their face and all that. And maybe I'll smile too.
Come on England!
(there, I said it)
07/08/17 21:23
Watched a little of the World Athletics Championship on the Beeb over the last couple of days. So much focus of the media has been on Usain Bolt and the Gatling Gun, the wonderful Mo and the few British hopes elsewhere.
I love sport and have enjoyed the drama and excitement of parts of it, but if truth be told it has made me feel quite depressed about the world. Just remember when this venue was used for the Olympics in 2012. I'd not expecting much of the Olympics, wondered why we as a country wanted to host it; spend all that money. Let our athletes go somewhere nice and sunny, have interesting food and cultural experiences to run, throw, dive, ride etc.
But boy I was glad to be proven wrong. It was fucking amazing. It ran like clockwork. Terrorism, low attendance, apathy? Nope. Packed audiences. Wonderful performances. Great coverage. Even the transport system survived. For Britain, right from the wondrous Opening Ceremony through to the Closing, it could not have gone better on or off the stage. Britain could organise the most massive of events, throw a party, be inclusive, welcome the world with a hug - and run around with jangling gold medals. We could organise a piss up in a brewery! Huzzah!!
Fast forward (not backwards) to 2017 and these athletes are performing in the same place in terms of Grid Reference but in an all too different place in other ways.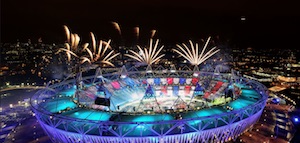 Watching the Olympics we were filled with excitement - proud of the UK, of what we were doing, of what we could do: looking outward and looking forward. A few years later and we have had a ridiculous vote to leave the EU that the 'leaders' thought they needed to get a mandate for the next generation and box it off.... and lo! a result they (say they) didn't expect and we are left looking to what? To hopefully be okay in maybe ten years or so. And even if we are not okay at least we'll be free to 'make our own laws', 'to control our borders', 'to turn our back on those outside our island shores' (or something like that). To have the right to put our two fingers up to the world.
Basically watching these World Championships I am in awe of individual sporting performances but feel saddened by how (I feel) as a nation we seem to be backward from where we were five years ago.
Damn this stupid world. I think I'll have to stop watching it - and if we end up with only Mo's one medal then it's all David Cameron's fault!
Of course I was wrong about the Olympics being a disappointing failure and there is a chance everything post-Brexit will be hunky dory and surpass everyones bestest expectations but so far the signs aren't good. And when the planning for the Olympics was going on they had years, had a final date and knew what they needed to achieve. For Brexit we have no idea what we want (but it is not what anyone else wants of course) and the clock is ticking. We're on a train to an unknown destination with a driver who's never driven one and is likely to jump off prior to the last station. And to carry on the stupid analogy our ticket is one way, none refundable and is likely to be as much use as a Day Two ticket to the Liverpool Hope & Glory Festival.
At least the football season is back and I can take my mind of other stuff. Come on you red men!