24/01/23 10:42
A rare week indeed. Three nights of live music. Three. What could be finer? Links to all the acts are at the bottom of the page (or click on the highlighted name to go to their Spotify pages). First up was
Christie
Bratherton, who I'd previously seen at the Sofar gig in October 2021 where she played alongside the Heavy North. She'd put on Instagram that she was playing at the White Lion from 3-5pm on Sunday 22nd Jan and I spotted the post. I got down there around 3 spotted the guitar and gear propped up by the back door. Christie walked past me and I spoke to her to find out what time she was on. Turned out she had been mis-sold her gig as she was covering for someone who couldn't make it and she'd been told the time wrong. Turned out it was 5-7pm. I downed my pint and took the opportunity to go down the road to the West Kirby Tap and then the train for one stop to Hoylake for the Black Toad first before getting back up to the White Lion. Christie was fab, singing on her own at the front of the bar. I got off a little before she finished to catch a train. It had proved to be a lovely afternoon and evening.
Christie playing at the White Lion
Then on Thursday it was time for the Sofar Sounds gig. For those of you who don't know about it, the gig is £10 a ticket - and the deal is you don't know where the venue is (other than the city centre) until 36 hours before kick-off or who is playing until the actual evening itself. I was made up to find out it was upstairs at Leaf - the last time I was supposed to be there was for the Felice Brothers last year, but unfortunately that coincided with my Covid week.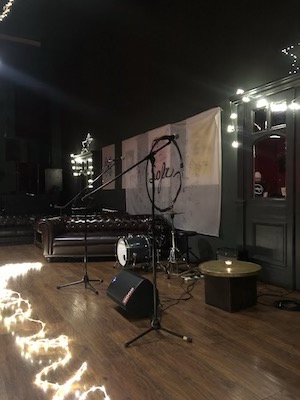 Sofar stage ready at Liverpool Leaf
I went to sit right at the front (where most of the empty seats were anyway). First up was
Mike Ryan
, who informed us he was playing hooky from school before playing a really nice set. He was a thoroughly nice chap too.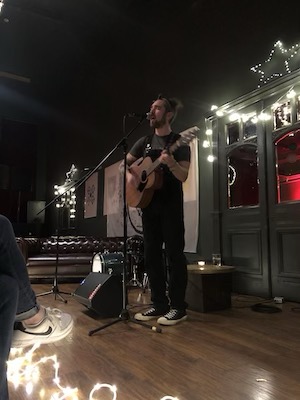 First up Mike Ryan who was skiving of school (and well worth it too)
After the ten minute break for a a beer top-up the next up came up to play after a kind introduction from the host.
Marvin Powell
proved to be a shy chap who was excellent.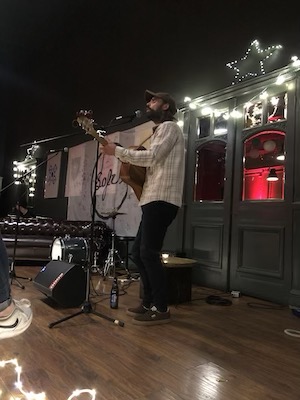 Second up, Marvin Powell. Lovely stuff.
Finally the one group to play was a four piece
Ask Elliot.
They were bloody excellent. All three acts were indeed excellent and well worth looking up on Spotify or wherever you find your music. And, like Christie on Sunday, I'll definitely keep an eye out for a chance to see them again.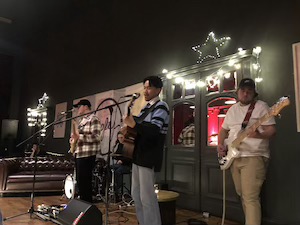 And last but not least, Ask Elliot. Not sure what to ask him, but do.
Then came the highlight for me. Yes, Frank Turner (again) . The gig was down in Wolverhampton in KK's Steel Mill. This gave me an excuse to get down for a few beers in Wolverhampton and Birmingham too. It really was a win-win. Unfortunately I missed the support act (the Lottery Winners) as I'd gone for a curry around the corner, which was a bit of a wait due to it being slightly slow arriving (cos the curry house was so popular). At the venue I got myself a KK's Dark ale which was nice to have in a large venue where you are usually faced with a Carling or a cider of one description or another.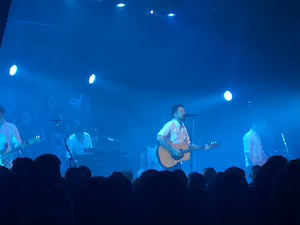 Frank Turner doing what he does so fucking brilliantly with the Sleeping Souls, at KK's Steel Mill, Wolverhampton
Frank
and the Sleeping Souls came on before 9 and played until 10;50 or so - he just cracked on with one brilliant track after another. He's got such an extensive catalogue of songs he could play a different two hour set each night these days. You can't be disappointed if he doesn't play one of your favourites cos he'll play another three of them instead. For me he the best act out there at the moment and he has certainly become my most seen act taking over from Ryan Adams who I'd seen a lot in years gone by. I dare say I'll see him again and probably again in the years ahead. I don't know how he does it day after day. This gig was No.2725 for him and he doesn't half go for it. How does his energy last, let alone his throat?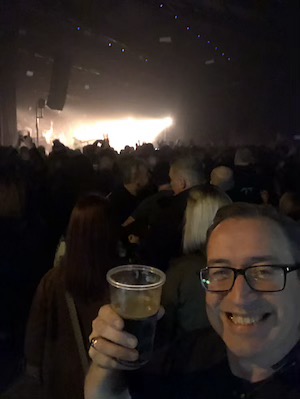 Frank's playing and I'm a happy chappy (with KK's Dark ale).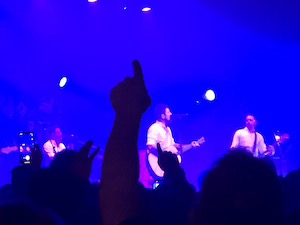 Hell yeah. Frank.
See you later, Frank. Thanks.

–––––––––––––––––––––


Links:
Christie -
Spotify
-
Instagram
-

Mike Ryan
-
Spotify
-
Instagram
-

Marvin Powell
-
Spotify
-
Instagram
-

Ask Elliot
-
Spotify
-
Instagram
-

Frank Turner
-
Spotify
-
Instagram
-

17/12/22 13:19
On Wednesday in the frozen north west it was time for the last Sofar Sounds of the year. Rail strikes and the weather had put paid to the original plans of the Sofar crew but despite this it proved a busy night and with three great acts (if not those originally planned at a venue not originally planned either).

The email announcing the venue had come 36 hours earlier telling us it was at The Slaughterhouse, where we had seen The Sway/Blue Velvet/Amber Wilding Stone back in June. This time the venue was downstairs, as they were showing the World Cup Semi Final upstairs. The venue downstairs is better in any case. I dare say if England had beaten France on Saturday then there may have been a few more empty seats at the gig. I'd finished work a little late so struggled to get to the venue on time (i.e. I didn't), but I didn't miss any of the acts in any case.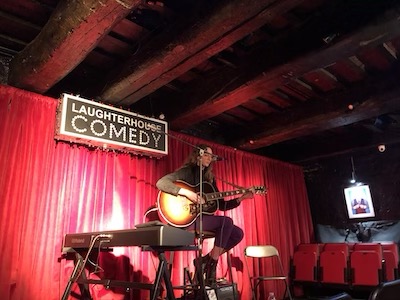 Francesca Louise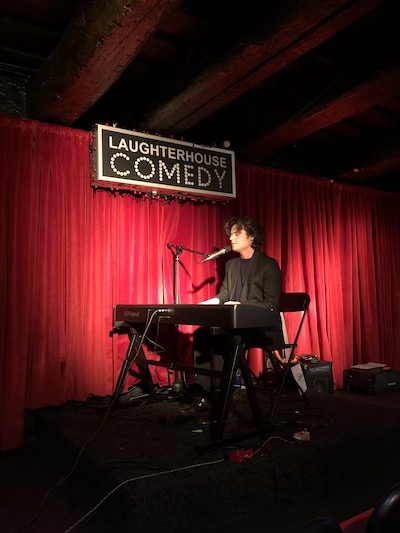 Brandon Tew


First up was Francesca Louise on acoustic guitar, followed by Brandon Tew on keyboards, and finally Naila a three piece act including acoustic guitars and five string bass. The latter band were so tight and such consummate musicians. All three acts were great to see and I'd encourage you to have a wee listen to them to see what you think. I'll defo be keeping my out for them on the circuit. Good luck to them all.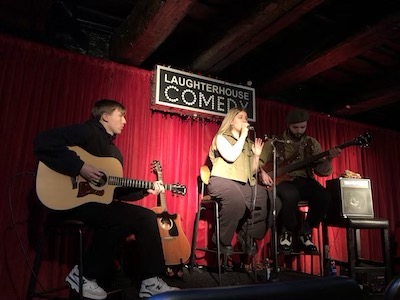 Naila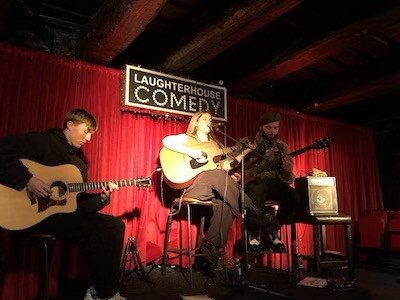 Naila
Thanks to
Sofar Sounds
for organising the event and dealing with the whims of the Transportation and Weather Gods. And great to see so many people get down there for it. It was freezing out there and it'd have been easy (and totally understandable) to hide under the duvet at home.

______________________

LINKS:


Francesca Louise:
Linktree
francescalouise
Insta
@francesca.louise.music
Spotify
Francesca Louise


Brandon Tew:
Linktree
brandontew
Insta
@brandontewmusic
Spotify
Brandon Tew


Naila:
Linktree
Nailamusic
Insta
@nailamusic_
Spotify
Naila


Sofar Sounds:
web:
sofarsounds.com
Twitter
@SofarLiverpool
Insta:
sofarsoundsliverpool
22/05/22 13:55
My Return to the Sofar (and Another Fine Return)


I last went to a Sofar gig in September in a place called Slate. It featured the excellent Heavy North who have subsequently gone on to release a really rather wicked album. Get on it. But last week I got a ticket for my second event. For those that don't know the deal, the ticket is for £10 and you don't find out the location (other than the city) until 36 hours before – and you don't know who is playing until they get up on the stage (or their name is on their kit!).

Last week the venue was
One Fine Day
on Old Hall Street. The venue itself is not currently permanently open, but is used for individual events and weddings etc. I'd never been to there before and it proved to be a nice place with good acoustics. It was really busy with not a seat left as far as I could see and I ended up sat at the front. I moved along to help a couple of later comers get nearer and sit together – and therefore I ended up in a nice padded seat instead of a plastic one. Win win.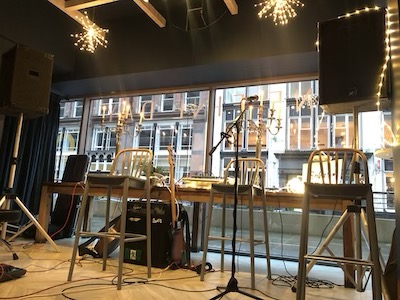 The three acts of the night were all fab. Loved the local singer songwriter
Eleanor Nelly
's stories and attitude – and her songs and singing was excellent.
Taylor the Chapter
, who wants to never be known as Gary, was solid. And finally the main act were a Wigan four piece called
Stanleys
. They looked so young to me, but so does everyone these days. There songs and assuredness were great. I've already spent some time listening to them on Spotify. They could definitely go on to be pretty successful if this performace was anything to go by. I believe they have already supported the Lathums, which is pretty impressive.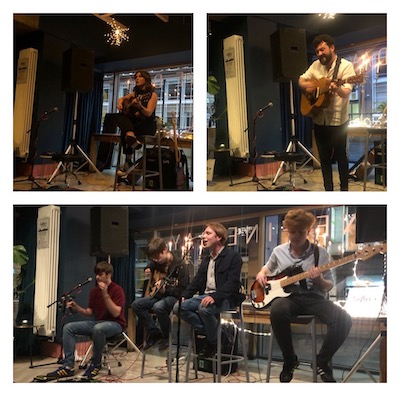 The
Stanleys
played five songs:


'What's Been and Gone'
'Why Would I?'
'A Better Life'
'Look Back'
'Maybe'


Check them out on
Spotify
, or better still get on down to see them when they're next playing near you.

The following day was the return of the Open Mic hosted by John Witherspoon. The
Belvedere
pub had snaffled the gentleman and given him the opportunity to host the event following the recent demise of the Keystone. It was held in the upstairs room on the left. Despite the announcement on just being made earlier in the week the news had spread very well amongst all the regulars from just that short distance down the road.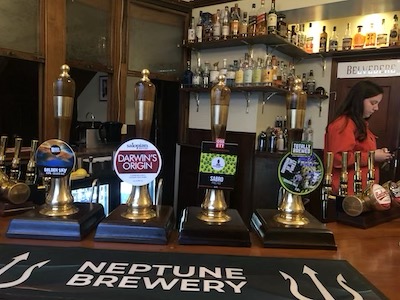 The beer was on.
Great to see so many turn up. It became a most memorable night when the entire area around this part of Liverpool was plunged into a power cut and the playing continued without the PA and under candle light. Moody stuff.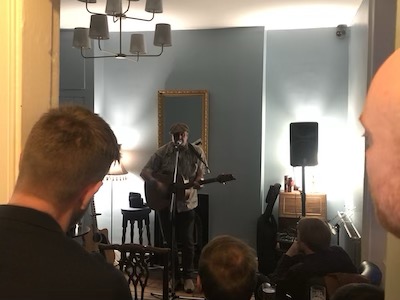 The lights were on…
… the lights were off.