15/10/21 17:09 Filed in:
Biking
About five weeks ago or so I started riding a bike again for the first time in over thirty years. It's been fine really. And I can definitely feel a fitness benefit in just four weeks – the small hill (well bridge) that I went over each day is now easier than it was (I don't think the bridge has been lowered).

The bike I've been riding is an old BSA, which had been my dad's – five gears and very basic (and not great brakes). Anyway last week my friend said I could have his old bike which he doesn't use (he has another one of the same brand I think). It's a lovely looking bike and after a few days I thought why not. I made the mistake of saying it out loud though. I think my current bike – aka
ZevonOne
– overheard me. And while she understood, she had to show some degree of hurt. So it was than on my last scheduled ride on her before picking up my new buddy (
ZevonTwo
, of course) she presented me with a flat tire on a six mile ride back to my house. But, to be fair, she was good to me. The flat could have come at a much worse place over the six miles but she decided to make her point to me just a few hundred metres from home rather than a few hundred metres from the start. Thank you, ZevonOne. It has been a quite short but interesting journey with you.

The next day I picked up ZevonTwo from my mate – and it also had a flat tyre. It has been sat in a garage for a few years unused. I've taken the wheel off and tyre too – I found the inner tube had an awful small split just by the valve – and I'm now awaiting a delivery of a new inner tube before I can get out and ride ZevTwo. It's got many, many more gears but I think possibly only half work at the moment. I suspect ZevTwo may need a service of some sort. But even with half the gears working it will still have double what I had with One. The build of the bike will be better too. I'm looking forward to getting out on it (even as the darkness of winter approaches).

Will have to report back on her once I've got out on it and seen how it goes.


The Queen is Dead, Long Live the Queen.
Up until last week I had only ever done Open Mic in one venue – the
Sanctuary
– on Lime Street. As of this week I have now played in THREE venues. Amazing really. Last week it was the great
Head of Steam
on Hanover Street when Jake hosted had their first OM event and this week I strummed through the same mumbled songs as last week (
Oh My Sweet Carolina, Heart Breaks Like the Dawn,
and
You Couldn't Get Arrested)
at the Angus on Dale Street. This was the first Open Mic at the pub and I was keen to show support to it. It is always difficult starting new stuff in venues as so much is down to word of mouth and repetition. Well I'm okay with chatting to people sometimes and all too good at repetition too – so it's easy to do my bit.

The night was hosted by a brilliant singer –
Ali Horn
– who plays there regularly (on Friday nights if I remember rightly). He's got a great knowledge of songs and those he doesn't know he's happy to use Doctor Google to find the lyrics then launch into it. Jealous of both his knowledge and ability. He writes his own stuff to. Definitely worth popping in to see him when you can. The sound system at the venue is really nice. They've set it up so the sound goes all around the pub without the need for speakers and amps to be lugged in by the performers. So Ali has an easy night in that respect anyway.

I made the mistake of going back up and playing a second time as there were not many volunteers this week (I missed the start of the OM but I think there were just four or five people who went up). This time I went with
Splendid Isolation
(which went okay) and then
Van Diemen's Land
(which was not). I don't know what was happening, but my fingers wouldn't get into the right position for the B minor (Bm) chord –
every time
. It was all very odd and maddening. Not sure what was the cause of that as I don't usually have a problem with it. Don't think it was MS related but I guess I'll have to keep and eye on it: and keep playing the damn Bm chord as often as I can. I was lugging heavy weighted things around all day so maybe it was my hands saying
enough is enough fella, give it a rest
.

Anyway I had a nice evening, and on a school night too. Chatted to some people I know and some I didn't know before. Survived standing on the stage (and even the Bm debacle). Whatever doesn't kill you makes you stronger they say – but
they
know fuck all. But I had a boss night and hope to get back sometime. As people learn it is on (apart from on Liverpool Champions League nights of course) then it will become more popular definitely.

Now I've played in three venues I'm pretty much wondering about sorting out a Tour T-shirt:


Sanctuary
Head of Steam
Angus

What's next? Maybe the
Denbigh Castle
who have recently put their toe in the water with OM too. To think that until I played the Sanctuary – shit scared – that once a few years ago when I thought that maybe I'd give it a go and do it once…

I do need to do a few things going forward, namely; learn some different songs, and some strumming patterns. Oh, and see if I can play the Bm chord again. That'd all help.


Onwards and Strumwards.
Well in the last month or so Open Mics have returned – a little erratically – to the Sanctuary and I have gone to both of them for a wee strum. This week new ones began in two other excellent Liverpool pubs; the Denbigh Castle on Hackins Hey and the Head of Steam on Hanover Street. Both started on the same night - Thursday 7
th
October.

The Denbigh Castle OM wasn't starting until 10:30pm after three or four bands played apparently. I opted for the less late (and stressful) idea of going to the Head of Steam. I'd got back home late so didn't get in to early this time, so I missed some good performances (from clips I've seen) from several artists. The room was busy with nearly every seat taken. It's the area of the pub I usually gravitate to when I'm there – and in fact is where I am writing this now. So it felt like everyone was in my front room. Jack, the organiser of the Mic, asked if I was going to play and I confirmed I would. At least once I'd bought a second drink.

He played a couple more songs on his semi acoustic and then I stepped forward to play. The set up was actually in the corner I usually sit in too. It must explain why I was relaxed enough to chat a bit on the microphone; I rarely chat between songs when I've done Mics before. Weird. So with my glass sat on the carpet I proceeded to play four songs. Usual suspects for me – I really need to get a new set or two – and they were, in order:


Oh My Sweet Carolina
(Ryan Adams)

Heart Breaks Like The Dawn
(Chuck Prophet)

Splendid Isolation
(Warren Zevon)

You Couldn't Get Arrested If You Tried
(Green on Red)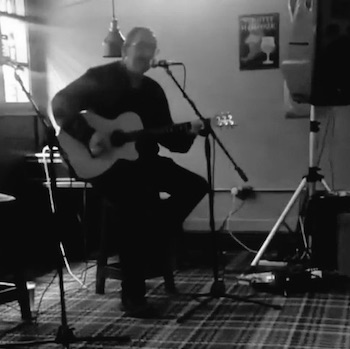 Playing in my usual corner of the HoS - who'd have thunk it?

A couple of mates came in and caught me playing which was nice. Hadn't seen either of them out for a while, and they'd been to a show down the road and popped in on the off chance. Went down okay for me I think. First time I've played an Open Mic in a different pub and therefore with a totally new crowd. Was nowhere near as nervous as when I played the first new Sanctuary one the other month. Got the usual comments I get with my use of these songs, along the lines of "Did you write those?" My CD collection must be a bit different from other peoples I guess. Still, as I said whilst I was playing, the use of songs that people don't know is a good call as they can't tell how badly you've interpreted them (or what verses you've inadvertently missed out).

The party for the Head of Steam moved off not long after I'd finished. So maybe I can become the official bell ringer for time gentlemen please? Me singing could be one way of emptying a place out.

Well done to Jack for arranging, playing and hosting the event. Think the next one scheduled for a months time (first Thursday of the month) and I hope I can make it again. Maybe with more of my excellent (apparently) obscure songs.


Onwards and Strumwards.