10/01/17 13:43
Writing in 2017


Okay, I've set some reading goals for the year, so what about my
writing goals?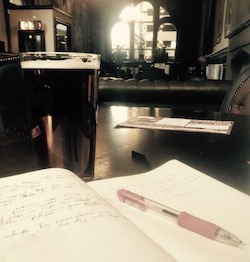 In the past I've set goals like winning the Flash Fiction Friday or Angry Hourglass challenges, this year I'm going to aim to do a few more substantial things (that is to say of more words). Not that I'll be avoiding Flash! of course. I'll still be doing
Angry Hourglass
and
Microbookends
as often as I can.

Nothing concrete planned as yet, but thinking along the lines of;


self publishing a book (possibly non-fiction)

submitting to a magazine or podcast (maybe EscapePod or Clarkesworld)

writing a short screen or radio play (never attempted this before)

planning and beginning a novel or novella

Not sure yet about editing the story I did for NaNoWriMo - with all the above I may be a bit too busy.

Will see how the plans go er... after I've firmed up said plans! Watch this space...

07/12/16 13:58
Not sure I'll be getting too much writing done throughout
December
but there will be bits of flash I dare say, or micro-micro flash in terms of the
FlashDogs
daily
#VSS365
on Twitter. One thing I will be doing though is for the
Poised Pen
writing group, where each year we do a
Secret Santa
. Instead of buying some tat for a fiver made of meat products we write a piece for someone else in the group based on some Christmassy theme or other. I've been given my theme and it's... well I can't say. Not screaming out at me yet, but no doubt some muse or stick of holly will hit me.
The Secret Santa piece can be in
any form
(poem, prose, short story, play etc). I'm not sure about mine yet, but it won't be a novel or even a novella, but it will be longer than a FlashDog VSS365. Er, probably.
The only other creative writing I'll be doing this month is
job applications
and
CV updates
. I need a proper job. You know where I am, people!
Happy writing folks!