Lovely News
Microcosms has been back for a while now, but a month ago they introduced a new judged element. So currently there may be two winning stories: one voted for by the community and one by that week's judge. The first week of the judged stories was taken on by yours truly, I judged the stories blind of course. And the winning story I selected turned out to be by
Eden Solera
. After sending the results and comments I discovered who I'd chosen and found that her story was also the 'Community Pick' which kinda suggested I wasn't too wide of the mark then (which was a relief).

Obviously I couldn't pick my own story - and I ended up not submitting one that week, or indeed the following week. So my first week entering the challenge since it has been sponsored was
Week 191
with my story '
Potentially Better Than An Oat Milk Skinny Latte
' (which I've now posted on to
this site here
). And you know what? Yes, I only gone and won it. Huzzah! It too was the community pick so it wasn't too bad then.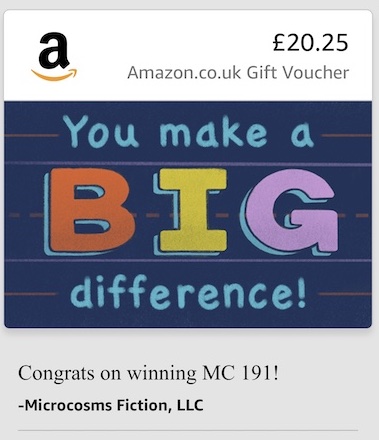 Made up - and nice to get my hands on some book tokens. I mean that's at least one book I'll have to get on and purchase. Oh, I may have to sort that out… now. Anyway folks, thanks for reading it. And especially to Stephanie for her time and comments in judging the week's stories.

Get writing folks. Reckon I'm gonna get on this week's challenge later today.




Microcosms