First Try Out on ZevonOne
A Bike


One of the items I picked up from my parents house was my dad's old bike. It's nothing special it's a BSA
'Westcoast'
if it means anything to you. But it's not called Westcoast any more it is now officially ZevonOne. It has straight handlebars rather than road racing type which is better for me from a riding position perspective, as I'm not going to be doing anything for speed, and It has five speed gears.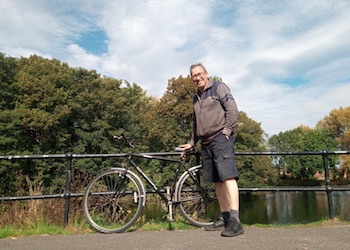 First daylight ride on ZevonOne
I bought a set of lights, a pump and a lock; and yesterday I got the chain back on and oiled it. Sure it needs a bit a clean and more oil on the gears next, but it worked fine. The brakes are okay but not brilliant. Probably due to the cables not being moved much for many years as dad hadn't used if for a few years.

I'll have to get a
hi-vis
belt or sash or some such next; I am not intending to get much (any) in the way of the cycling clothing – at least at the moment. I suppose I'll have a think about a helmet.

Last night at 11pm – after watching '
Help
' (a great drama featuring the wonderful Stephen Graham & Jodie Comer on C4) – I went out for my first ride on a bicycle for something like thirty years. Only went on a circular route of 2.85 miles. It took me a bit under 22 minutes; around 7.8 mph i.e. not fast.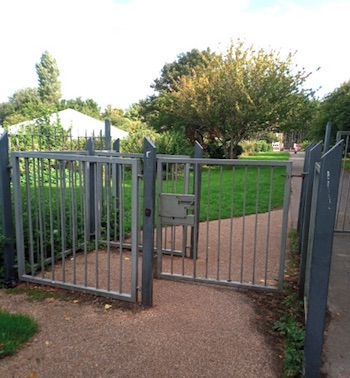 Pain in the neck gates at park
This morning I went out and rode on the route I've been walking previously around Walton Hall Park via the Loop Line. The main things I've noticed are that the legs get pretty tired, pretty damn quickly compared to walking. And my god, even short slopes were a killer. The movement of the legs is very different of course to walking and it is exercising them in a different way. The gates around the park are a damn pain to deal with too. Anyway it'll take a few weeks I'm sure for these legs to get used to this new thing.


Steps


Noticed of course that the exercise doesn't get picked up by watch, which means I'll have to turn the rides into steps by some factor or other. There's no clear cut way of doing it. I found several way of doing it on a writer's website (
link here
) and am going to go for the lower one initially: namely, 130 steps per minute for a low intensity ride. But initially I'll lower it further as I'm going to be damn slow to start with. They have 'easy pace' as ten miles an hour and on my first two outings I've been closer to 8mph. So for the sake of argument let's say 110 steps/min for now and I'll up it to 130/min once I've got up to 10mph (assuming I ever do).


Once at Lake Toba


I say that it's been thirty years since I've been on a bike and that's almost true. But I did hire a bike on one day when I was in Indonesia at the stunning Lake Toba. The lack of practice and the hilly nature meant I didn't really cycle
per se
though – I basically walked up the slopes and then freewheeled down them. Not really cycling at all then.


Going forward


Getting on the bike this morning I found the front tire had gone down since last night. So it seems I'll have to get new inner tubes next – along with the
hi-vis
. It'll be first time changing a tyre for over thirty years too then. The other thing is that there are areas of rust, most obviously the handlebars. So at some point I'll have to de-rust and paint the affected areas. It's all a learning curve.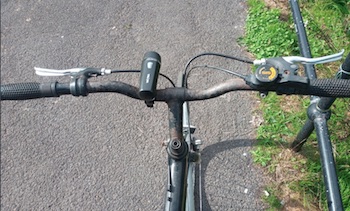 The handlebars (and indeed the bike) needs some TLC/paint work.

Assuming I record the bike rides on
Runkeeper
(which doesn't just do running, despite the name), then I can convert the cycling to steps and keep up with monitoring overall exercise in a consistent form.

Onwards and along wards.