ReadMESpeakME
#ReadMeSpeakMe is on a break at the moment. The first week off I didn't do anything although I did consider doing one of my own. So when the second week came I couldn't not do it. I've only got a few poems on
here
, but I picked one of them and did it. This week then Read Me Speak Me is really reading ME the poem by me, not just me the poem. Or something like that.


Schrodinger's Poem
is a fun poem about the best poem ever written, which also happened to be by me: if I've remembered right. Then again if the box containing it is opened maybe, just maybe, it'll just be my misplaced shopping list with beers and cheeses on it. We'll never know now as I seem to have misplaced the box. Typical.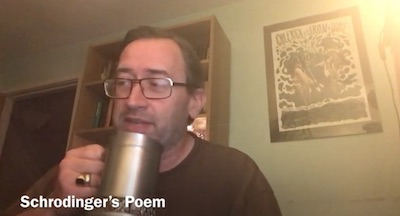 Click on here and be transported to not the best poem, but to 'Schrodinger's Poem' a poem about the best poem.
Haven't written any poems for a while - hey it's hard when you've already created the best poem ever, everything else is a disappointment. But maybe I'll get the poetry pencil out again.