Voice Activation 5: RMSM 127
It had snowed overnight in Liverpool and it looked all very Christmassy. Not much like. It was not like it ended up with estates full of snowmen or snowball fights breaking out everywhere. Just enough snow to comment on and cause consternation for walkers and drivers alike. Later in the day some snow was still here whilst I was trying to get to grip with this week's interesting '
ReadMeSpeakMe
.' RMSM 127 comprised a poem put together expertly by RMSM chief Meg
@megwaff
by slotting together first lines from dozens of poems from previous ReadMeSpeakMe poems and actually included poems from 44 writers.
As previous few poems I've put it up on the
YouTube
channel. Had one annoying issue as I got to the end of a recording the device informed me it was full and just stopped recording. I very nearly shouted out 'Flipping heck!' or something akin to that. But I stayed strong and only minor work will be required to fix the head shaped hole in the wall's plaster. Got the recording done with only a couple of stutters and one wrong word (I think). Don't be too critical.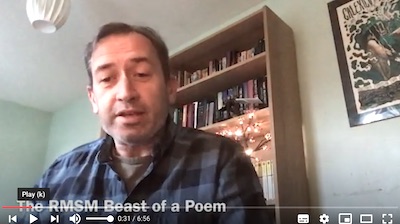 ReadMeSpeakMe 127
Read more about the poem on Meg's web page
www.megwaffling.wordpress.com/2020/12/27/the-rmsm-beast-of-a-poem/
and you'll realise what a big job she had on her hands to compile the poem. Great work, Meg. Kudos.
As ever my lovely pewter tankard makes its appearance. This time it has a bottle of '
Platform 6.1'
from
Wickwar Brewery
. A decent pint at a decent price from B&M (£1.60).
________________________
Twitter:
@megwaff
@ReadMeSpeakMe

Website:

www,megwaffling.wordpress.com