Missing Mike
It's Open Mic tomorrow in the
Sanctuary Bar
and this will be the first one I've missed since discovering it and my new found love for all things singer songery.
It's a mate's birthday celebration which means I is going to be at the
Liverpool Beer Festival
in the wonderful Lutyen's Crypt of the Roman Catholic cathedral. As excuses go for not attending to the Open Mic it's not a bad one.
Realising I'd had five attempts at recording the song without the mic working.
Notwithstanding my night off from the Sanctuary I'm still looking at expanding my range of songs available to play at future events. After last week going back to an old one I used to play previously with the Smithdown gang (the Saw Doctor's "N17") I've gone to a song from a similar time. I'm not sure we played it back then, certainly we probably did when messing about in Kev's front room, but I'm not sure it ever got released into the wild. It's another one of my favourite bands that I could never understand weren't successful in the mainstream (like Green on Red and Chuck Prophet):
Cracker
. If you can get your hands on a CD or find them on Spotify do it. Loads of great stuff.
Anyway I chose another slow downbeat one (cos that's what I do) called '
Take Me Down to the Infirmary'
from the album Kerosene Hat. I may do the title track at some point but the vocals are hard to get right - probably another capo song.
I recorded about five versions of me playing it before playing it back and finding the mic wasn't working. Not sure whether it wasn't plugged in right or what. Bit odd - as I would have thought if it wasn't plugged in then the laptop's mic would have kicked in in its stead. So I put the USB mic back in and gave it one more go. And that, my friends, is now up on the YouTube thing along with my other meandering practices.
At this rate by the time I've practiced all my current repertoire I'm gonna have a difficult choice to make at the future Open Mics. Which is a good thing, of course.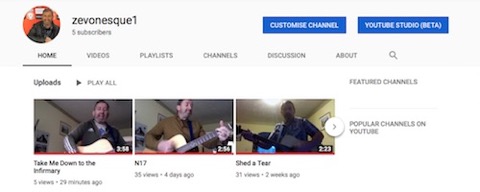 It astounds me that I have 5 Subscribers. Thank you whoever you are. Wonder how long it will be until I start writing and playing my own songs... Not imminent, but then again maybe over the next few months.