Frank Turner at Top Rope
Last week was busy. There was a semifinal and final of the Euros for a start and our annual camping trip to Bishop's Castle to fit in-between. But the highlight had to be Thursday's
Frank Turner
gig at
Top Rope Brewery
. I mean my favourite current singer songwriter playing in a local brewery. I couldn't have really designed a much better idea of a perfect gig if I tried.

There were to be two support acts from the same label appearing as well. When I was told who they were (Berries, and Pet Needs), I didn't know them, but of course I looked them up. They were both punky alt rock types (sorry if that is an incorrect classification). I enjoyed a couple of the songs I heard from both of them when I saw their vids on YouTube. Not completely up my street, but music is elastic and it is not one size fits all. I was pretty sure they'd be good. I wasn't to be disappointed.

I'd met my friend earlier who was coming to the gig too. She'd tried to win tickets on the basis of if she'd won she'd have given me a ticket. So when I ended up with two how could I not reciprocate? We had a bit of scran down South Road at the Liver, then headed to her guest house so she could sort that out. Then we went straight to the brewery.

With the Covid rules in place it was one way in to the brewery and one way out. It was of course inevitable I headed for exactly the wrong side of the brewery to get in first off. Sod's Law is the strongest of the Laws. I'd headed to the side where I'd previously picked up the beer rather than the fire exit at the back. But to be fair it made sense in hindsight. We only had to go through that door the once to get our wrist bands and then we were in. It was such a select bunch of people that were there: apparently over 3000 people had tried to win tickets for the gig (there were no paid for tickets available) and there were only 60 tickets available. Every one of us felt extremely excited and privileged I'm sure - bloody hell I've been spouting on about it for weeks (even before I found that I was lucky enough to be one of the lucky ones).

We picked a table on the second (of two) rows directly in front of the middle of the "stage." It was a spot on position. But even if you had the worst seat in the house (no idea which that was), you'd have been fine with just 60 people there.

The first thing to negotiate was scanning in a QR code and then go through some painful registering process before being able to purchase a beer. But at least once that was out of the way it became easier. I just stuck to the keg stuff that was on, though plenty of others (including the bands) were downing plenty of cans. I went for The Gathering (of course, it was the Frank Turner beer after all) and a Papa Mango; basically, why change a winning formula?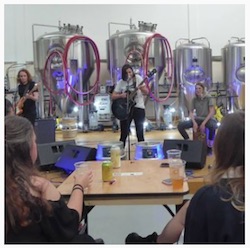 Berries

The first band who played were
Berries
. A threesome from London who signed to Xtra Mile in January this year. The three members of the band were Holly on guitar and vocals, Lauren on bass, and Lucie on drums. They were all brilliant. There was only Lauren playing on her usual instrument (electric bass), with Lauren on acoustic guitar and Lucie on a box drum (cajon). Their usual punky songs translated surprisingly well to the night's acoustic performance. Holly was absolutely brilliant on the guitar covering an impressive territory of the fretboard from song to song. As someone who just strums open chords from time to time I was in awe. The trio looked like they really enjoyed it. Let's face it gigs have been such a major miss over the last year or so; and they were playing a brewery in Liverpool - so how could they not?


Pet Needs giving it some welly

Not long after they finished the second act of the night arrived on stage:
Pet Needs
. Again it was largely acoustic bar the bass (including another cajon). The four lads threw everything into the gig; and that was a lot. A really enjoyable performance from the four piece punk outfit from Colchester.


Frank and a grinning loon

Then it was time for Frank Turner. He gave us little time between the last chords from Pet Needs until he played. In fact I had to listen to the first song and half from the small queue for the two toilets. It wasn't far away so I didn't miss a note. I don't know what to say about Frank's gig to be honest. It was just perfect. He has such a back catalogue of songs I could have picked a different twenty songs than he did and been just as happy - that said I'd have probably have picked many of the same songs too.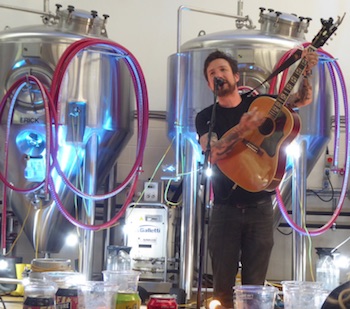 And so it begins

There was no backing band. It was just Frank and an acoustic guitar. For the majority of the set he followed a chronological catalogue. In fact sod it; it'd be easier to just provide the set-list wouldn't it? So here it is. Let's face it if you know Frank and read this list you'll nod and be a) happy to see it and b) really really wish you'd been there. Like I said, it was perfect:


The Ballad
I Knew Prufrock
Long Live the Queen
The Road
If I Ever Stray
Plain Sailing Weather
The Way I Tend To Be
The Next Storm
Love 40 Down
1933
Be More Kind
Sister Rosetta
The Lioness
Punches
The Gathering (it's a beer and a song)
Get Better
Recovery
Photosynthesis
I Still Believe
Polaroid Picture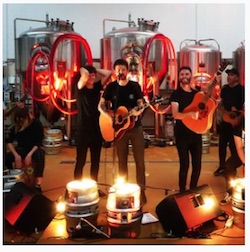 Finale

Members of
Berries
and
Pet Needs
came on to join him for the finale which was fun and beautifully chaotic - just like an encore should be. The first time I saw him was in the Wembley gig in 2012 he got himself a tattoo between finishing the set and coming back on for his encore. When I saw him at Glastonbury he had to make a sharp exit to play a fete at his old school after going against his mum by getting a tattoo on his hand. This time, in sunny Bootle, there was to be no tattoo action. Which is funny… because I said I'd get a FTHC tattoo if I won a ticket. I haven't so far. But I have many more weeks in my life to get that sorted - all things being equal.

After the gig I managed to get to talk to the maestro himself after a quick elbow bump. He was an absolute gent. My friend Ken, who passed away in January, had given me the book, '
The Road Beneath My Feet
' and he kindly signed it for me too. I couldn't have asked for a better memento for the day.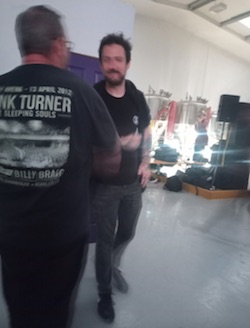 Elbow bump
Meeting the man himself.


I really don't know what more to say about the gig. I DO feel marvellously lucky to have got a ticket to go and to be there with a friend. I was smiling for days before and for days afterwards about it.