Liverpool Beer Fest
Made it to the Liverpool Beer Festival last night after work - a little later than I would have liked. Thursday night is the opening session and has the advantage of being the cheapest ticketed session (a bargain £3) and of course all the beers are available - come Saturday afternoon and evening the cask choice will be getting limited.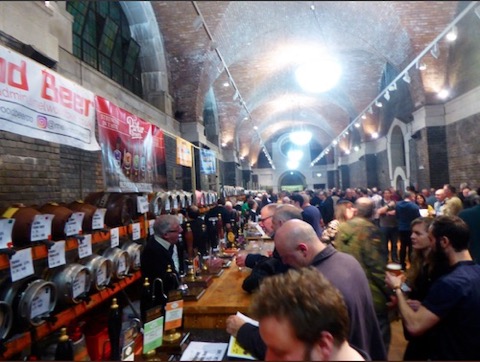 It was a nice session, busy but not so much that you couldn't walk around. Didn't have any beers that made me go "Wow!" but certainly had some nice ones. Liked a couple of the local ones including the Ad Hop 'Robusta' and the Liverpool Brewing Co/Team Toxic 'Koheutek'. The Hawkshead '5 Hop' went down well. But I was disappointed with my beloved 'Jaipur.' There was some talk that the beers were not at the best and that that maybe partly because of the unseasonably warm weather (it was T-Shirt weather yesterday, which is ridiculous for February). There is no entertainment on the Thursday which is a bit of a shame (particularly with me missing the Open Mic night). Still, it was a good night. And anyone heading there will no doubt have a great time.
No guitars, but a Liverpool Supergroup.