A Walk To Neptune
Neptune Brewery opened up their taproom on Saturday for the first time this year. And so I had to go up to show my support and to get a great beer. As I'm behind with the walking this week I decided too that I would kill two birds with one stone by walking there from my house. It was 5.5 miles. It proved a good walk and actually despite being slowed down by having to doubling back at one point where a path wasn't clear and then having to cross the infamous Switch Island (where the map was trying to direct me on a footpath which didn't exist).

There was a footpath shown both on the map and on signage by the A59 too for a cross country bit (former railway line) but this proved to be not as nice as it could be as the path was periodically inundated by brambles and other vegetation. And the narrow cut of the path meant it would be very easy to twist an ankle or two. Anyway I persevered with it and got through to a better path and then roads less than half a mile to the brewery. And then I was there!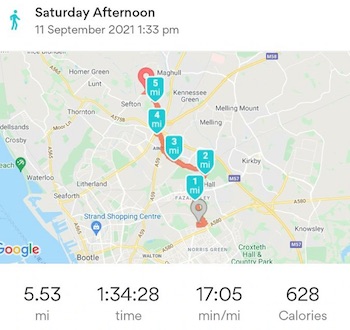 A nice afternoon stroll
As I walked up to it I was overtaken by a couple who I know and then when I got in I bumped into several friends and acquaintances. The taproom's reopening was definitely something that people had been really looking forward to. They do so many great beers and the service from the staff is boss too.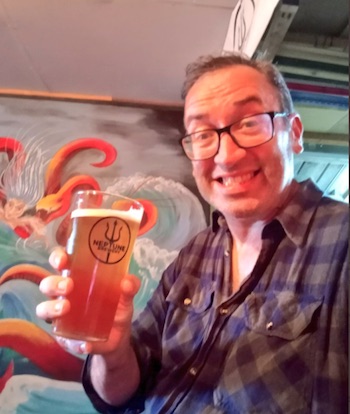 Ezili time

They only had one cask on, but it was Ezili which is an easy drinking favourite so I had a few of those. But I had some keg too. Shocking but true. Had good chinwags with several friends and the last few beers with Neil (who I last bumped into when I'd also walked to a brewery (Liverpool Brewing Company - how spooky). We walked to Maghull Station and caught a train, in Neil's case to go to my 'relatively local' Jaxons Micropub and in mine to town for the Head of Steam so I could watch Emma Raducanu win the US Open. And how fabulous was that!

In summary though it was great to see Neptune reopen their bar and to see so many familiar faces. And it was great for the brewery too as I'm sure they weren't too sure what to expect on the first opening. Well played, people.