Over All Too Quickly
This weekend was hot hot hot in on the Welsh borders of Shropshire but being in Bishop's Castle it at least meant there was plenty of liquid options to keep hydrated and cool with. This year rather than just the three usual suspects camping (Toe, Ste and yours truly) we were accompanied by double figures of top ladies and gentlemen from Liverpool and beyond. Pop-up tents filled the Foxholes campsite almost as much as the snoring.
The festival actually seemed a little quieter than usual. Not sure if that is with people staying at home and having home made BBQs and wee festivals while the World Cup was on. The England match was shown in a couple of pubs and we watched from the car park of the Castle Hotel. It was a cauldron in Samara and seemed at least as hot in the tarmac bowl. The result made it worth while.
Saw several good bands in the Castle Hotel and The Vaults over the two days. Hats of to them for their work in the heat.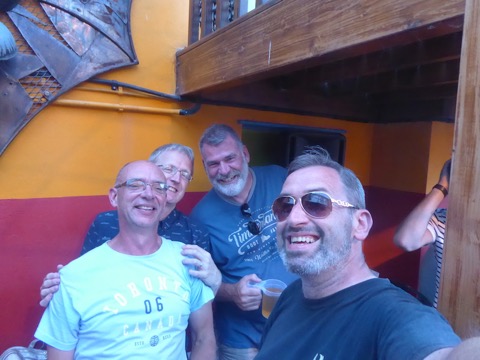 Saturday evening inevitably ended up with regular renditions of Vindaloo and Three Lions between the bands playing in the Vaults. Top night.
The weather, the music, the company and even the England match all made it a top weekend. The beer wasn't bad either. Not sure whether it was the footy in the middle of the day or the size of the group we were with but boy the weekend absolutely flew by. See you again, Bishop's Castle. You always deliver.
Have put a selection of photos up from this weekend in an album on
Flickr.