2016 in Reading
Goodreads and Reading


I've been a member of
GoodReads
for four years now and I must say I quite like it. It's not over intrusive in the way Facebook and Instagram are always trying to get in your face. You can look up recommendations based on your reading, but they're not constantly rabbiting at you- which is great.

I do like to see a record of what I've read when. With my memory it's very handy.

Last year I set myself a reasonable target for me of
26 books
, a book a fortnight. As it happened I managed 41, which was great- the more reading the better. A nice mix of fiction and non-fiction with of course rather a big nod to SF and fantasy on the fiction side, and ale on the non-fiction (and fiction: Weird Ales).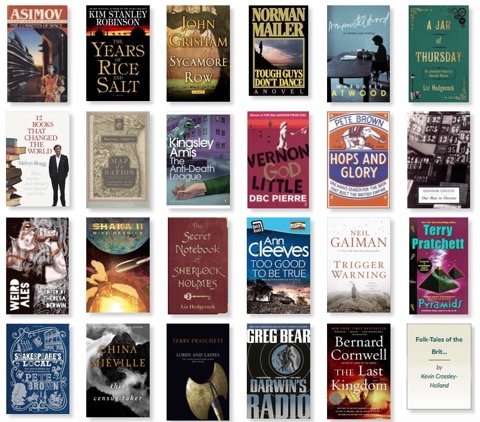 Unlike recent years the vast majority of the books I read were actually books.
Paper books
, off shelves and everything. Had the not unusual idea of perhaps reading some of the untouched or barely started books from my heavy shelves. And it was a cracking idea I must say.

Not sure if any would be classified as 'Classics' I suppose Graham Greene's 'Our Man in Havana', Philip Roth's 'The Plot Against America' and Primo Levi's 'Periodic Table' could be and perhaps a couple of the Atwood's, but what's a classic anyway?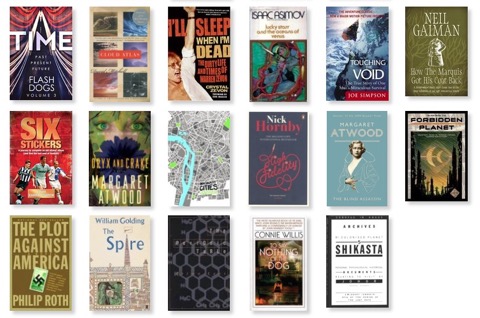 Two of the books feature your's truly too - Flash Dogs '
Time'
and
Theresa Derwin's edited
'Weird Ales
'. Both thoroughly recommended for other people's stuff at least.

I'm going to pick my
Reading Top 10 from 2016
. Why? Well, you do that kind of thing at this time of year, don't you? All of them cracking.

'Imaginary Cities'

Darran Anderson

'Cloud Atlas'

David Mitchell

'The Plot Against America'

Philip Roth

'To Say Nothing of the Dog'

Connie Willis

'Oryx and Crake'

Margaret Atwood

'Tough Guys Don't Dance'

Norman Mailer

'Our Man in Havana'

Graham Greene

'Years of Rice and Salt'

Kim Stanley Robinson

'The Anti-Death League'

Kingsley Amis

'Trigger Warning'

Neil Gaiman
Now I've got to look forward to 2017 and the reading ahead. I'm aiming for a similar number of books that I achieved this year (40) and if the reading is half as good as last year's then I'll be very happy.


Happy New Year folks and Happy Reading
- whatever you may be getting your head stuck in to!