18 Books
Not caught up on my reading target but hey, no-one died.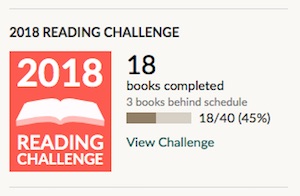 Eighteen books in and still going on. Next one may be quick (it's got lots of big pictures of maps in it).
Reading has included some cracking authors including;
Arthur C Clarke,
Bill Bryson,
Terry Pratchett,
Neil Gaiman,
Anthony Burgess,
CS Lewis,
Colson Whitehead,
Paul Beatty,
Kurt Vonnegut, and
Joseph Conrad.
Reading for next six months expected to include some more of the usual suspects including at the very least;
Iain M. Banks,
Margaret Atwood,
Philip Pullman,
Mervyn Peak, and
George Orwell.
And, yes, I will leave some time for some writing.